The Big 12 has a new look with four new teams, but Kansas is still predicted to win the conference title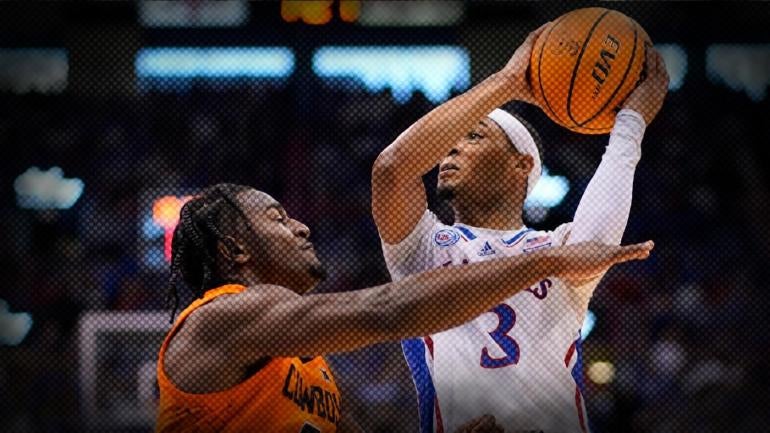 Getty Images
The idiom coined by Benjamin Franklin on the few certainties in life is admittedly an old one but it nonetheless bears repeating because it has stood the test of time: Nothing can be said to be certain except death, taxes, and Kansas demanding the respect and adoration of all us spreadsheet super-nerds who pontificate and project college basketball. Lather, rinse, repeat, baby. [taps index finger to ear] OH I'm actually getting word from my producer that is not the old Franklin quote.
OK, so perhaps Mr. Franklin was in this particular instance referring to only death and taxes as constants in the late 1700s, but you know what? It's 2023. It's time for an amendment. We may as well adapt the above into our updated vernacular, because the Bill Self-led Kansas Jayhawks — once again — project as the clear No. 1 team in our preseason Big 12 poll taken by our group of experts within the CBS Sports family. And for good measure, too: KU's No. 1 spot was unanimous among our panel this year, led by Michigan import Hunter Dickinson, who takes the crown as our Preseason Big 12 Player of the Year. 
After winning at least a share of the Big 12 regular season in 17 seasons since taking over in 2003 (!), Self has a Kansas team favored not just to win the league's championship, but to win the NCAA championship, according to updated betting odds. That test within the conference won't come easy or without its traps, though, thanks to the new additions of Houston, Cincinnati, BYU and UCF, and the always-tough challengers of Baylor, Texas, Kansas State and others lying in wait.
So how do we see the league shaking out this year? Enough with the teasing — let's hop to it.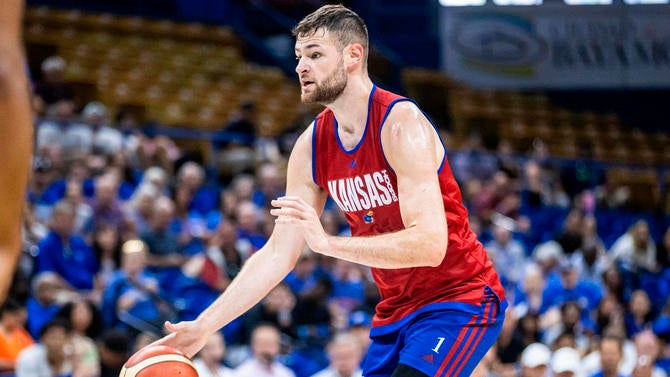 CBS Sports Big 12 Preseason Player of the Year
Hunter Dickinson | C | Kansas
Best player on the best team. That's the clear and concise argument for why we have Dickinson as our Preseason Player of the Year pick in the Big 12. The three-time All-Big Ten performer averaged 17.2 points and 8.4 rebounds in three seasons at Michigan and now heads to play at KU in a system that should feature him even more. He's been a consistent rebounder and efficient scorer throughout his college career, and his prolific stat-stuffing will do wonders for a Jayhawks team in need of stability down low. 
Four more players to watch in the Big 12
Tylor Perry | PG | Kansas State: The 2022-23 Conference USA Player of the Year should fit like a glove in Jerome Tang's guard-friendly system, replacing tiny-but-mighty superstar Markquis Nowell in Manhattan, Kansas. Perry averaged 17.3 points and 2.1 assists per game last season for a North Texas team that won 31 games.
Dylan Disu | PF | Texas: Few players were as impactful in the postseason last year than Disu. He averaged 22.5 points and 10 rebounds per game in two NCAA Tournament appearances before an injury sidelined him for the UConn game. He should be able to pick up where he left off as one of the breakout stars of the conference.
Jamal Shead | PG | Houston: Houston, in its first season in the Big 12, will go as Shead goes. Shead is the leading returning scorer and assist man for a Cougars team that has won 65 games the last two seasons and is primed and ready to contend right away in a new league. 
Javon Small | PG | Oklahoma State: A knee injury last season cut short what was on track to be a sensational sophomore season for Small at East Carolina, where he averaged 15.8 points and 5.6 assists per game. A fresh start at Oklahoma State quarterbacking the offense and facilitating for an exciting cast of characters could thrust him into the All-Big 12 discussion. 
CBS Sports Big 12 Preseason Freshman of the Year
Scott Drew's made a habit out of landing blue-chip recruits and immediately converting them into useful pieces. Walter should be next in that long Bears lineage. The 6-foot-5 shooting guard, who ranked No. 8 in the 247Sports rankings for the 2023 cycle, is the highest-rated incoming Big 12 recruit with a huge opportunity ahead. With the team's top three scorers no longer on the roster, he could waltz his way into becoming a day-one double-digit scorer on a top-three team in the conference. 
CBS Sports Big 12 predicted order of finish

Most overrated team in Big 12
Texas Tech: I thought having Texas Tech 11th in my Big 12 ballot was high. Imagine my surprise when I saw we as a group had them at No. 8!
There's a lot to like about the direction of this program anchored by the optimism that comes with hiring a rising young star in coach McCasland — which I think is valid and warranted — but the meat and potatoes he inherited isn't too appetizing. Aside from Isaacs, this team is basically hitting the reset button around a group of transfers and unknowns. That recipe has worked before, of course, including recently at Texas Tech, but I'm skeptical in this year's Big 12 the talent McCasland has on the way will be enough. A double-digit finish in league play seems not only possible, but likely. 
Most underrated team in Big 12 
TCU: Here I am talking about fading uncertainty with transfers in one breath and talking about buying into transfers in another in a team located in the same state. Hypocrite, I tell ya!
I'm buying Dixon's talent pool he's assembled, though, and I think TCU is flying under the radar. Anderson was really good in his role at Oklahoma State. Nelson Jr. is a walking bucket, a skill set that's good at every level and should translate. Then Miller and Chuck O'Bannon Jr. are established vets who should help set a baseline for building things. There's some risk here that the new pieces don't fit into place or that it continues to be a terrible 3-point shooting team, but I'm buying into the Horned Frogs. They're third on my preseason Big 12 ballot behind KU and Houston, and it wouldn't surprise if we're talking about them as the second-best Big 12 team in the state of Texas this season. 
CBS Sports Big 12 expert picks
Our Latest College Basketball Stories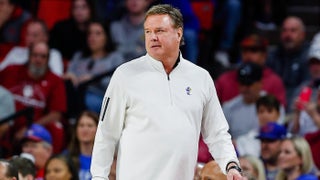 Watch Now: