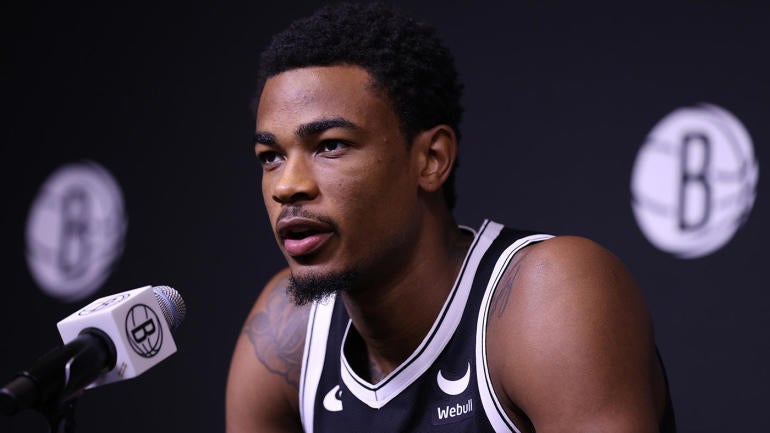 Getty Images
The Brooklyn Nets are scheduled to play an exhibition game against Israeli professional team Maccabi Ra'anana on Thursday, but the war that has broken out in Israel following deadly attacks from Hamas militants has called into question whether the game should proceed.
Asked about Thursday's contest, Nets center Nicolas Claxton said that the team discussed the possibility of canceling the game, while also offering his own thoughts on the matter.
"We feel for the players that we're playing against," Claxton said on Wednesday. "I don't know if we should be playing the game. Personally, I don't feel that we should be playing the game. But we feel for them and we're gonna go out there and do our job. … There [are] bigger things going on in the world than basketball."
Maccabi Ra'anana, which plays in the Israeli National League, has remained committed to playing on Thursday against the Nets — the first of a three-game set against NBA teams. The other two scheduled games are against the Cavaliers and Timberwolves on Monday and Tuesday, respectively.
"Just organizationally, we have been in contact with Maccabi," Nets head coach Jacque Vaughn said, via the New York Post. "They have reiterated to us that they do want to play the game."
Comprised mostly of players from Israel, Maccabi Ra'anana arrived in New York last week and held its first practice at Jersey City College. The team played in three exhibition games against NBA teams last season, losing to the Clippers, Trail Blazers and Thunder.
"The NBA and NBPA mourn the horrific loss of life in Israel and condemn these acts of terrorism," the NBA and Players Association said in a joint statement on Sunday. "We stand with the people of Israel and pray for peace for the entire region."