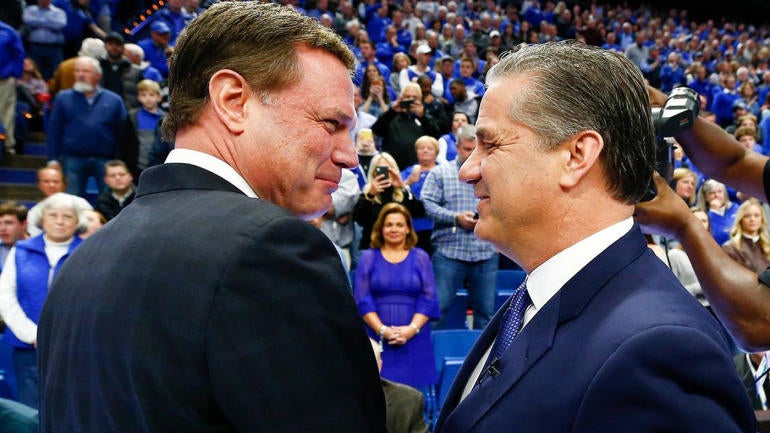 Getty Images
Kentucky returned to the top of the NCAA's all-time men's basketball wins list on Wednesday as Kansas was forced to vacate 15 wins from the 2017-18 season. KU's penalty through the Independent Accountability Resolution Process dropped the Jayhawks from 2,385 victories to 2,370 on the NCAA's all-time ledger, giving the Wildcats a seven-victory edge.
Kansas overtook Kentucky for the most all-time wins during the 2022 NCAA Tournament as the Jayhawks marched to a national title while the Wildcats were eliminated with a loss to Saint Peter's in the first round. KU extended its advantage over the Wildcats with 28 wins during the 2022-23 season while Kentucky won 22.
The IARP ruling stemmed from illegal payments made by a former Adidas associate to former Kansas player Silvio De Sousa. KU's other penalties included three years of probation and a requirement that the program remove acknowledgement of its 2018 Final Four appearance from official records.
Ultimately, the IARP ruling was favorable for the Jayhawks, who were initially hit with five Level I violation allegations by the NCAA. Seeing a rival blue blood program retake the top spot on the sport's win list is an irksome byproduct of the ruling, though it remains to be seen if Kentucky will be able to maintain its newfound edge during the 2023-24 season.
Kansas ranks No. 1 in Gary Parrish's Top 25 And 1 entering the year while a freshman-laden Kentucky team is ranked No. 16. The teams are scheduled to meet on Nov. 14 in the Champions Classic at the United Center in Chicago.
Top five all-time winningest college basketball programs
1. Kentucky: 2,377
2. Kansas: 2,370
3. North Carolina: 2,343
4. Duke: 2,273
5. Syracuse: 2,074