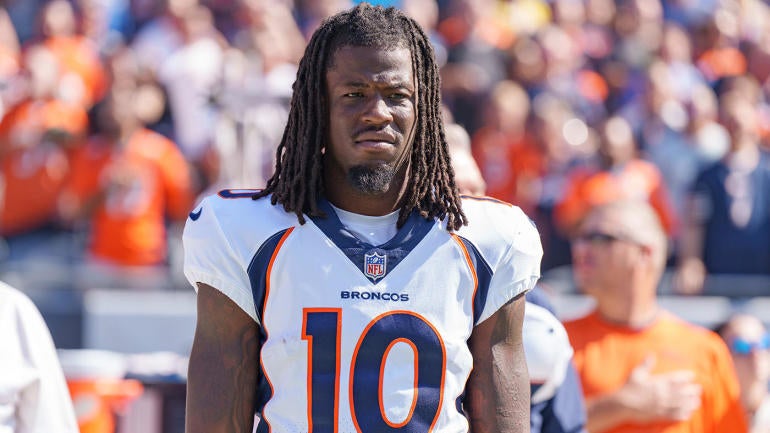 Getty Images
There aren't many NFL analysts out there with a better resume to give pointers on how to be a better wide receiver than Steve Smith Sr. The 44-year-old ended up with the eighth-most receiving yards in NFL history (14,731) after 16 NFL seasons seasons with the Carolina Panthers (2001-2013) and the Baltimore Ravens (2014-2016). He is one of only four players since the 1970 AFL-NFL merger to lead the NFL in catches, receiving yards and receiving touchdowns in the same season, which he did in 2005 with 103 receptions, 1,563 receiving yards and 12 receiving touchdowns. The others in the receiving triple crown club since 1970 are Jerry Rice (1990), Sterling Sharpe (1992) and Cooper Kupp (2021). 
Like many analysts today, Smith has a podcast. On his podcast, "Cut To It," he recently called current Denver Broncos wide receiver Jerry Jeudy a JAG, or just another guy. On air for NFL Network's "Thursday Night Football" pregame show ahead of Jeudy and the Broncos playing the reigning Super Bowl champion Kansas City Chiefs, Smith attempted to apologize for that comment. 
However, per Smith, Jeudy wasn't down to make up as Smith said the 15th pick in the 2020 NFL Draft said "Ninja, I don't mess with you." After Jeudy allegedly repeated his comment, Smith became fired up and dropped another apology that wasn't really an apology. 
"I'm sorry I said you were a JAG, just a guy who is an average wide receiver they [the Denver Broncos] used a first-round pick on that isn't doing anything. I hope today you actually show up in a way that you haven't shown up in the last couple years since they drafted you. So if you ever got a problem with Agent 89, I'm sorry for saying that you are an average wide receiver that they will eventually move on from. When teams call me to ask if they should trade for you, I will say 'No, don't trade for Jerry Jeudy because he is mentally unable to handle constructive criticism who watch specifically if you can be a wide receiver. He's a tier three."
Jeudy walked past the sideline where Smith and the rest of NFL Network's pregame coverage was set up, yelling back at him. 
The 24-year-old wideout has 17 catches for 208 receiving yards this season. Unfortunately, Jeudy couldn't stick it to the former All-Pro wideout on Thursday night as he finished with just 14 receiving yards on three catches in the Broncos' 19-8 loss to the Chiefs.