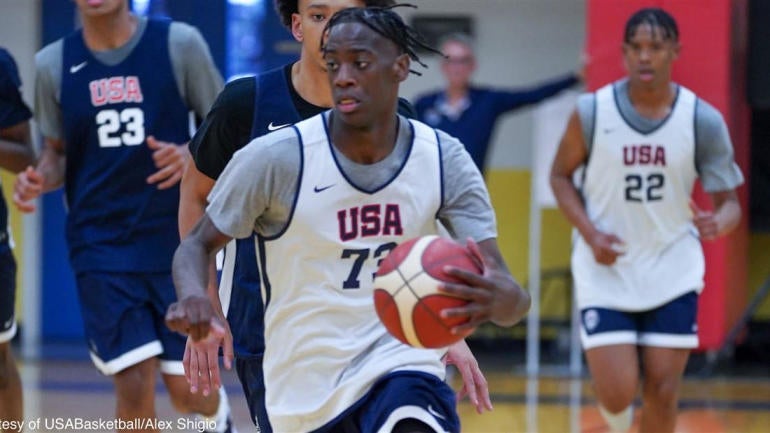 USA Basketball
Five-star prospect AJ Dybantsa, the No. 1 recruit in the Class of 2026 who is widely viewed as one of the most exciting prospects in all of basketball, announced Wednesday that he intends to reclassify and become a part of the 2025 recruiting class. 
In an interview on CBS Sports HQ, Dybantsa said he will be joining the Class of 2025 on the heels of what has been a busy few months for him with offers flooding in from Alabama, UConn, Michigan Texas, LSU and USC among others.
Dybantsa, a 6-foot-9, 200-pound power forward at Prolific Prep in Napa, California, will supplant Cameron Boozer, the son of former NBA star Carlos Boozer, as the No. 1 player in the 247Sports Class of 2025 Player Rankings. Dybantsa's high school teammate, Tyran Stokes, will become the new No. 1 player in the Class of 2026 with the move giving Prolific Prep the No. 1 prospect in both the Class of 2025 and 2026.
Dybantsa's stock has been on the ascent nationally for months after a breakout summer playing both on the Nike EYBL circuit and with USA Basketball in the FIBA U16 Americas Championship. 
By reclassifying, Dybantsa, as with many blue-chip prospects who in the past have made similar decisions, can become eligible for the NBA Draft a year earlier than if he had remained in the same class. In moving from the 2026 class to 2025, he will become eligible for the 2026 NBA Draft instead of 2027 so long as he meets eligibility requirements.
Dybantsa led the 17U Division of the Nike Peach Jam this summer averaging 25.8 points per game while adding 5.6 rebounds and 2.4 assists per game. He also broke out in a big way with Team USA, where he averaged 13.7 points and 3.7 rebounds per game while helping the U.S. to a gold medal finish in FIBA's U16 division.