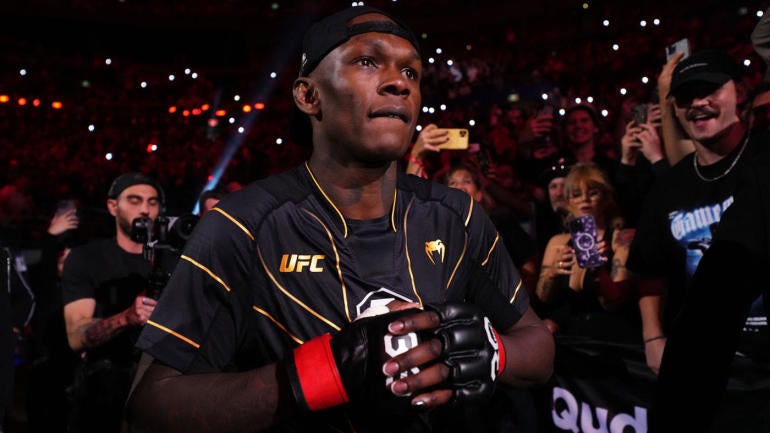 Getty Images
Israel Adesanya is going to take a long and overdue absence from mixed martial arts in the aftermath of UFC 293. Adesanya, free of the UFC middleweight title that Sean Strickland took from him, will take an extended break to recover physically.
Adesanya had a new aura about him after knocking out career rival Alex Pereira to recapture the 185-pound title. It's partly why his shocking upset loss to Strickland in Sydney on Sept. 9 was such a big deal. Following UFC 293, Adesanya has announced an extended break from fighting as he recovers from the most active stretch of any recent UFC champion.
"Before this fight I was very like, 'I know I'm on the back end of my career, so I want to do as many as I can because I know [when] I'm done with this I'm going to miss it,'" Adesanya said on "The Rock" podcast. "I'm trying to do as much as I can. But after this fight, and again, 14 months and four fights, it's not just the fights, it's the training and everything. I had injuries going into the Pereira fight, you've seen that. I don't make any excuses. Strickland got me on the night because he was the better fighter on the night. He did his work well. He had a good team behind him.
"Now I'm going to take time to look after myself, and I'm not going to fight for a long time. I'm definitely not going to retire because I know me — I'm not leaving like that. I know me. But if I did, I'm fine. I don't need to prove anything else. But I know what I can do and what I can change in my lifestyle to make my body adapt to where I need to be. I'm going to heal myself up. You won't see me fight for a long time."
Adesanya was the most active UFC champion over the last two years. The former champ competed in five UFC title fights in 19 months, averaging a fight every 3.8 months. It's a step above the activity level of other recent champions between 2022 and the present day. Alexander Volkanovski, Aljamain Sterling and Brandon Moreno are closest with four UFC title fights in that timeframe.