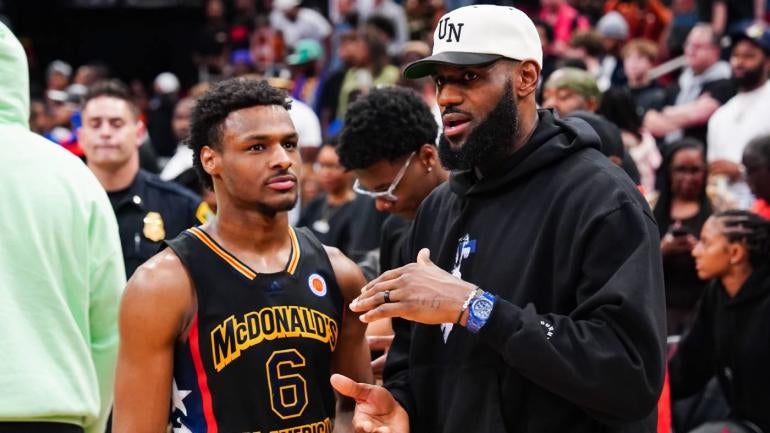 Getty Images
Bronny James will constantly draw comparisons to his father, fairly or unfairly. But when it comes to Bronny's raw athleticism, LeBron James himself is already giving his son some high praise.
Bronny, now a freshman at USC, has always been able to impress with his quickness and agility. One user on social media posted a video of Bronny's highlights and argued that he is just as athletic as his father, despite being several inches shorter. That video made its way to LeBron's timeline, and he agreed wholeheartedly.
James said that Bronny could very well be just as athletic as he was at the age of 19. The four-time NBA Champion was in his rookie season with the Cleveland Cavaliers at that age, averaging 20.9 points, 5.5 rebounds and 5.9 assists per game.
The question now is whether Bronny James will be able to display that athleticism during the 2023-24 college basketball season. On July 24, Bronny James went into cardiac arrest during a summer workout with the Trojans. Further evaluation found that Bronny had a heart defect, and he was able to get the necessary medical treatment. Earlier this month, LeBron provided a positive update on Bronny's health.
"Bronny is doing extremely well," James said at Lakers Media Day. "He has begun his rehab process to get back on the floor this season with his teammates at USC. (With) the successful surgery that he had, he's on the up-and-up.
"It's definitely a whirlwind, a lot of emotions for our family this summer. But the best thing we have is each other and we stuck behind each other and gave each other strength through the whole process. We are happy to see where he is today and we look forward to seeing what his future still has in store for him," James said.
Whenever Bronny does get back on the floor, there will be a lot of attention on him, and he will get the opportunity to prove that he has just as much potential as his dad.