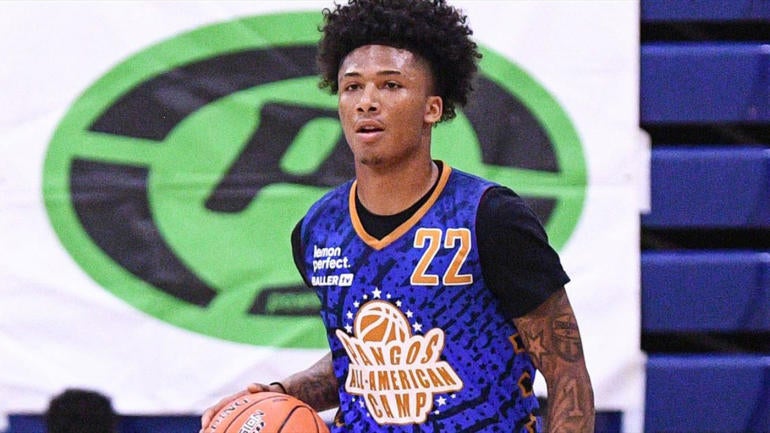 Getty Images
Former prized recruit and current Memphis freshman Mikey Williams was ordered to stand trial by a Superior Court judge in California on Tuesday as he faces six felony gun charges from an incident earlier this summer in which he is accused of firing a gun at a vehicle carrying five people. Williams, a former five-star prospect who was at one point ranked as the No. 2 player in his class, is not currently with the Tigers team but remains on the roster and enrolled in classes as his legal situation plays out, the school said in September.
Williams has been free on $50,000 bond since his arrest on April 13. At a hearing Tuesday, Judge Sherry M. Thompson-Taylor assigned an arraignment date of Oct. 24 for Williams, according to the Associated Press.
Memphis began its fall training camp on Sept. 25 without Williams, who because of his situation does not have access to team-related facilities or activities. It is scheduled to open the season Nov. 6 vs. Jackson State — 13 days after Williams' scheduled arraignment.
Williams was arrested in April and booked on five counts of assault with a deadly weapon and one court of firing into an occupied vehicle, charges that could carry nearly 30 years prison time if convicted on all counts. The San Diego Sherriff's Department alleges he fired shots at, and struck, a vehicle as it was driving away, but no one was hurt.
Williams' attorney, Troy P. Owens, said the incident happened after "several uninvited individuals" entered Williams' residence and caused a disturbance. Though Owens has said Williams is a match for the description of the shooter, his client "looks forward to addressing any allegations against him using the established procedures in our justice system." 
A 6-foot-2 combo guard, Williams chose Memphis over offers from Kansas, Oregon, USC and others. Ranked No. 39 overall in 247Sports' player rankings for the 2023 cycle, he is the highest-rated Tigers signee for their freshman recruiting class that ranked No. 19 overall in the Team rankings.