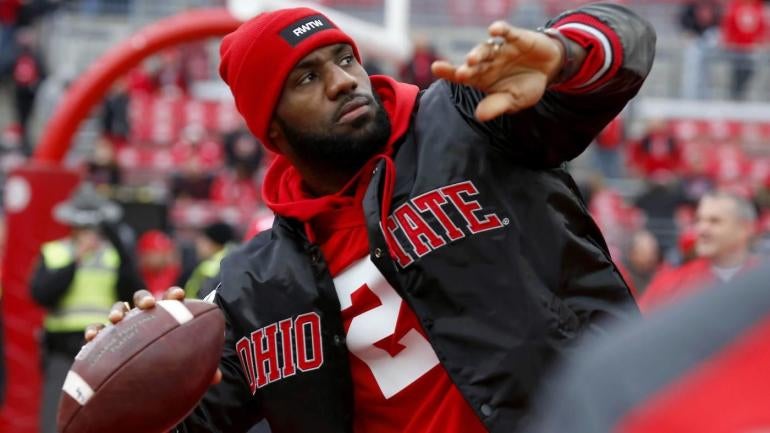 USATSI
LeBron James will go as one of the greatest players to ever suit up in the NBA but was actually a fairly prominent football star during his high school days at St. Vincent-St. Mary in Akron, Ohio. During an appearance on "NBA Today" on Wednesday, ESPN's Brian Windhorst revealed that James had actually decided to quit the football team after his sophomore year, but changed his mind following the death of singer Aaliyah.
The acclaimed singer died in a plane crash back in 2001 when she was traveling from the Bahamas to Florida. She was 22 years old.
"[LeBron James] was going to quit football after his sophomore year, then Aaliyah, one of his favorite singers, died in a plane crash. He decided he wasn't going to live life scared," Windhorst said during the segment.
Heading into his junior year at St. Vincent-St, Mary, James was going to walk away from the gridiron in order to dedicate his time to his basketball career. 
James was an extremely successful football player when he was still playing the sport. During his junior year, the four-time NBA Champion hauled in 60 passes for 1,200 yards and 16 touchdowns as a wide receiver. James was even considered the No. 1 football prospect in the state of Ohio at the time.
James famously mentioned Aaliyah's influence on him during his interview with Sports Illustrated's Grant Wahl when he made the cover of the magazine as a high schooler. He told Wahl at the time, "You're not promised tomorrow. I had to be out on the field with my team."
In an Instagram post in 2020, James posted a newspaper clipping from his football days. He didn't end up playing football in his senior year of high school and would enter the NBA after graduating.
James clearly had the chops to play football at an elite level and could've been extremely productive in the NFL. Still, considering that he's now the NBA's all-time leading scorer, it's likely that he made the right decision.