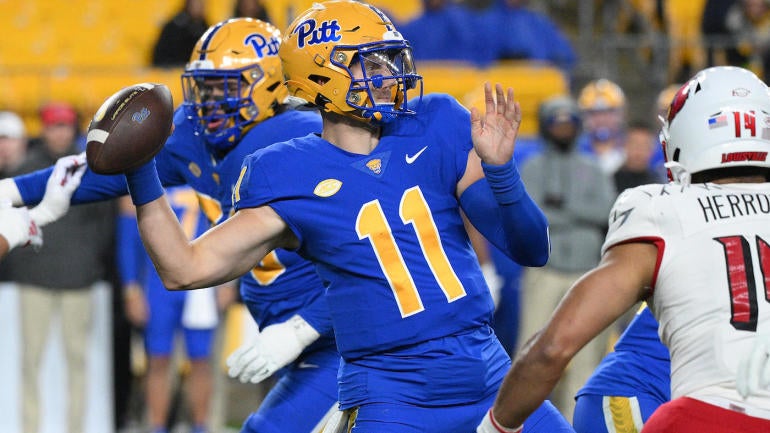 Getty Images
Pittsburgh upset No. 14 Louisville 38-21 Saturday, securing its first victory against an FBS opponent this season. Louisville came into the game riding high with a 6-0 record and a high-profile win over Notre Dame under its belt, but couldn't keep pace with the Panthers offense. The Panthers entered Saturday on a four-game losing streak before pulling the upset and spoiling the Cardinals' magical start to the Brohm era. 
The Cardinals took a 21-14 lead shortly before halftime, but the tables turned in the Panthers' favor during the second half. After a field goal cut the deficit to four, Pitt forced Louisville to punt and then embarked on a touchdown drive that chewed more than six minutes off the clock. A 3-yard touchdown run from running back C'Bo Flemister gave the Panthers a 24-21 lead with 3:39 left in the third quarter.
Just 25 seconds later, Panthers defensive back M.J. Devonshire intercepted Louisville quarterback Jack Plummer and took it 86 yards the other way for a touchdown, giving Pitt a 31-21 edge. From that point on, the Panthers never looked back, ultimately winning by 17. 
"These guys have worked their tails off," Pitt coach Pat Narduzzi said during his on-field postgame interview. "We got a big win today. … Just happy for our guys." 
Pitt was averaging just 23.4 points on the season — second-to-last in the ACC — before Saturday. The team's 38 points were the most against an FBS opponent in 2023. Panthers quarterback Christian Veilleux ended the night 12 of 26 passing for 200 yards and two touchdowns in his first start. 
It was surprisingly sloppy showing for a Cardinals team that was just a week removed from a marquee victory over then-No. 10 Notre Dame. Louisville struggled to protect the football on a night where the Cardinals fumbled five times, though they only lost one of those. Plummer ended the night passing for 350 yards and a touchdown but was intercepted twice in the loss as Louisville was outscored 24-0 in the second half. Compiling problems on offense was a hamstring injury to running back Jawhar Jordan that forced the Cardinals' star rusher to miss the second half. 
Pitt has now prevailed in seven of its past nine meetings with the Cardinals dating back to 2008. Louisville beat the Panthers at home during the 2022 season, but has not won consecutive meetings against Pitt since winning seven straight in the series during a stretch from 1990-2007.
Pitt will look to carry the momentum of an upset victory into its Week 8 road game against Wake Forest, while Louisville returns home to host No. 17 Duke.