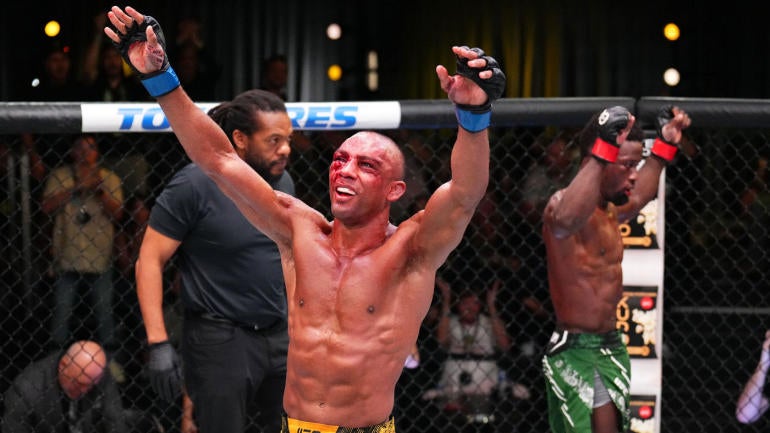 Getty Images
Edson Barboza has been in the fight game for a long time and he has a lot of fight left in him. Barboza survived an early onslaught in Las Vegas on Saturday to overcome a hungry contender in Sodiq Yusuff in the UFC Fight Night main event.
Saturday's headliner got off to a rocky start for Barboza. Yusuff badly wobbled his opponent in the first exchange and repeatedly stunned him with combination boxing. A finish seemed imminent, but a takedown by Yusuff slowed the fight and gave Barboza the time he needed to recover. Two judges scored the round 10-8 for Yusuff.
"I was really dizzy. I didn't know if I was in the gym or the house or playing with the kids," Barboza said during his post-fight interview. "I didn't know what the f— was going on."
Barboza found his footing in Round 2 and largely closed the competitive gap. Round 3 delivered another shocker as Barboza landed one of his signature spinning wheel kicks. The strike terribly stunned Yusuff, but Barboza failed to capitalize, attempting a D'arce choke that killed the clock. The judges sided with Barboza in the next two rounds, resulting in scorecards reading 48-46, 48-46 and 49-46 for the veteran.
Barboza, 37, applauded Yusuff, 30, for showing the same level of grit in Round 3 that Barboza had in the opening frame.
"He's one of the best in the world," Barboza said. "He never gave up like me in the first round."
Yusuff was deeply disappointed in his performance but fondly reflected on how he idolized Barboza.
"I think I could have picked my shots better in the first round to get him out of there," Yusuff said. "I used to watch Edson as a kid. To put on what I believe is a Fight of the Night, it's OK."
Barboza improved to 24-11 in his MMA career and has consecutive wins under his belt. Yusuff dropped to 13-3 professionally and is 6-2 overall in the UFC.