The Texas Rangers are up 1-0 in the ALCS against the Houston Astros. The Rangers shutout the reigning World Series champs in Sunday night's Game 1 to steal home-field advantage away from their in-state rivals. ALCS Game 2 is set for Monday afternoon.
In the National League, the Philadelphia Phillies are back in the NLCS. The Phillies finished the Atlanta Braves' season on Thursday night, taking Game 4 at Citizens Bank Park for a 3-1 series victory. The Phillies will face the Arizona Diamondbacks in the NLCS starting Monday, squaring off against the team that took the Dodgers down in a definitive sweep. The fourth-seeded Phillies have home-field advantage against the sixth-seeded D-backs.
The playoff field started with 12 teams, but is now down to four. The Marlins, Brewers, Blue Jays and Rays were eliminated in the Wild Card Series.
Below is a look at the complete MLB playoff bracket, and the complete schedule for the playoffs. All games on Fox and FS1 will be streaming on fubo (try for free).
2023 MLB playoff bracket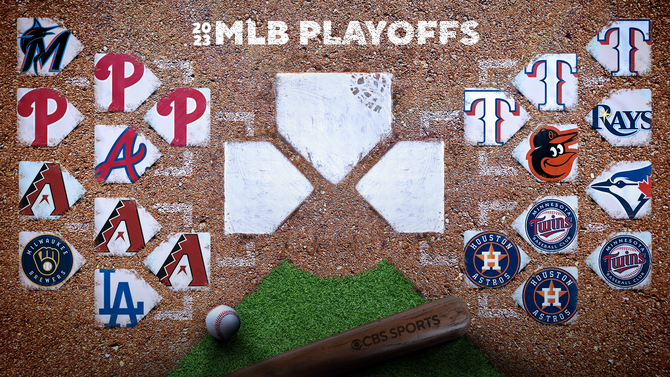 League Championship Series

Sunday, Oct. 15
ALCS Game 1: Rangers 2, Astros 0 (Texas leads 1-0)
Monday, Oct. 16
ALCS Game 2: Astros vs. Rangers, 4:37 p.m. ET (Fox/FS1)
NLCS Game 1: Phillies vs. Diamondbacks, 8:07 p.m. ET (TBS)
Tuesday, Oct. 17
NLCS Game 2: Phillies vs. Diamondbacks, 8:07 p.m. ET (TBS)
Wednesday, Oct. 18
ALCS Game 3: Rangers vs. Astros, 8:03 p.m. ET (FS1)
Thursday, Oct. 19
NLCS Game 3: Diamondbacks vs. Phillies, 5:07 p.m. ET (TBS)
ALCS Game 4: Rangers vs. Astros, 8:03 p.m. (FS1)
Friday, Oct. 20
ALCS Game 5*: Rangers vs. Astros, 5:07 p.m. ET (FS1)
NLCS Game 4: Diamondbacks vs. Phillies, 8:07 p.m. ET (TBS)
Saturday, Oct. 21
NLCS Game 5*: Diamondbacks vs. Phillies, 8:07 p.m. ET (TBS)
Sunday, Oct. 22
ALCS Game 6*: Astros vs. Rangers, 8:07 p.m. ET (FS1)
Monday, Oct. 23
NLCS Game 6*: Phillies vs. Diamondbacks, 5:07 p.m. ET (TBS)
ALCS Game 7*: Astros vs. Rangers, 8:03 p.m. ET (Fox/FS1)
Tuesday, Oct. 24
NLCS Game 7*: Phillies vs. Diamondbacks, 8:07 p.m. ET (TBS)
World Series
Friday, Oct. 27
World Series Game 1: TBD vs. TBD (Fox)
Saturday, Oct. 28
World Series Game 2: TBD vs. TBD (Fox)
Monday, Oct. 30
World Series Game 3: TBD vs. TBD (Fox)
Tuesday, Oct. 31
World Series Game 4: TBD vs. TBD (Fox)
Wednesday, Nov. 1
World Series Game 5*: TBD vs. TBD (Fox)
Friday, Nov. 3
World Series Game 6*: TBD vs. TBD (Fox)
Saturday, Nov. 4
World Series Game 7*: TBD vs. TBD (Fox)
---
Divisional round scores, schedule
Saturday, Oct. 7
ALDS Game 1: Rangers 3, Orioles 2 
ALDS Game 1: Astros 6, Twins 4
NLDS Game 1: Phillies 3, Braves 0
NLDS Game 1: Diamondbacks 11, Dodgers 
Sunday, Oct. 8
ALDS Game 2: Rangers 11, Orioles 8
ALDS Game 2: Twins 6, Astros 2
Monday, Oct. 9
NLDS Game 2: Braves 5, Phillies 4 
NLDS Game 2: Diamondbacks 4, Dodgers 2
Tuesday, Oct. 10
ALDS Game 3: Astros 9, Twins 1
ALDS Game 3: Rangers 7, Orioles 1 (Texas wins 3-0)
Wednesday, Oct. 11
NLDS Game 3: Phillies 10, Braves 2
ALDS Game 4: Astros 3, Twins 2 (Houston wins 3-1)
NLDS Game 3: Diamondbacks 4, Dodgers 2 (Arizona wins 3-0)
Thursday, Oct. 12
NLDS Game 4: Phillies 3, Braves 1 (Philadelphia wins 3-1)
Wild Card Series scores

Wednesday, Oct. 4
Game 2: Rangers 7, Rays 1 (Rangers win 2-0)
Game 2: Twins 2, Blue Jays 0 (Twins win 2-0)
Game 2: Brewers 5, Diamondbacks 2 (D-backs win 2-0)
Game 2: Phillies 7, Marlins 1 (Phillies win 2-0)
Tuesday, Oct. 3
Game 1: No. 5 Rangers 4, No. 4 Rays 0 (Rangers lead 1-0)
Game 1: No. 3 Twins 3, No. 6 Blue Jays 1 (Twins lead 1-0)
Game 1: No. 6 Diamondbacks 6, No. 3 Brewers 3 (D-backs lead 1-0)
Game 1: No. 4 Phillies 4, No. 5 Marlins 1 (Phillies lead 1-0)