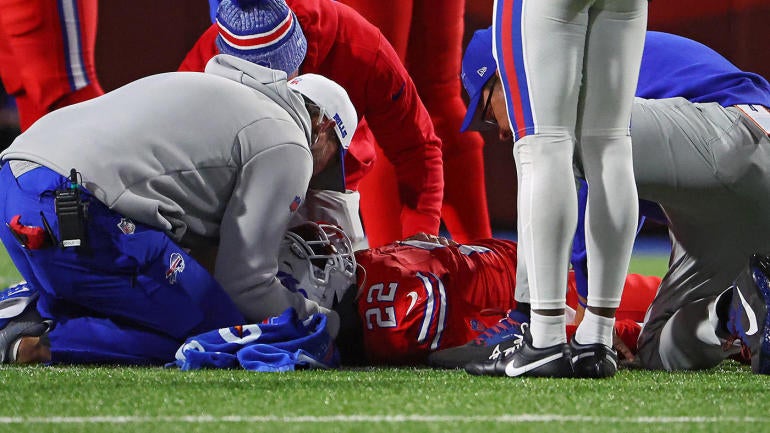 Getty Images
Buffalo Bills running back Damien Harris exited Sunday night's Week 6 matchup with the Giants via ambulance after suffering a neck injury in the closing minutes of the second quarter. Harris took a third-and-1 carry from the Buffalo 34-yard line up the right side of the Buffalo offensive line and was met at the line of scrimmage by Giants linebacker Bobby Okereke. The 26-year-old was then down on the field after the play and was immediately attended to by the Buffalo medical staff. 
After initially being checked out on the field, Harris was put on a stretcher as the ambulance made its way onto the field. As the medical personnel was strapping him onto the stretcher and getting ready to move him into the ambulance, Harris was able to give a thumbs up. Along with officially ruling him out, the Bills did announce that Harris has movement in his arms and legs. Per the NBC broadcast, Harris is being sent to the Erie County Medical Center, which is a level-one trauma center. 
Harris is in his first season with the Bills after signing a one-year, $1.7 million contract with the franchise back in March. Before signing on with Buffalo, the former third-round pick out of Alabama began his career with the New England Patriots. Harris spent his first four years in the NFL in Foxobrough as a key fixture of Bill Belichick's backfield. 
For his career, Harris has rushed for 2,187 yards and 21 touchdowns while catching 42 of his 53 targets for 297 yards. In five games played for the Bills this season, Harris has averaged 4.2 yards per carry, rushing for 93 yards and a touchdown. 
That rush where Harris suffered the injury was his lone attempt of the evening.