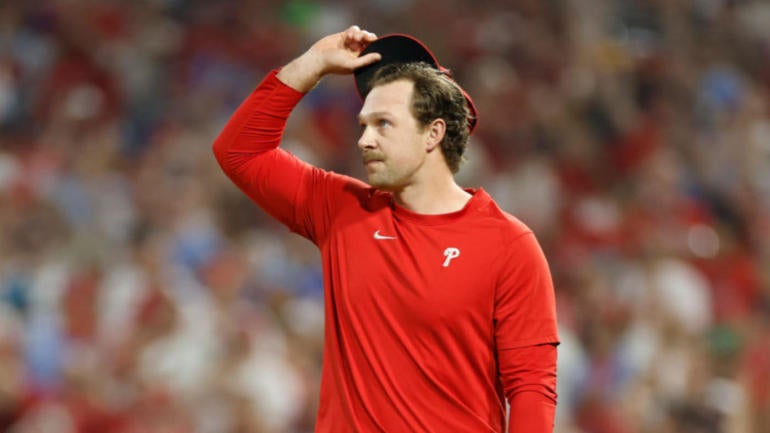 Getty Images
Veteran Philadelphia Phillies slugger Rhys Hoskins was not added to the team's roster for their National League Champion Series matchup with Arizona Diamondbacks that begins Monday. Hoskins has been sidelined since late in spring training when he suffered a torn ACL in his knee. Phillies manager Rob Thomson told reporters on Sunday he's making progress and indicated he could make the NLCS roster.
Specifically, Thomson said Hoskins is doing everything except for fielding ground balls, and that includes taking live batting practice. Live BP is an essential step for a hitter returning from injury before he sees game action. It stands to reason Hoskins would return for the World Series, should the Phillies advance.
There is precedent for such a relatively quick recovery. Hoskins' teammate Kyle Schwarber tore his ACL on April 7, 2016 as a member of the Cubs but was able to return in time to pinch-hit and serve as designated hitter during the World Series. Hoskins tore his ACL on March 23, and a return during the NLCS would have been roughly in line with Schwarber's timeline. 
Presumably, Hoskins would fill the same role that Schwarber did if he returns – pinch-hitter and DH. Now, though, MLB has the universal DH, which means Hoskins theoretically could be a presence in Thomson's lineup in any game. That, however, would mean that Schwarber would need to play the field instead of DHing, and that would exact a price when the Phillies are in the field. 
Hoskins, 30, slashed .246/.332/.462 with 30 home runs in 156 games last season, and he added six home runs in 17 postseason games to aid the Phillies' run to the pennant. He will be a free agent after this season concludes.