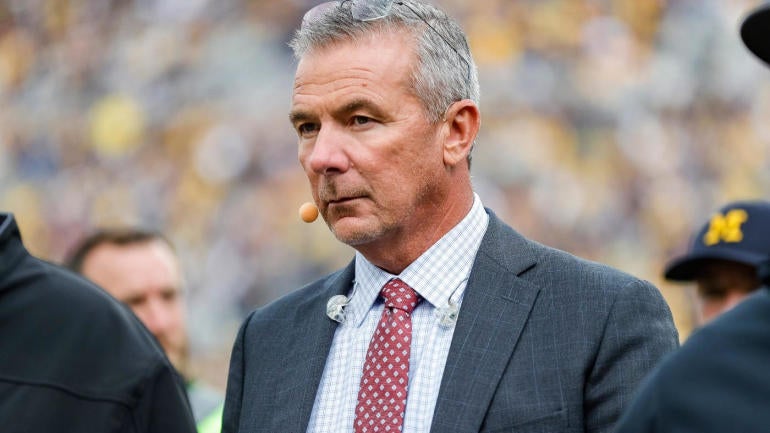 USATSI
Urban Meyer finally shut down the rumors of potentially returning to college football, saying he has "no desire" to take on another position. His comments come amidst the Michigan State coaching search.
"I am good," Meyer said on Monday at the Knoxville Quarterback Club, as reported by the Knoxville News Sentinel. "I never really took a day off. People, when I say that, they scratch their head. I am like I never took a day off. I had some health stuff go on. I became addicted to sleeping pills. I was just a maniac worker."
Now, Meyer says he is spending more time with his wife Shelley and his four grandchildren.
"So the first year or so was kind of like, wake up and like I want to go coach a team. But no desire. So no. No desire," he added.
Meyer's most recent coaching gig was at the NFL level with the Jacksonville Jaguars in 2021, but it was short-lived as he registered a 2–11 record before being fired.
But before that, Meyer succeeded at the college level, winning three NCAA national championships. The first two were with the Florida Gators in 2006 and 2008. He resigned in December 2010, but he didn't stay away from the football field for too long. 
A year later, Meyer took the head coach job at Ohio State. He earned his third national championship trophy with the Buckeyes in 2014. He retired from the position in 2018.
Meyer indicated part of his decision was due to the recent rule changes regarding the transfer portal and NIL deals.
"It has never been harder, I am telling you right now," Meyer said, pointing out that many players and coaches appear to have agents now. "…Remember those days? Maybe a coordinator every once in a while had an agent. There is nothing wrong with agents. They're great. But when I am the head coach having to deal with a high school player that (says) 'meet with my agent first.' I am going I want to meet with your family because you are talking about recruiting and other stuff."