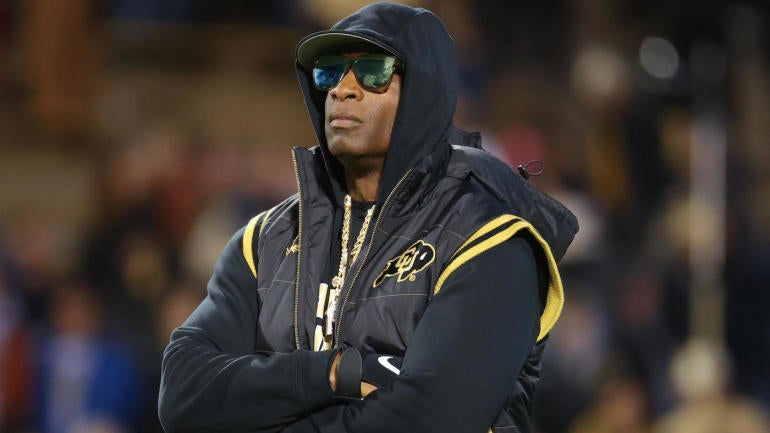 Getty Images
Colorado coach Deion Sanders didn't hold back in the aftermath of the team's Week 7 home loss to Stanford in which the Buffaloes fell 46-43 in double overtime after coughing up a 29-0 halftime lead. Footage of Sanders' postgame locker room speech to his team has since emerged where Sanders called the effort "pathetic" and — at least temporarily — conceded to the team's critics when addressing players. 
"What we just did today was pathetic," Sanders said. "All the love that you received and all the love that we were receiving, oh you be getting ready to see that flip. And don't get beside yourself on social media and start responding to the foolishness, because [the critics] are right. They're right. … And we are practicing tomorrow [on Saturday]." 
Colorado dominated Stanford in the first half, but the Cardinal scored 26 straight points in the second half before Buffaloes two-way star Travis Hunter — playing in his first game since suffering an injury in Week 3 — put Colorado back up by two scores with his second touchdown catch of the night. Stanford rallied again, however, as Cardinal kicker Joshua Karty hit a 46-yard field goal as regulation expired to tie the game. He later delivered the game-winner in the second overtime as Stanford recorded its first Pac-12 win and snapped a four-game losing streak. 
While Hunter's return to action was a major storyline — he ended the night with 13 catches for 140 yards and two touchdowns, plus five tackles on defense — Stanford wide receiver Elic Ayomanor ultimately stole the spotlight. Ayomanor pulled in 13 catches for 294 yards and three touchdowns as the Cardinal pulled off the improbable comeback. 
Now 4-3 on the season after a 3-0 start, Colorado faces an increasingly difficult path to bowl eligibility in its first season under Sanders. The Buffaloes currently have three ranked opponents left on the schedule — No. 25 UCLA, No. 12 Oregon State and No. 14 Utah — in addition to games against Arizona and Washington State. The Buffaloes are 0-2 against teams currently featured in the AP Top 25 after losses to No. 9 Oregon and No. 18 USC.