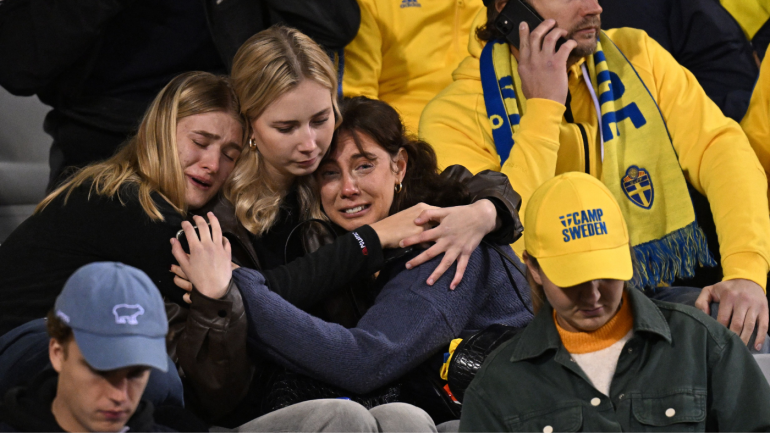 Getty Images
Belgium's Euro qualifier against Sweden was suspended after two people were shot dead in central Brussels on Monday. Belgium's prime minister Alexandre de Croo confirmed the victims were Swedish nationals with Sweden's soccer team in Brussels to take on Belgium in a UEFA Euro qualifying match.
The shooting took place before the game roughly two hours before the game, per the BBC, but the match kicked off as scheduled. It was eventually halted at halftime with an announcement over the loud speaker saying, "The players decided they do not want to continue the game, because of what happened earlier today in Brussels," according to Sky Sports.
The motive of the shooting is unclear at this time, but reports from Belgium suggest the victims were likely in Brussels because of Monday's match, per Reuters. In response to the attack Belgium has raised its terrorism alert to the highest level in the city and has discouraged citizens of Brussels from unnecessarily traveling. France has also tightened controls at its border with Belgium.
De Croo said that he offered condolences to Sweden's prime minister Ulf Kristersson in a statement, and though he followed the lead of local officials by not confirming suspected motives, he wrote: "As close partners the fight against terrorism is a joint one."
Though the teams were playing at Brussels' King Baudouin Stadium, the shooting did not occur at the match. The site of the incident is roughly three miles from the stadium, per the Associated Press, and fans have since been asked to remain in the stadium with the shooter still at large. 
The score of the match was 1-1 at halftime, with Viktor Gyökeres opening the scoring for the visitors before Romelu Lukaku scored an equalizer. It is unclear when the match will be resumed.