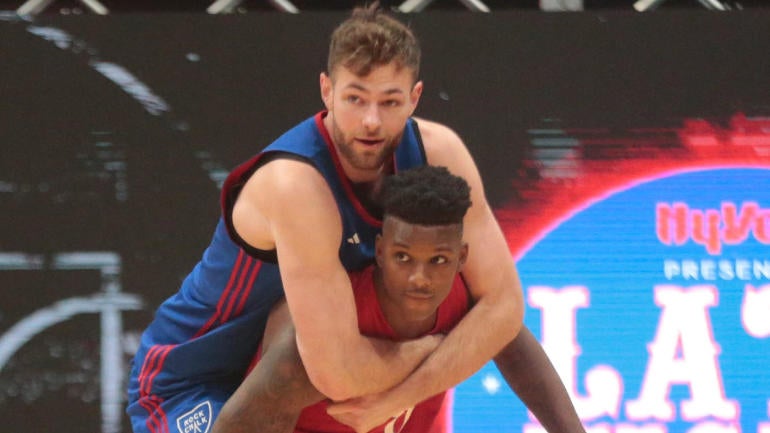 USATSI
After a stunning exit in the 2023 NCAA Tournament, Purdue will start the season ranked No. 2 in the Coaches Poll. Released Monday, the poll features Kansas as the No. 1 team with a 23-5 edge over the Boilermakers in first-place votes. No. 3 Duke and No. 5 Uconn also received first-place votes from the 32 participating Division l head coaches.
Purdue returns all five starters, including reigning national player of the year Zach Edey from a team that finished 29-6 overall and 15-5 in Big Ten play last season. Edey is joined by Braden Smith, Fletcher Loyer, Ethan Morton and Mason Gillis in the starting lineup. Purdue by virtue of a loss to Fairleigh Dickinson, became the second No. 1 seed in NCAA Tournament history to lose in the opening round of the NCAA Tournament to a No. 16 seed.
The Jayhawks, who also ranked No. 1 in the AP Top 25 Poll released on the same day, returns three starters in Dajuan Harris Jr., Kevin McCullar Jr. and KJ Adams Jr. Kansas added the top-ranked transfer in former Michigan center Hunter Dickinson and he should be a contender to dethrone Edey for national player of the year. The Jayhawks season ended early with a loss to Arkansas in the second round as coach Bill Self missed the entire NCAA Tournament due to a heart issue. 
Reigning national champion UConn, starts the season ranked No. 5 behind Kansas, Purdue, Duke and Michigan State. The Huskies play Kansas at Allen Fieldhouse in Lawrence, Kansas on Dec. 5.
Preseason Coaches Poll
Kansas (23)
Purdue (5)
Duke (3)
Michigan State
UConn (1)
FAU
Others receiving votes: Illinois 45; Wisconsin 43; Maryland 29; TCU 26; Colorado 21; Xavier 17; Ohio State 16; Virginia 13; St. John's 13; Kansas State 8; Indiana 7; Washington 5; Florida 5; Auburn 5; Missouri 4; Oregon 3; Memphis 3; Mississippi State 2; Iowa State 2; Yale 1; Boise State 1;