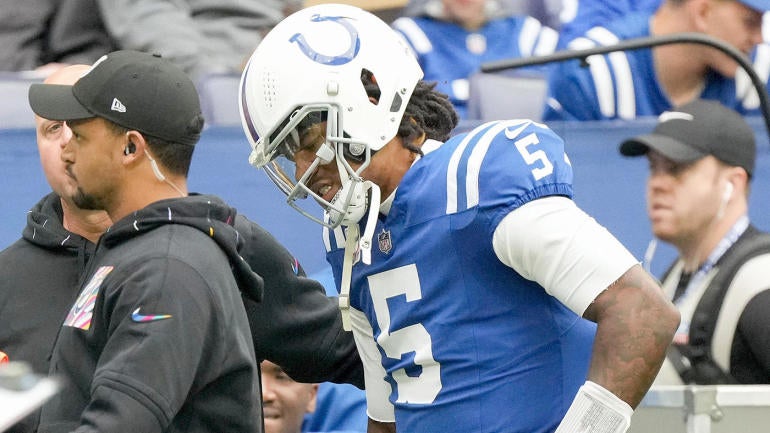 USATSI
Indianapolis Colts rookie quarterback Anthony Richardson will probably miss the remainder of the 2023 season, team owner Jim Irsay told ESPN. 
Richardson was placed on injured reserve last week with what was reportedly diagnosed as a Grade 3 AC sprain he suffered in the eventual Week 5 win over the Tennessee Titans. Irsay said Richardson could undergo shoulder surgery over the next week or so, according to the report. 
According to NFL Media, Richardson is "strongly" considering season-ending surgery on his right shoulder. Richardson reportedly received four to five opinions on his injured shoulder, and one of those opinions included Richardson undergoing a procedure to fully heal. It's worth noting that Richardson injured his throwing shoulder.
The No. 4 overall pick out of Florida completed 59.5% of his passes for 577 yards, three touchdowns and one interception in four games played, and also rushed for 136 yards and four touchdowns. Richardson became the first quarterback ever to rush for a touchdown in each of his first three games. 
Unfortunately, injuries have already been a headline in Richardson's young career. He exited the season opener vs. the Jacksonville Jaguars early due to a knee injury, was knocked out of Week 2's matchup against the Houston Texans with a concussion, missed Week 3 due to said concussion and then of course suffered what may be a season-ending injury in Week 5. 
Gardner Minshew is set to take over under center for Indy, and he's been fantastic this season. The former Jaguars draft pick has completed 68.7% of his passes for 553 yards, two touchdowns and zero interceptions, and helped the Colts win games against the Texans, Titans and started in the 22-19 overtime victory against the Baltimore Ravens. He could join Steve Young in 1989 as the only quarterbacks in the Super Bowl Era to record 150+ passing yards in multiple wins as a starter and multiple wins off the bench in a season.