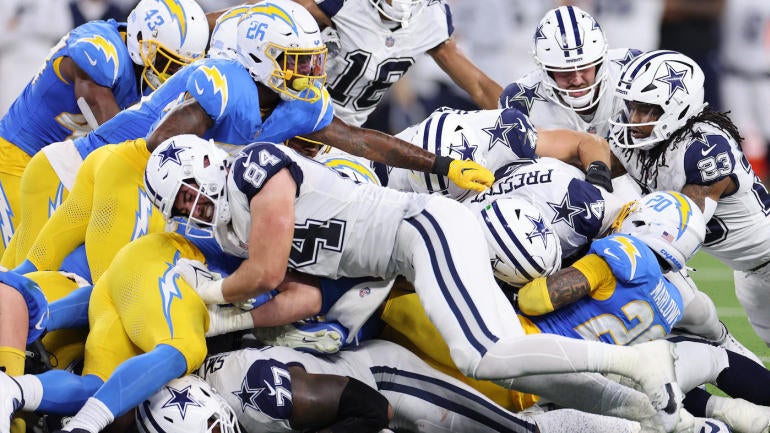 Getty Images
The saying goes that the NFL is a copycat league. While that's oftentimes the case with teams mimicking a new craze that has provided other clubs' success, it only works if the play, well, works. This season, Philadelphia's "tush push" (or "brotherly shove") play has been incorporated throughout the league after the Eagles have enjoyed loads of success by shoving Jalen Hurts up the middle of the offensive line to gain what feels like an automatic two yards.
We've seen several clubs try this throughout the first six weeks of the regular season, but no team has seemingly been able to capture the same rate of success as the Eagles. And that includes their NFC East rival Cowboys. 
In Dallas' 20-17 win over the Chargers on Monday night, they attempted the play on a fourth-and-1 try from the L.A. 13-yard line. Instead of Dak Prescott surging up past the line to gain like Hurst has done countless times with the Eagles, the Cowboys couldn't push off the line of scrimmage much at all and ultimately turned the ball over on downs. 
While that failed conversion took away a scoring chance for the Cowboys, it didn't end up costing them the game as they scored a late field goal to break the 17-all tie and an interception by Stephon Gilmore iced the game to move the club to 4-2. 
After the win, Prescott was asked about the failed push, which led to a comical response by the Dallas quarterback. 
"They didn't push my tush enough," he said, via NFL Media. 
While Prescott couldn't move the chain with that tush push in the first half, he did make an impact in this win on the ground, rushing for a season-high 40 yards which included an 18-yard touchdown run in the first quarter (no tush push necessary).