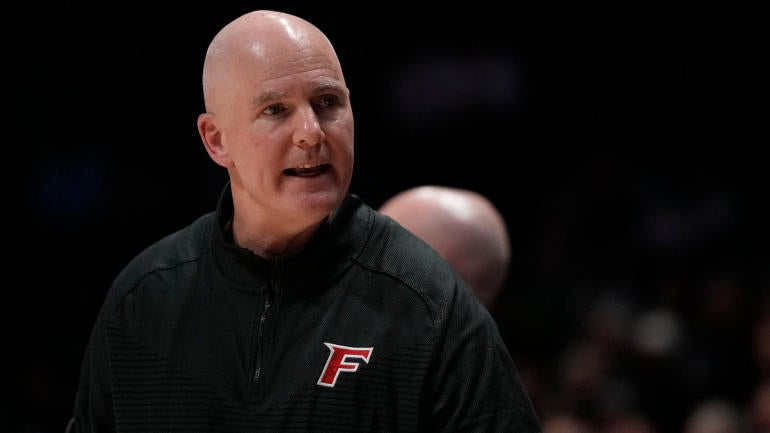 USATSI
Fairfield men's basketball coach Jay Young resigned from his position just weeks ahead of the Stags' season opener at Boston College Nov. 6, the school announced Monday. Young, who was preparing for his fifth season at the helm of the program, was coming off his fourth consecutive losing season after finishing 13-18 in 2022-23. Assistant coach Chris Casey will serve as interim coach, effective immediately.
Fairfield was picked to finish sixth in the MAAC preseason poll, but was 3-0 on its summer exhibition tour in Costa Rica.  
"We would like to thank Coach Young for his dedication and contributions to Fairfield during his four seasons with the Stags," Fairfield said in a statement. "During his tenure, Coach Young led the Stags to a 50-73 record, which included an appearance in the 2021 MAAC Championship game. We wish Coach Young much success in his future endeavors."
Young was hired by Fairfield after serving as an assistant coach at Rutgers from 2016-2019. He previously worked as an assistant at Stony Brook from 2005-2016. 
Casey was an original member of Young's staff at Fairfield hired in 2019. His elevation to interim coach comes after his four-year stint as assistant and after numerous years of previous experience as a head coach.
"Coach Casey's strong knowledge of the game, commitment to player development, previous head coaching experience and passion for the Fairfield University Men's Basketball program will provide a strong foundation for him to lead the Stags for the 2023-24 season," Fairfield's statement said. "Casey previously served as the Head Coach at Niagara University, LIU Post and Rutgers-Newark."
Casey's prior experience as head coach came at the Division III (Rutgers-Newark), Division II (LIU Post) and most recently Division I (Niagara) levels, with his most recent head coaching experience coming at Niagara from 2013-19. There, he led the school to a 64-129 overall record before being fired in March 2019.