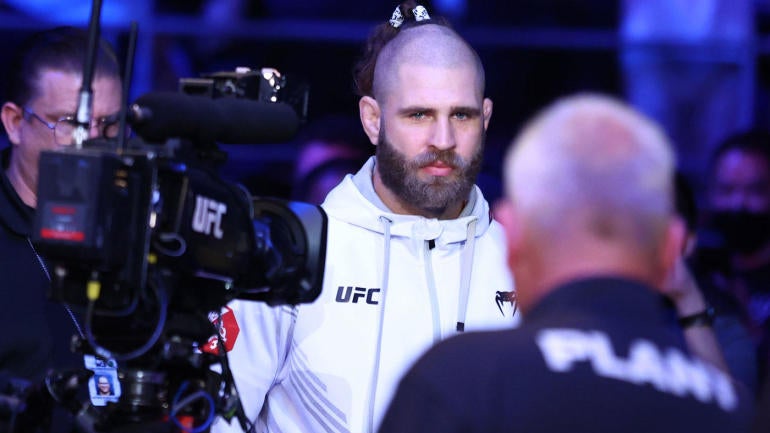 Getty Images
Jiri Prochazka is putting everyone on notice. Prochazka is set to return against Alex Pereira for the vacant UFC light heavyweight championship at UFC 295. It's the first stop on Prochazka's path to prove he's better than Jon Jones, Khamzat Chimaev and every fighter on Earth.
Prochazka returns to competition 11 months after vacating the UFC light heavyweight title due to injury. He shares the UFC 295 poster with reigning heavyweight champion Jones, considered by many as the best light heavyweight champion in history. Prochazka is honored to share billing with Jones, one of his idols and a man he envisions fighting someday.
"It's an honor because I don't see him as someone I want to challenge now or somebody I'll be fighting soon," Prochazka said. "Maybe later, maybe one time at heavyweight. Who knows? I don't know about my future yet. I just know I want to compete against the best guys. If he's the best guy, maybe in the future I will compete with him. 
"Right now, it's a pleasure to be on the same card and fight on the same night and same event. I'm happy about that because I really respect him. With his style, he was my inspiration around 2012 and 2013."
Check out the full interview with Jiri Prochazka below.
There is an unspoken rule that what happens in training stays in training. The gym holds many secrets: fighter's game plans, performance and health. But sparring and fighting are two different things. Sparring has valuable information, but it's not irrefutable evidence for how a fight plays out. Earlier this year, Chimaev — who fights Kamaru Usman at UFC 294 on Saturday — boasted to "The MMA Hour" about submitting and beating Prochazka "many times" while training around 2019. Prochazka shunned Chiamev for sharing insider information and welcomed a fight against the rising middleweight contender.
"They can say whatever they want," Prozachka told CBS Sports. "It's not right to speak about all these things because it's preparation and training. What happened, happened. That's all. I'm ready to challenge everybody. It doesn't matter for me. I will train to compete and challenge the guys from light heavyweight, heavyweight and middleweight. For me, now is starting to be the part where I don't want to choose who will be my opponent. I'm just looking to be the best."