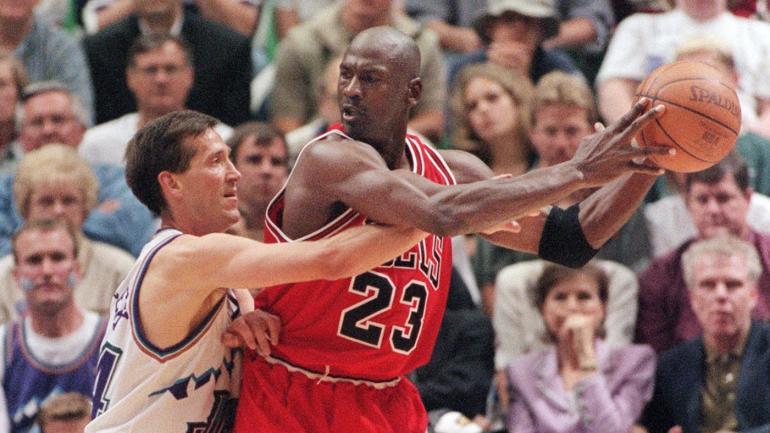 Getty Images
Reminders of Michael Jordan have not been very popular in Salt Lake City since the Chicago Bulls legend defeated the Utah Jazz in back-to-back NBA Finals in 1997 and 1998. That is why some fans did not respond well to the team selling "Jumpman" merchandise in the team store.
In 1997, head coach Jerry Sloan led the likes of Karl Malone and John Stockton to the NBA Finals, only to fall to Jordan and the Bulls in six games. One year later, as if the Jazz were living out the plot of Groundhog Day, they suffered the exact same fate.
Memories of Jordan hitting the series-clinching shot in 1998 and his Flu Game are seared into the minds of Jazz fans, especially after "The Last Dance" docuseries was released just a few years ago. That's why plenty of them were repulsed at the sight of the team name underneath his iconic "Jumpman" logo.
Fire whoever allowed this design. pic.twitter.com/do05OVagtd

— Laird (@lairddoman) October 15, 2023
While the shirt is a generic Jordan brand design, and every NBA team has one, it went over especially poorly in Salt Lake City. The response from the fan base was so bad that the Jazz have now removed it from shelves, according to The Salt Lake Tribune.
This just goes to show some wounds are deep enough that not even time can heal them, especially when it comes to those involving heartbreaking losses on the court.