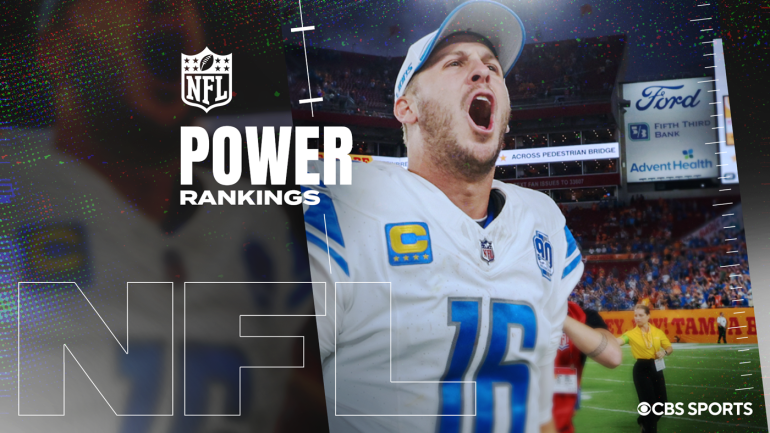 Kim O'Reilly, CBS Sports graphic
Six weeks into the NFL season, and there are no more undefeated teams.
That begs this question, one I often ask at this time of the year: is anybody any good?
Seriously.
Just when we thought the San Francisco 49ers had a chance to make a real run to be an undefeated team — fresh off a beating of the Dallas Cowboys on national television — they lost to the Cleveland Browns with a backup quarterback.
Later in the day, the Philadelphia Eagles were knocked from the undefeated ranks as Jalen Hurts, their Super Bowl star from last January, threw three picks, including one late to set up a game-winning score for the New York Jets.
Brock Purdy, on his run to be anointed as the next Joe Montana, looked ordinary for the 49ers. Hurts, who was the best player in the Super Bowl last year, hasn't looked the same this season. Both teams lost to good defenses.
Six weeks in, the 1972 Miami Dolphins are already popping champagne because nobody can challenge their undefeated season. It's pretty early for that.
Those Dolphins were good.
Are any of this year's teams?
Please check the opt-in box to acknowledge that you would like to subscribe.
Thanks for signing up!
Keep an eye on your inbox.
Sorry!
There was an error processing your subscription.
That's still to be determined. I still think the 49ers and Eagles are good teams that happened to have bad days, but they drop down in my Power Rankings this week (to No. 4 for the 49ers and No. 5 for the Eagles). The top teams are now the Kansas City Chiefs at No. 1, the Miami Dolphins at No. 2 and the Detroit Lions at No. 3.
The top-three teams all face tough challenges this week. The Chiefs play the Los Angeles Chargers at Arrowhead, the Lions play the Baltimore Ravens on the road and the Dolphins play at the Eagles.
It's a weekend that should clear up whether any of the new top three are for real. The 49ers and Eagles reminded us Sunday not to get too ahead of ourselves anointing these teams as the ones to beat.
As we found out in Week 6, nobody is that good — at least not yet.
Biggest Movers
| Rk | Teams |   | Chg | Rcrd |
| --- | --- | --- | --- | --- |
| 1 | Chiefs | They haven't clicked on offense, but that defense is playing well. The offense will get there, but it does need to quit being so cute with its play-calling at times. | 2 | 5-1-0 |
| 2 | Dolphins | They've regrouped in a big way after losing to the Bills three weeks ago. But they face a tough task against the Eagles on the road. That will be fun. | 2 | 5-1-0 |
| 3 | Lions | Going on the road and limiting Tampa Bay to no touchdowns is a big day for their defense. This team is for real. | 2 | 5-1-0 |
| 4 | 49ers | The offense didn't do much of anything against the Browns, which is a worry. Brock Purdy sure didn't look like Joe Montana in that one. | 3 | 5-1-0 |
| 5 | Eagles | The Eagles offense hasn't looked great all season, but it wasn't good in the loss to the Jets. Jalen Hurts just hasn't been as good as we expected. | 3 | 5-1-0 |
| 6 | Cowboys | It wasn't pretty, and there were a lot of mistakes, but they found a way to win Monday night against the Chargers. They head into the bye week feeling a lot better than a week ago. | 1 | 4-2-0 |
| 7 | Jaguars | They've won three straight to get to 4-2 and atop the AFC South. The Trevor Lawrence knee injury is concerning as they head to New Orleans. | 2 | 4-2-0 |
| 8 | Bills | It wasn't pretty against the Giants Sunday night, but they found a way. Against a better team, they lose. | 2 | 4-2-0 |
| 9 | Ravens | They found a way to hold on against the Titans in London, but they still haven't clicked all the way yet. The offense is just off some. | 2 | 4-2-0 |
| 10 | Browns | The defense came up big in the upset of the 49ers. They might have Deshaun Watson back this week, but he has to play better. | 6 | 3-2-0 |
| 11 | Bengals | They head into their bye week at 3-3, which is a good sign after their bad start. Joe Burrow now gets an important week to get healthier. | 8 | 3-3-0 |
| 12 | Rams | At 3-3, Sean McVay is doing a heck of a job with this team. The Rams have also been in every game they lost against three good teams. | 9 | 3-3-0 |
| 13 | Seahawks | They blew too many scoring chances against the Bengals. You can't win that way in this league. The defense did play well. | 5 | 3-2-0 |
| 14 | Buccaneers | Off their bye week, they came out and laid an egg on offense against the Lions. Baker Mayfield just didn't have it. | 8 | 3-2-0 |
| 15 | Jets | The Jets defense came up big against the Eagles, which has them at 3-3. That's impressive after losing Aaron Rodgers in the first game. | 10 | 3-3-0 |
| 16 | Texans | DeMeco Ryans has this team 3-3 as they head to the bye week. That's coach-of-the-year stuff. | 1 | 3-3-0 |
| 17 | Saints | That was not a good look in losing to the Texans on the road. The offense moved the ball, but just couldn't score enough. | 5 | 3-3-0 |
| 18 | Colts | So much for all the Gardner Minshew hype. He was terrible against the Jaguars, which doesn't bode well since Anthony Richardson is likely done for the season. | 5 | 3-3-0 |
| 19 | Commanders | That was a big-time road victory against the Falcons. The defense, which had been awful, came up big. | 7 | 3-3-0 |
| 20 | Falcons | Losing at home to the Commanders is not good. Desmond Ridder regressed after a promising game a week ago. | 6 | 3-3-0 |
| 21 | Chargers | When will Brandon Staley learn it's OK to take field goals to tie games? It cost him again against the Cowboys. Typical. | 3 | 2-3-0 |
| 22 | Steelers | They come off their bye week hoping the offense found some life during it. They have to score more points. | 2 | 3-2-0 |
| 23 | Raiders | They've won two straight thanks to the defense. But now they might be without Jimmy Garoppolo for a bit, although Brian Hoyer played well in relief against the Pats. | 1 | 3-3-0 |
| 24 | Packers | They come off their bye with a lot of guys getting healthy. That's important. Jordan Love needs to be better. | 1 | 2-3-0 |
| 25 | Titans | They have issues on offense in a big way, and now Ryan Tannehill is hurt. It could be Malik Willis time. | 8 | 2-4-0 |
| 26 | Vikings | Winning at Chicago may delay any of that talk of selling off parts at the trade deadline. They face a tough one against the 49ers this week. | 2 | 2-4-0 |
| 27 | Bears | The Justin Fields injury is a concern, but they didn't play well against the Vikings. Is it time to start thinking about next year? | 3 | 1-5-0 |
| 28 | Cardinals | The early-season optimism has waned the past few weeks. They should go back to tanking — if it isn't too late. | 1 | 1-5-0 |
| 29 | Patriots | They competed against the Raiders, which is progress. It's hard to believe it's come down to that for this group. | — | 1-5-0 |
| 30 | Giants | Competing at Buffalo and falling short is progress. The defense played well, but they just don't score on offense, and now Daniel Jones could be out for a long time. | — | 1-5-0 |
| 31 | Broncos | This is officially a disaster. Russell Wilson looks lost. Sean Payton isn't fixing him. | — | 1-5-0 |
| 32 | Panthers | This is going to be a long, long season for this a group. The defense is a major problem, which many didn't see coming. | — | 0-6-0 |
Our Latest NFL Stories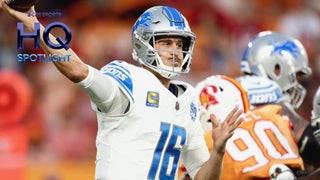 Watch Now: