Traditional big men can still dominate college basketball — but, in recent years, it's become harder than ever for them to solidify themselves as desirable NBA prospects because of the way the game is played at the highest level of the sport. The byproduct of that is that they largely get pushed back to college. And the byproduct of that is that the list of CBS Sports preseason All-Americans is filled with frontcourt players for the second straight October.
Purdue's Zach Edey, North Carolina's Armando Bacot, Kansas' Hunter Dickinson and Duke's Kyle Filipowski were all voted CBS Sports Preseason First Team All-Americans, which means 80% of our First Team stands 6-foot-11 or taller. That's obviously unusual and possibly unprecedented but really just a sign of the times.
Edey was a unanimous choice.
The 7-4 center is the reigning CBS Sports National Player of the Year after averaging 22.3 points, 12.9 rebounds and 2.1 blocks per game last season while leading Purdue to the Big Ten regular season title and Big Ten Tournament title. The Canadian is the favorite to repeat as the Wooden Award winner and if he does it, will be the first back-to-back Wooden Award winner since Ralph Simpson in 1982 and 1983.
The only guard on the First Team?
That's Marquette's Tyler Kolek, the reigning Big East Player of the Year who averaged 12.9 points, 7.5 assists and 4.1 rebounds last season while leading the Golden Eagles to the Big East regular-season title and Big East Tournament title. His return to Milwaukee is among the reasons Marquette is ranked fifth in the Associated Press Top 25 preseason poll.
Our three All-America teams consist of 15 players from six different leagues — the Big East, ACC, Big Ten, Big 12, Pac-12 and SEC. Edey, Bacot and Dickinson are the only repeat preseason All-Americans. The lone player who was a preseason All-American last season, returned to school, but did not make any of our three preseason All-America teams this season is Caleb Love, the former North Carolina guard who is now enrolled at Arizona. — Gary Parrish
Note: The CBS Sports Preseason All-America Teams were voted on by college basketball writers at CBS Sports and 247Sports as well as broadcasters from CBS and CBS Sports Network.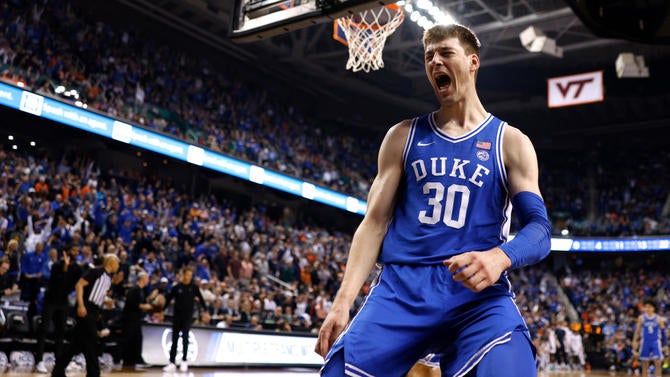 2023-24 CBS Sports Preseason All-America First Team
Zach Edey | Purdue | C | 7-4 | Sr.
Our only unanimous All-America First Team pick, and it would've been criminal if any voter shrugged Edey off to Second Team status. The Canadian Colossus is coming off a dynamite season. He swept every player of the year award he was up for by averaging 22.3 points (sixth nationally), 12.9 rebounds (second), 2.1 blocks (18th) and 1.5 assists on 60.7% shooting. It all adds up to one of the most statistically dominant seasons from any player in modern history. Edey's 40.21 player efficiency rating was second-best in the sport dating back to 2002, which is when Sports Reference began tracking. (Only Zion Williamson's was better.) 
He led college basketball with 27 double-doubles and, according to Purdue, Edey's the only player in the NCAA official stats database to end a season ranked in the top 25 in points, rebounds, blocks and field goal percentage. Until Edey, no player logged more than 750 points, 400 rebounds, 70 blocks and 50 assists in a season. (Blocks became an official stat in the early 1980s.) His dominance was undeniable. After playing with the Canadian National Team over the summer, we expect Edey to only get better. A scary thing for the rest of the sport. — Matt Norlander 
Tyler Kolek | Marquette | G | 6-3 | Sr.
The only guard on our All-America First Team is the reigning Big East Player of the Year. Kolek emerged as a top-tier floor general after he commanded Marquette to a sweep of Big East titles last season, averaging 12.9 points, 7.5 assists and 4.1 rebounds on 40% 3-point shooting. Kolek plays with ever-lasting energy and has thrived off opponents underestimating his wits and physicality. 
He's a near-perfect player for Shaka Smart. It's possible another guard or two emerges as a more impactful player, but no guard entering this season is coming off a better 2022-23 than Kolek. The Golden Eagles are favored to win the Big East and maintain their crown. Kolek is one really good season away from going down as one of the best backcourt players in the history of that proud program. — MN
Armando Bacot | North Carolina | F/C | 6-11 | Gr.
This remains my favorite tweet of the offseason:
Bacot channeling nine-year college legend Perry Ellis and maintaining a sense of humor and self-deprecation after being a part of one of the biggest letdowns in college hoops history is an encouraging sign. The fifth-year big man was unlikely to be drafted, and given that he had a healthy assortment of NIL deals on the table and he was obviously wanted back by the coaching staff and the fan base, it was a no-brainer. 
Bacot (career averages: 13.7 ppg, 10.1 rpg, 55.6 fg%) is going to be the heart of a North Carolina squad that is determined to atone for last season's embarrassing whiff on making the NCAAs after being preseason No. 1. Bacot is UNC's leader in all-time rebounds (1,335) and double-doubles (68). Best of all, Bacot is an interesting and reliable quote at a time in college sports where that is not the easiest thing to find. — MN
Hunter Dickinson | Kansas | C | 7-2 | Sr.
The most sought-after transfer on a busy transfer market, Dickinson decided to leave Michigan and join Bill Self's Jayhawks, who are No. 1 team in both the preseason AP Top 25 and the CBS Sports Top 25 And 1. Dickinson has career averages of 17.2 points, 8.4 rebounds, 1.6 blocks and has made 57% of his field goal attempts. The Jayhawks will need him to be one of the five best players in the country in order to be in position to win the national title. 
A change of scenery may well provide him the runway to have the best season of his career. Self has coached some terrific centers over the years (Cole Alrdich, Jeff Withey, Joel Embiid, Udoka Azubuike), but none of his best bigs entered a season with more expectation on their shoulders than Dickinson this year. — MN
Kyle Filipowski | Duke | C | 7-0 | Soph.
As our preseason First Team proves, college hoops is still very much a big man's world. But whereas the other four honorees are grizzled vets, Filipowski is merely a sophomore. It speaks to how good he was last season and how much is expected of him that he broke through for our top five. A potential first round pick this past June, the guy they call "Flip" decided instead to return to Durham and round out a preseason top-three roster for Jon Scheyer's Blue Devils. 
Filipowski will try to improve upon his averages (15.1 points, 8.9 rebounds, 44.1% shooting) and go head-to-head with Bacot to be the best big in the ACC. We're including Filipowski as our final First Team pick because we expect his 3-point shooting to take a jump; he made just 28.2% of his 124 attempts last season behind the arc. — MN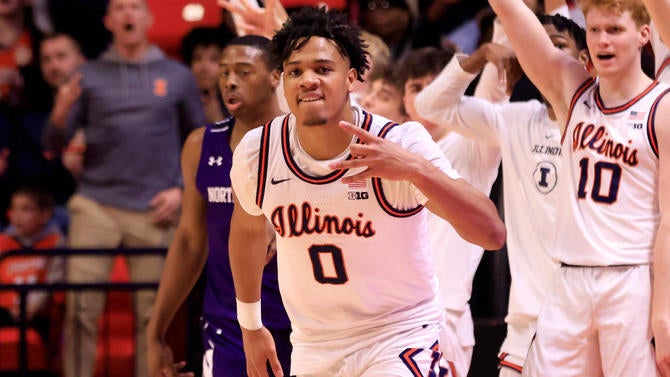 2023-24 CBS Sports Preseason All-America Second Team
No player in college basketball had a higher true shooting percentage last season than did Kalkbrenner, who blended an efficient scoring approach on offense with one of the most potent inside defensive presences in the sport. The two-time Big East Defensive Player of the Year is coming off a career season for Creighton after averaging 15.9 points per game and figures to be a focal point for a Bluejays team that just earned its highest-ever ranking in the preseason AP Top 25 poll at No. 8. — Kyle Boone
Shannon was one of the most impactful transfers in college hoops last season for Illinois, where he broke out in a big way after three seasons at Texas Tech, averaging a career-high 17.2 points, 4.6 rebounds and 2.8 assists per game for the Illini. His first season in Champaign, Illinois, netted him First Team All-Big Ten honors, and his decision to return to college after testing the NBA Draft waters instantly propelled Illinois back into the mix as a contender in a loaded Big Ten. He and Coleman Hawkins both put promising NBA futures on hold to breathe life into an Illinois program that most of our CBS team believes will be top-three in the conference. — KB
One of only two returning First Team All-SEC performers from last season, Taylor nearly doubled up his career averages as a sophomore where he averaged 16.3 points and 3.9 assists per game for Texas A&M. He's the leading returning scorer and assist man for an Aggies team that has as much continuity as any in college hoops, as it returns eight of its top nine scorers from a squad that won 25 games and came just one conference win shy of tying for an SEC conference regular season championship. — KB
Ellis surprisingly opted to return for a fifth season after leading USC in scoring in 2022-23, giving USC a foundational piece on which to plant its incoming No. 3-ranked recruiting class. Teaming up with No. 2 overall recruit Isaiah Collier should free him up to focus even more on his scoring prowess, and there should be more opportunities available on that front with star Drew Peterson off to the NBA. — KB
Isaiah Collier | USC | G | 6-5 | Fr.
The crown jewel of USC's third-ranked recruiting class, Collier was ranked as the No. 2 overall player in the 2023 class and has already established himself a force for the Trojans. He's an electric dual-threat guard who will thrive as a distributor and scorer to give the Trojans one of the best backcourt duos not just in the Pac-12, but in college hoops, next to Boogie Ellis. — KB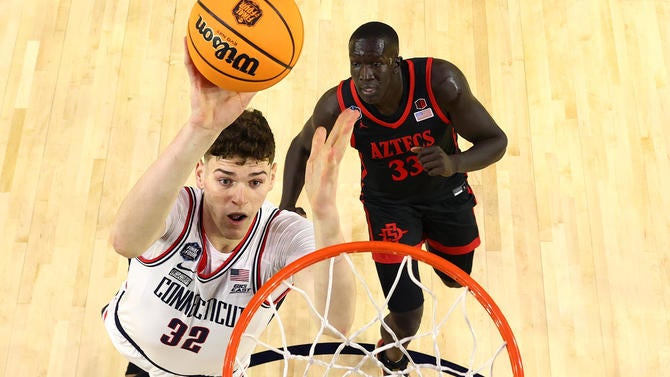 2023-24 CBS Sports Preseason All-America Third Team
The towering center was a key reserve on UConn's national championship team and he averaged 6.9 points and 5.6 rebounds in only 13.1 minutes per game. With Adama Sanogo off to the NBA, Clingan's numbers are expected to take a massive leap. — Cameron Salerno
Proctor elected to bypass last June's NBA Draft and return to school for another season after averaging 9.4 points and 3.3 assists as a freshman. The Australian guard should take over lead guard duties for the Blue Devils this season where he will be comfortable facilitating the offense. — CS
The former Kentucky WIldcat averaged 15.8 points and 8.5 rebounds in his first season with Providence last season and the do-it-all forward is back for another run. Hopkins is a player new coach Kim English can trust on both ends of the floor. — CS
One of the most prolific scorers in college basketball has a new home this season after spending the last four years at Oral Roberts. Abmas ranked as the No. 8 overall player available in the transfer portal rankings and should provide Rodney Terry with a reliable scorer next to Tyrese Hunter in the backcourt. — CS
Alexander played a key role on Creighton's Elite Eight team last season. He averaged 13.6 points and 4.2 rebounds on 44.7% shooting and is a major reason why the Blue Jays are ranked No. 8 in the preseason AP Top 25 poll. — CS