The Philadelphia Phillies and Texas Rangers are both two wins away from the 2023 World Series. Both teams have jumped out to 2-0 series leads in the LCS round. The Phillies had an emphatic 10-0 victory in NLCS Game 2 over the Arizona Diamondbacks on Tuesday night. The game was close for five innings, but the Phillies broke it wide open with back-to-back four-run innings.
The Rangers are up 2-0 in the best-of-seven ALCS against the defending World Series champion Houston Astros. Texas went to Minute Maid Park and took two games from Houston on Sunday night and Monday afternoon. The Rangers will send Max Scherzer to the mound on Wednesday night in just their second game of the playoffs at Globe Life Field.
Three of the four top seeds in these playoffs were knocked out in the LDS round. The 104-win Braves were ousted by the Phillies, the Rangers swept the 101-win Orioles, and the D-backs took out the 100-win Dodgers. The playoff field started with 12 teams, but is now down to its final four. The Marlins, Brewers, Blue Jays and Rays were eliminated in the Wild Card Series.
Below is a look at the complete MLB playoff bracket, and the complete schedule for the playoffs. All games on Fox and FS1 will be streaming on fubo (try for free).
2023 MLB playoff bracket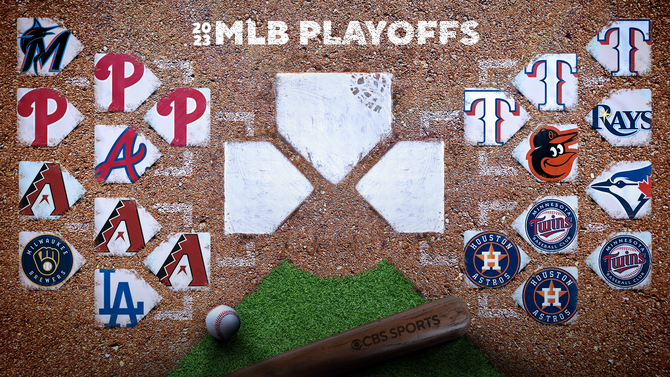 League Championship Series

Sunday, Oct. 15
ALCS Game 1: Rangers 2, Astros 0
Monday, Oct. 16
ALCS Game 2: Rangers 5, Astros 4 (Texas leads 2-0)
NLCS Game 1: Phillies 5, Diamondbacks 3
Tuesday, Oct. 17
NLCS Game 2: Phillies 10, Diamondbacks 0 (Philadelphia leads 2-0)
Wednesday, Oct. 18
ALCS Game 3: Rangers vs. Astros, 8:03 p.m. ET (FS1)
Thursday, Oct. 19
NLCS Game 3: Diamondbacks vs. Phillies, 5:07 p.m. ET (TBS)
ALCS Game 4: Rangers vs. Astros, 8:03 p.m. (FS1)
Friday, Oct. 20
ALCS Game 5*: Rangers vs. Astros, 5:07 p.m. ET (FS1)
NLCS Game 4: Diamondbacks vs. Phillies, 8:07 p.m. ET (TBS)
Saturday, Oct. 21
NLCS Game 5*: Diamondbacks vs. Phillies, 8:07 p.m. ET (TBS)
Sunday, Oct. 22
ALCS Game 6*: Astros vs. Rangers, 8:07 p.m. ET (FS1)
Monday, Oct. 23
NLCS Game 6*: Phillies vs. Diamondbacks, 5:07 p.m. ET (TBS)
ALCS Game 7*: Astros vs. Rangers, 8:03 p.m. ET (Fox/FS1)
Tuesday, Oct. 24
NLCS Game 7*: Phillies vs. Diamondbacks, 8:07 p.m. ET (TBS)
World Series
Friday, Oct. 27
World Series Game 1: TBD vs. TBD (Fox)
Saturday, Oct. 28
World Series Game 2: TBD vs. TBD (Fox)
Monday, Oct. 30
World Series Game 3: TBD vs. TBD (Fox)
Tuesday, Oct. 31
World Series Game 4: TBD vs. TBD (Fox)
Wednesday, Nov. 1
World Series Game 5*: TBD vs. TBD (Fox)
Friday, Nov. 3
World Series Game 6*: TBD vs. TBD (Fox)
Saturday, Nov. 4
World Series Game 7*: TBD vs. TBD (Fox)
---
Divisional round scores, schedule
Saturday, Oct. 7
ALDS Game 1: Rangers 3, Orioles 2 
ALDS Game 1: Astros 6, Twins 4
NLDS Game 1: Phillies 3, Braves 0
NLDS Game 1: Diamondbacks 11, Dodgers 
Sunday, Oct. 8
ALDS Game 2: Rangers 11, Orioles 8
ALDS Game 2: Twins 6, Astros 2
Monday, Oct. 9
NLDS Game 2: Braves 5, Phillies 4 
NLDS Game 2: Diamondbacks 4, Dodgers 2
Tuesday, Oct. 10
ALDS Game 3: Astros 9, Twins 1
ALDS Game 3: Rangers 7, Orioles 1 (Texas wins 3-0)
Wednesday, Oct. 11
NLDS Game 3: Phillies 10, Braves 2
ALDS Game 4: Astros 3, Twins 2 (Houston wins 3-1)
NLDS Game 3: Diamondbacks 4, Dodgers 2 (Arizona wins 3-0)
Thursday, Oct. 12
NLDS Game 4: Phillies 3, Braves 1 (Philadelphia wins 3-1)
Wild Card Series scores

Wednesday, Oct. 4
Game 2: Rangers 7, Rays 1 (Rangers win 2-0)
Game 2: Twins 2, Blue Jays 0 (Twins win 2-0)
Game 2: Brewers 5, Diamondbacks 2 (D-backs win 2-0)
Game 2: Phillies 7, Marlins 1 (Phillies win 2-0)
Tuesday, Oct. 3
Game 1: No. 5 Rangers 4, No. 4 Rays 0 (Rangers lead 1-0)
Game 1: No. 3 Twins 3, No. 6 Blue Jays 1 (Twins lead 1-0)
Game 1: No. 6 Diamondbacks 6, No. 3 Brewers 3 (D-backs lead 1-0)
Game 1: No. 4 Phillies 4, No. 5 Marlins 1 (Phillies lead 1-0)