For this year (and quite possibly this year only, thanks to the decimation of the Pac-12), college basketball has six conferences (ACC, Big East, Big Ten, Big 12, Pac-12, SEC) perched above the rest. We've covered all those 2023-24 conference previews at this point.
Here, today, we'll be focusing on the abundance of quality teams, talent and coaches outside the "Big Six" leagues. 
This is the annual Best of the Rest preview, wherein you'll get intel on some of the top players and strongest teams from multi-bid leagues and single-bid mid-major conferences. This is not a "mid-major" preview. Teams such as Gonzaga, Memphis and San Diego State are highlighted; none of those programs are mid-majors. 
This is what we said it is: Best of the Rest. And there's a lot of Rest out there to get to, so let's go.
Ten players to know
These aren't for sure the 10 best players outside of the Big Six leagues, but they are 10 quality hoopers who should play vital roles on teams well-positioned to make the 2024 NCAA Tournament, listed in alphabetical order …
Here's the fella responsible for the biggest shot in school history. A reminder that Butler's buzzer-beater to knock off FAU is the only game-winner in Final Four history that was a do-or-die shot. Meaning: Time expired as the shot was in the air, and had it not gone in, the team shooting it would have lost. Never before in that scenario had the trailing team won the game in a Final Four affair or the national title game. Until Butler did this. 
The Aztecs should again be a quality team out of the Mountain West. Expect Butler's role to significantly increase. I don't think he'll be a top-10 player outside of the Big Six conferences, but I do think he'll be SDSU's MVP and that is going to be a major factor in the Aztecs making it back to the Big Dance.
Obviously one of the better mid-major players in America, DeVries will probably emerge as one of the most statistically stout studs in the country. If Drake can manage a fourth straight season of 25 or more wins and DeVries improves on his averages of 18.6 points, 5.7 rebounds and 37.3% 3-point shooting, he'll be in the conversation to be an All-American. Every high-major was afraid to play Drake, so the top nonconference affair to catch DeVries this season will be on Dec. 22, when UAB welcomes the Bulldogs. That's a really good mid-major matchup. 
The Flyers fell short of preseason expectations last season, but Holmes was as advertised. He started 34 games and averaged 18.8 points and 8.1 rebounds while shooting 59%. It's not unreasonable to ask him to nudge those numbers up in his third year of college. Holmes is an easy pick for this list not just because of his value on offense; his defensive faculties are terrific and will be an energy source for UD this season. 
Jones has a chance to be drafted in 2024 and almost definitely will be the best player in the Big Sky. (Twist: As you'll see below, I don't have Weber State winning the league.) The 6-6 (strong) wing averaged 16.7 points, 10.9 rebounds and 3.8 assists, but here's the wow stat: Jones grabbed 35.5% of opponents' misses when he was on the floor — the No. 1 defensive-rebound rate of any player in the country. Weber State has a fun mid-major schedule this season: I recommend you watch Jones open the season vs. Saint Mary's ( (Nov. 12), then catch him vs. Colgate (Nov. 18), Yale (Nov. 19) and Nevada (Dec. 13). 
He's still something of a cult hero for late-night college hoops sickos, but this should be the glow-up season for the slender, 6-3 sophomore. Mahaney was more valuable than his numbers last season (13.9 points, 2.1 rebounds, 2.0 assists) indicated. 
With Logan Johnson (primary distributor) moving on, it means Mahaney's usage is going to inflate. He could become one of the more entertaining players in the sport. I made sure not to pick two players from the same team for this list, but had I not abided by my own rules, Gaels force Mitchell Saxen would've cleared the bar. 
Of course a member of a mid-major Final Four team was making this list; the problem was FAU had four players under consideration. I'll narrowly take Martin over the likes of Johnell Davis, Nick Boyd and Vlad Goldin. Martin, a shooting guard, averaged 19.0 points and 5.6 rebounds in FAU's final seven games of 2022-23. He embodies the program's fearless and selfless spirit under Dusty May. There are six candidates on any given night to be the Owls' best player, but over the course of this season, I think Martin has the best chance to be FAU's best on most nights. 
College basketball fans know who this guy is, so his inclusion is not about educating the audience; it's about responsibly listing someone who probably will be one of the five most valuable players outside of the Big Six structure. (And had Nembhard not transferred from Creighton, Anton Watson would've been the Gonzaga rep here.) Nembhard's older brother, Andrew, used a transfer to Gonzaga (via Florida) as a springboard to becoming a first round NBA pick. Nembhard (12.1 ppg, 4.8 apg, 4.0 rpg) gives a semi-mysterious Gonzaga squad confidence to be a top-20 team again, even if few think this group will be of the top-10 variety this season.
The reigning Big South Player of the Year is back — and credit to him for staying loyal to coach Mike Morrell. Pember came to Asheville a few years ago after not liking his fit at Tennessee. He put up 20.9 points, 9.1 rebounds, 2.3 assists and 2.3 blocks. With Pember starring for the Bulldogs, the program made its first NCAA trip in seven seasons. Pember was second in the sport in fouls drawn. He made opponents pay by sinking 83.2% of his freebies. So long as he's healthy, he's the runaway favorite to win POY in his league again.  
Quinerly joins Nembhard as former power-league players who transferred to schools outside the realm and thus landed on my list. The veteran lead guard will turn 25 on Nov. 25, the day after Memphis wraps up playing in the Battle 4 Atlantis. Quinerly was considered one of the most important gets of the portal, and though his stats last season weren't eye-popping (8.7 points, 3.6 assists, 40.2 FG%), he figures to play a humongous role for an NCAA Tournament contender.  
What a player. Stevens was tabbed as the 2023-24 Mountain West Preseason Player of the Year. The Ram is in his fifth season with the school and should rank among the 5-10 best point guards in the nation. A year ago, Stevens averaged 17.9 points and 6.7 assists for a sub-.500 team with injury issues. This CSU squad is going to be a lot better and Stevens' stats should thrive because of it. Find the time to watch him; he'd start at the 1 for all but 3-5 teams. EvanMiya.com expects him to be the second most important player on offense in the nation this season, only behind a guy named Zach Edey. (😳)
Mid-major coaches on the climb
In an effort to continue to put shine on lesser-known coaches, I'm sidestepping including any mid-major coach that has made this list the past two seasons. That means Casey Alexander,  Darian DeVries, Jared Grasso, Joe Golding, Robert Jones, Matt Langel, Jeff Linder, Ritchie McKay and Russell Turner are all already accounted for.
In alphabetical order, here are six coaches on the come-up, all of whom strolled the sidelines in the 2023 NCAA tourney. 
Let's highlight a coach who DID get a promotion. Abdur-Rahim got the USF gig after commandeering a massive four-year turnaround at Kennesaw State. He went 1-28 his first season, then guided the Owls to their first NCAA Tournament ever this past March by going 26-9 and taking the ASUN title. Abdur-Rahim makes the list not just because of that, but because he should have a team that's in the top half of the American and figures to have USF more competitive in the years to come.
In the past 10 seasons at Winthrop and Charleston, Kelsey has won 70% of his games — a clip few coaches can match in that timespan. The Cougars went 31-4 last season and did so without a top-three player in the league. That's good coaching. The Cougs are again the favorite to win the Coastal Athletic Association (yes: there was a name change; this was formerly the Colonial Athletic Association). If Charleston makes another NCAA tourney, Kelsey's name will be a hot one on the carousel.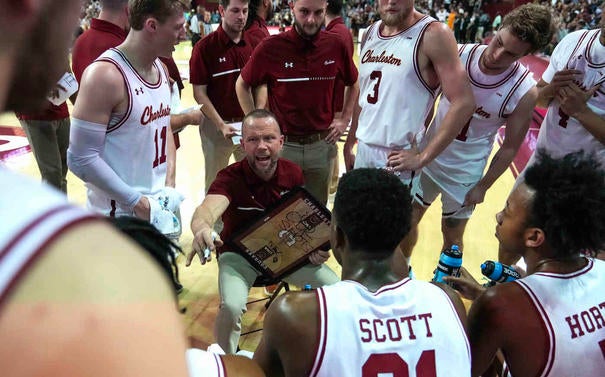 You take an Ivy League team to the Sweet 16, you're making my list. Henderson's Tigers gave us vintage March Madness vibes by upsetting Arizona and then mopping the floor with Missouri as a No. 15 seed. Henderson's quietly been doing a good job at his alma mater since 2011, so here's an overdue bouquet of flowers. Princeton is not expected to be the best team in the Ivy this season, but no one will shortchange Henderson after last season's glory.
Dusty May, FAU
I mean, come on. He's the No. 1 pick for this list. May had one of the best single-season reputation enhancements in recent memory. The Final Four is a huge reason why, but keep in mind that FAU was a known entity and legitimate feel-good college hoops story for two-plus months prior to March. May got a well-deserved raise, but better than that: He didn't lose a player to transfer, which is why the Owls are projected to be one of the better teams in the country this season. If FAU merely makes the NCAAs in its new confines of the American Athletic Conference, May could be the most desired name on the carousel. 
Mike Morell, UNC Asheville
This is Year 6 for Morrell, who took the Bulldogs to the NCAAs as a No. 15 seed this past March. His team won 27 games last season and will be favored to win the Big South again. Morrell's first year with the program was dreadful: 4-27. Now he's got the reigning player of the year back in the fold and is enjoying life in one of the most underrated cities in the country. Love to see these types of turnaround stories.
The four-decade-long drought finally expired in March when Furman overcame its bugaboos and broke through in the SoCon. What came next was even better: The 13th-seeded Paladins upset Virginia in the first game of the first round.
Richey inherited this job after Niko Medved left for Drake in 2017. He has been tremendous, owning a 139-55 record (.716) and first, second or third place in the SoCon every season. A top-three finish in '23-24 seems all but guaranteed, meaning FU could again be a Cinderella candidate — and Richey could be high up on the interview list for a few athletic directors come next March.
Top 15 non-Big Six teams for '23-24
Projected conference champions