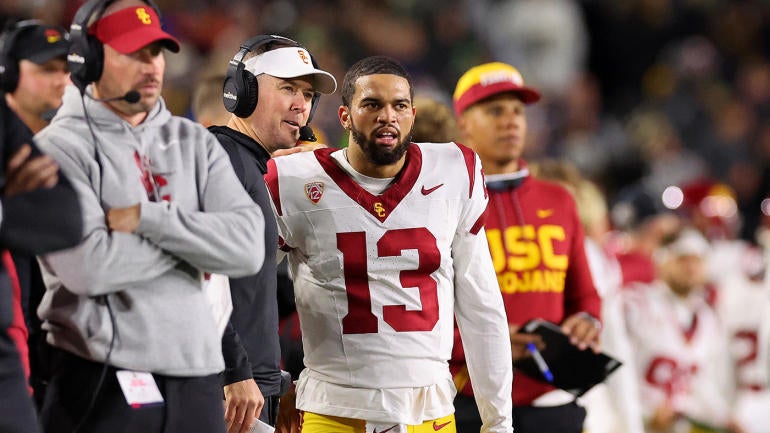 USATSI
Change is coming to the College Football Playoff in a big way next season. The postseason tournament will grow from four teams to 12. As of now, the 12 teams in the bracket will include the six highest-rated conference champions, according to the CFP Rankings, and the next six highest-ranked programs. The top four conference champions will get byes into the quarterfinals.
There is a legitimate chance that format will be adjusted to account for the demise of the Pac-12. That could result in something as simple as guaranteeing playoff spots for only the top five conference champions (with seven at-large bids) or something more drastic, such as doing away with automatic qualifiers entirely.
For the purpose of this exercise, I am using my bowl projections to determine the order of the four conference champions projected to receive byes into the quarterfinals in this bracket and AP rankings for the other teams. 
As was the case last week, I am moving projected Pac-12 champion Oregon to the same position the No. 9-ranked Ducks are slotted in my bowl projections: the No. 5 seed. The Pac-12 champion will undoubtedly be ranked higher than any other team from that league. Meanwhile, No. 15 Notre Dame's dominant victory over No. 18 USC has bumped the Trojans all the way out of this week's projection. Undefeated No. 10 North Carolina makes its first appearance in the projected 12-team field in place of USC.
The Group of Five representative has changed for the third straight week with Air Force now in that spot as the projected No. 12 seed. The Falcons from the Mountain West are expected to run the table and be the sixth-highest ranked conference champion come the end of the season.
This week's game between No. 3 Ohio State and No. 7 Penn State at the Horseshoe is likely to cause another shuffle in these projections next week.
Let's take a look at how the 12-team playoff would look through seven full weeks of the 2023 season.
(9) Penn State at (8) Oklahoma
Winner advances to play (1) Georgia*
(12) Air Force* at (5) Oregon*
Winner advances to play (4) Texas*
(11) Alabama at (6) Ohio State
Winner advances to play (3) Florida State*
(10) North Carolina at (7) Washington
Winner advances to play 2 Michigan*
* Projected conference champion