Tennessee edges Texas A&M as our pick to win the SEC in what looks like will be a wide-open race to win the conference title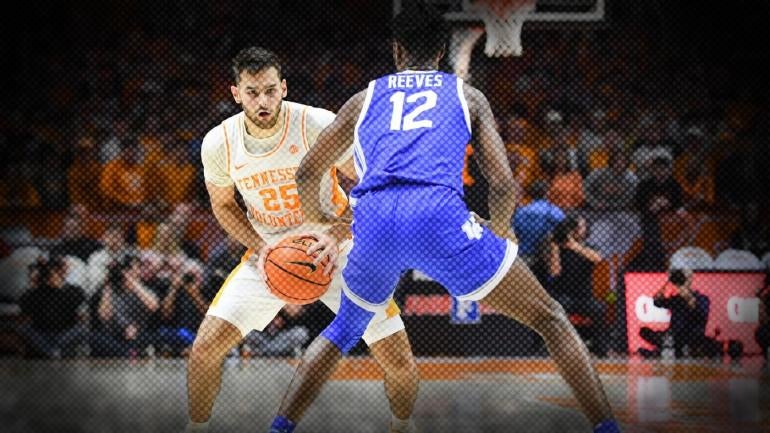 USATSI
The SEC sent eight schools to the 2023 NCAA Tournament. No league sent more. And this season should be a lot of the same as the conference that brags about it just meaning more continues to invest in the sport to the point where the level of coaches and resources in the league has arguably never been better.
The conference title seems completely up for grabs with Alabama, Arkansas, Kentucky, Tennessee and Texas A&M comprising a group from which most believe a champ will emerge. The ballot I submitted had Arkansas first — but the Razorbacks actually finished fourth when our panel's votes were counted. That suggests, again, that things could reasonably go a variety of different ways in the top half of the SEC.
The biggest SEC storyline?
It's John Calipari's Kentucky Wildcats, I think.
UK hasn't made a Sweet 16 since 2019 or a Final Four since 2015 despite enrolling a top-two recruiting class in eight of the past nine years. Calipari has now gone eight years at Kentucky without reaching the Final Four despite never going eight years at UMass or Memphis without reaching a Final Four. That's among the reasons pressure is building and why Calipari needs a strong season to keep the locals calm.
CBS Sports SEC Preseason Player of the Year
Taylor is a sub-100 prospect from the Class of 2021, according to 247Sports, who has developed into one of the sport's best guards. The 6-foot junior averaged 16.3 points, 3.9 assists and 1.7 steals last season while shooting 35.6% from 3 and 87.8% from the free throw line. He was the biggest reason the Aggies secured a No. 7 seed in the 2023 NCAA Tournament. In a league filled with established veterans and talented freshmen, Taylor is the player most deserving of this honor heading into the season. That's the way I voted, and most of our panelists agreed.
Four more players to watch in SEC
Trevon Brazile | F | Arkansas: Brazile averaged 11.8 points, 6.0 rebounds, 1.2 blocks, 1.0 steals and 1.0 assists in 27.1 minutes per game last season before tearing the ACL in his right knee in early December. The 6-10 forward is expected to be 100% to start the season and headline the Razorbacks' frontcourt.
Johni Broome | F | Auburn: Broome averaged 14.2 points, 8.4 rebounds and 2.4 blocks in 26.5 minutes per game last season while making a smooth transition from Morehead State to Auburn. The 6-10 forward's return to school should have Auburn in the NCAA Tournament for the third consecutive year.
Grant Nelson | F | Alabama: Nelson averaged 17.9 points and 9.3 rebounds in 30.6 minutes per game last season at North Dakota State. The 6-11 forward's enrollment at Alabama helped offset the loss of Brandon Miller and give the Tide a chance to compete for what would be a third SEC title in a four-year span.
Santiago Vescovi | F | Tennessee: Vescovi averaged a team-high 12.5 points, 4.6 rebounds and 3.1 assists in 32.9 minutes per game last season while helping Tennessee secure a No. 4 seed in the NCAA Tournament. The 6-3 guard is a reliable 3-point shooter who should finish his college career by playing in a fourth straight NCAA Tournament with the Vols.
CBS Sports SEC Preseason Freshman of the Year
Edwards is the highest-rated recruit entering the SEC and a strong contender to be the No. 1 pick of the 2024 NBA Draft. The 6-7 wing projects as a difference-maker on both sides of the court who will give UK a chance to make the Final Four before becoming Calipari's latest one-and-done lottery pick. UK's DJ Wagner and Rob Dillingham, Auburn's Aden Holloway, and Arkansas' Baye Fall are other players who could compete for FOY honors. But, heading into things, Edwards is the obvious choice.
CBS Sports SEC predicted order of finish

Most overrated team
Our panel's predicted order of finish isn't much different than my individual ballot — evidence being that literally zero teams are more than one spot higher in our panel's predicted order of finish than they are in my personal predicted order of finish. So I'm not sure I could honestly call any SEC team "overrated" heading into this season. Somebody will earn that label as things get underway, obviously. But, on paper, heading into the season, no SEC team actually stands out in that regard.
Most underrated team
Arkansas: I have the Razorbacks ranked 11th in the Top 25 And 1 — ahead of every other SEC team. I have them winning the league in advance of making what should (at least) be a fourth straight trip to the Sweet 16. Simply put, nobody has proven better in recent years than Eric Musselman at taking a bunch of talented pieces that have never played together and molding them into a quality basketball team that looks the part in March. I'm merely assuming the 58-year-old former NBA coach will do it again and possibly lead the Razorbacks to their first conference championship since 1994.
CBS Sports SEC expert picks
Our Latest College Basketball Stories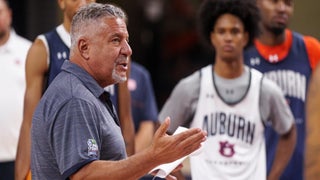 Watch Now: