Two vital games are on Thursday's MLB schedule as the 2023 postseason continues with NLCS Game 3 in Phoenix and ALCS Game 4 in Arlington. The Houston Astros bounced back with a crucial win over the Texas Rangers on Wednesday night in the ALCS. The Arizona Diamondbacks will try to do the same against the Phillies in the NLCS on Thursday. The D-backs return home to Chase Field after dropping the first two games of the best-of-seven series in Philadelphia, including a 10-0 blowout in Game 2.
Diamondbacks vs. Phillies — the first NLCS game in Arizona since 2007 — gets started in the early window Thursday. With a win, the Phillies will move to within one victory of their second National League pennant in a row.
Over in the American League, the Astros are trying to claim their third straight pennant, but Houston is facing an uphill climb after falling in an 0-2 hole. The Astros won on Wednesday night in Game 3, as their offense came to life against Max Scherzer. ALCS Game 4 is set for Thursday night in Arlington, Texas.
Houston is the only division winner left standing in these playoffs. The 104-win Braves, 101-win Orioles and 100-win Dodgers were all sent home in the LDS round, combining to go 1-9 in the playoffs. The AL Central champion Twins were also ousted in the ALDS, and the Marlins, Brewers, Blue Jays and Rays were bounced in the Wild Card Series.
The LCS round will last at least through Friday, and could run through next Tuesday (Oct. 24). The World Series starts on Friday, Oct. 27, and a World Series Game 7 would take place on Saturday, Nov. 4
Thursday's playoff schedule
NLCS Game 3: Diamondbacks vs. Phillies, 5:07 p.m. ET (TBS) — Philadelphia leads 2-0
ALCS Game 4: Rangers vs. Astros, 8:03 p.m. (FS1) — Texas leads 2-1
2023 MLB playoff bracket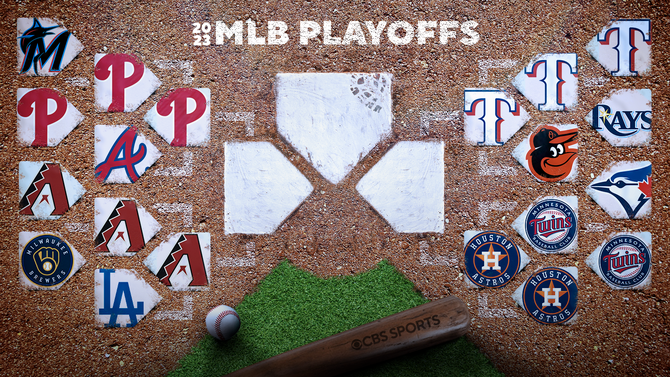 And now, let's look at the complete schedule. ALDS and ALCS games will air on Fox and FS1. NLDS and NLCS games will air on TBS. The World Series airs on Fox. 
All games on Fox and FS1 will be streaming on fubo (try for free).
(*-denotes if necessary)
League Championship Series schedule

Thursday, Oct. 19
NLCS Game 3: Diamondbacks vs. Phillies, 5:07 p.m. ET (TBS)
ALCS Game 4: Rangers vs. Astros, 8:03 p.m. (FS1)
Friday, Oct. 20
ALCS Game 5: Rangers vs. Astros, 5:07 p.m. ET (FS1)
NLCS Game 4: Diamondbacks vs. Phillies, 8:07 p.m. ET (TBS)
Saturday, Oct. 21
NLCS Game 5*: Diamondbacks vs. Phillies, 8:07 p.m. ET (TBS)
Sunday, Oct. 22
ALCS Game 6*: Astros vs. Rangers, 8:07 p.m. ET (FS1)
Monday, Oct. 23
NLCS Game 6*: Phillies vs. Diamondbacks, 5:07 p.m. ET (TBS)
ALCS Game 7*: Astros vs. Rangers, 8:03 p.m. ET (Fox/FS1)
Tuesday, Oct. 24
NLCS Game 7*: Phillies vs. Diamondbacks, 8:07 p.m. ET (TBS)
World Series
Friday, Oct. 27
World Series Game 1: TBD vs. TBD (Fox)
Saturday, Oct. 28
World Series Game 2: TBD vs. TBD (Fox)
Monday, Oct. 30
World Series Game 3: TBD vs. TBD (Fox)
Tuesday, Oct. 31
World Series Game 4: TBD vs. TBD (Fox)
Wednesday, Nov. 1
World Series Game 5*: TBD vs. TBD (Fox)
Friday, Nov. 3
World Series Game 6*: TBD vs. TBD (Fox)
Saturday, Nov. 4
World Series Game 7*: TBD vs. TBD (Fox)
---
League Championship Series scores
Wednesday, Oct. 18
ALCS Game 3: Astros 8, Rangers 5
Tuesday, Oct. 17
NLCS Game 2: Phillies 10, Diamondbacks 0
Monday, Oct. 16
ALCS Game 2: Rangers 5, Astros 4
NLCS Game 1: Phillies 5, Diamondbacks 3 
Sunday, Oct. 15
ALCS Game 1: Rangers 2, Astros 0
Divisional round scores
Thursday, Oct. 12
NLDS Game 4: Phillies 3, Braves 1
Wednesday, Oct. 11
NLDS Game 3: Phillies 10, Braves 2
ALDS Game 4: Astros 3, Twins 2
NLDS Game 3: Diamondbacks 4, Dodgers 2
Tuesday, Oct. 10
ALDS Game 3: Astros 9, Twins 1 
ALDS Game 3: Rangers 7, Orioles 1
Monday, Oct. 9
NLDS Game 2: Braves 5, Phillies 4
NLDS Game 2: Diamondbacks 4, Dodgers 2
Sunday, Oct. 8
ALDS Game 2: Rangers 11, Orioles 5
ALDS Game 2: Twins 6, Astros 2
Saturday, Oct. 7
ALDS Game 1: Rangers 3, Orioles 2
ALDS Game 1: Astros 6, Twins 4 
NLDS Game 1: Phillies 3, Braves 0
NLDS Game 1: Diamondbacks 11, Dodgers 2
Wild Card Series scores
Wednesday, Oct. 4
Game 2: Rangers 7, Rays 1
Game 2: Twins 2, Blue Jays 0
Game 2: Diamondbacks 5, Brewers 2
Game 2: Phillies 7, Marlins 1
Tuesday, Oct. 3
Game 1: Rangers 4, Rays 0
Game 1: Twins 3, Blue Jays 1
Game 1: Diamondbacks 6, Brewers 3
Game 1: Phillies 4, Marlins 1