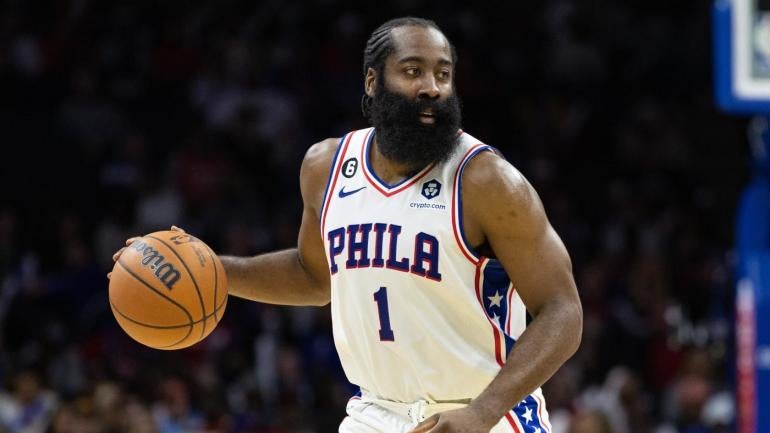 usatsi
If James Harden has a signature move, other than falling down after a 3-point attempt in hopes of luring a phony foul call, it's quitting on his team(s) once he's decided he doesn't want to play for them anymore. 
He did it in Houston. He did it in Brooklyn. And now he's doing it in Philadelphia, as according to Shams Charania of The Athletic, Harden was a no-show at Sixers practice on Tuesday and has not been with the team since Sunday. 
Further reporting from Jake Fischer of Yahoo Sports indicates that Harden has gone back to his home in Houston, just as he did when he skipped Sixers media day on Oct. 2. This was the same move Harden pulled during the self-fulfilled end of his tenure in Brooklyn when it was put out that he was injured but later was reported that he was, in fact, back in Houston. 
ESPN's Ramona Shelburne reports that Harden was expected at practice on Wednesday and that the 76ers plan to give him the opportunity to explain his "unexcused absence" before deciding on a proper punishment. Shelburne added that Harden "remains frustrated at the lack of progress towards a trade to the Clippers."
Indeed, Fischer reported Tuesday night that it is "increasingly likely" Harden will start the season on the 76ers' roster, as the Clippers have not been willing to bend to Daryl Morey's desired return in a potential trade package. 
Following that up, ESPN's Adrian Wojnarowski reports that while the Sixers and Clippers have talked, a "sizable gap" remains in their negotiations. 
In case you're wondering how much money Harden could be costing himself by going Ferris Bueller on the Sixers, it could start to add up pretty quickly, even for a guy as wealthy as Harden. 
The Sixers open their season at Milwaukee next Thursday. Stay tuned.