KANSAS CITY, Mo. – Kansas coach Bill Self came to the Big 12's basketball media days here somewhat of a broken man. 
That's a reference not so much about the recently concluded NCAA case against the Jayhawks or the health scare involving his heart last spring but also a recent run-in with his two grandchildren, ages 5 and 3. Chasing them around Allen Fieldhouse prior to the annual Late Night in The Phog preseason festivities earlier this month, the Jayhawks' coach fell and broke two ribs. 
"I don't think broken ribs are minor … probably the least athletic move of my life," Self joked. "Certainly the definition of feeling old."
In a revealing interview session Wednesday at Big 12 Men's Basketball Tipoff, Self didn't seem like anything resembling a 60-year-old who had stents put in his heart last spring during March Madness which caused him to miss the postseason. He's slimmer, trimmer and ready for some sort of fight in his 21st season at KU.
"Now it's time to go for the throat," Self said responding to a question about being able to recruit without the cloud of an NCAA investigation hanging over the program. 
Self said over the four years-plus the case took to be resolved, Kansas didn't land a single recruit ranked inside the top 20. While that won't get much sympathy from the majority of coaches who would give a limb for that kind of talent, it does reflect the standard Self holds himself to. He definitely responded during the dark days. 
Since the FBI dropped its bomb exposing what it called widespread corruption in the sport in September 2017, Kansas won four Big 12 regular-season titles, Self was awarded a lifetime contract on the eve of the 2021 Final Four and KU won the 2022 national championship. Less than a week after that NCAA case came to its conclusion, the Jayhawks were named the No. 1 team in the AP Top 25 preseason poll for the fourth time under Self.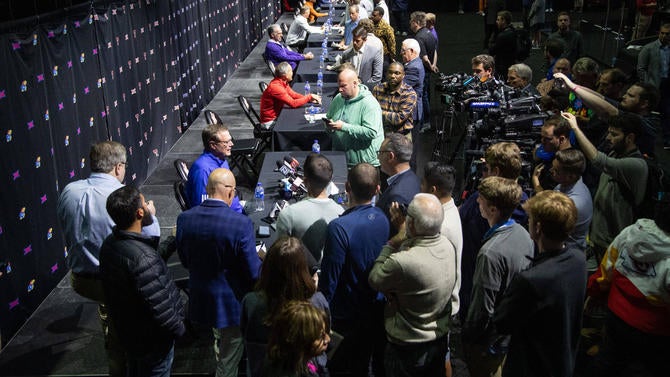 The coach then made a shocking revelation confirming a report that he offered to sit out the 2022 postseason to expedite the end of the NCAA case. 
"I was at the point, guys, where I would have done just about anything to get it over with," Self told reporters, "for the protection of our players and for the future not knowing the process or trusting the process … It was no admission of guilt, just to try to move it forward." 
The NCAA eventually denied the proposal during what was termed a "mediation" in January 2022, the same week Self's father died. 
"My dad told me, 'Whatever you do, get this behind you,' " Self said.
The Final Four less than three months later was both awkward and exhilarating. Kansas was streaking toward a national championship with potential crippling penalties hanging over the program. Then in a moment Jayhawk fans everywhere won't ever forget, then-NCAA president Mark Emmert presented Self with the national championship trophy calling them "the Kansas City Jayhawks" even though Lawrence, Kan. is about 45 miles from Kansas City. 
Emmert quickly corrected himself but the damage was done. KU souls were wounded a bit in the celebratory moment. The NCAA's waning credibility took a hit. It wasn't until 18 months later that the case concluded. 
"When you feel responsible for so much of something that is so much bigger than any individual, you think about it between every bite," Self said. "You think about it every day. You go to bed thinking about this."
The case lingered long enough for the school to self-impose a four-game suspension on Self and top assistant Kurtis Townsend to begin last season. It was another attempt at mitigation. 
The coach described his motivation during the lengthy case. 
"Nothing would please me more than to do it [win] when it was designed not to be done," Self said. "I would say that motivates me. That's over now."
Self did his best to downplay his situation past and present. The health scare did not make him reflect about his mortality, he said. Whatever anger he had at the process is now directed toward looking ahead at another championship run. 
The Jayhawks are that good. But there was one highly ironic moment on Tuesday. Adidas had scheduled an AAU conference at Kansas. ESPN analyst Fran Fraschilla tweeted a picture of him at KU with Book Richardson, a former Arizona assistant coach who went to jail as a result of the FBI case. 
As the sponsor of the event, Adidas harkened back to its representatives originally being named KU boosters by the NCAA who illicitly lured players to the program. But as the case came to an end, what were once five Level I violations made against Kansas evaporated when the Independent Accountability Resolution Process found only smaller violations that kept KU from getting a postseason ban. 
On Wednesday, it was time to step on some throats.
"He's actually said that to us," said Kansas center Hunter Dickinson, the Michigan transfer who was named the Big 12 preseason Player and Newcomer of the Year on Wednesday, said of Self. "We're the No. 1 team in the country. People are going to come for us. I think it's going to be really important to step on people's throats … That would be a good motto for us."