For a second consecutive season, men's college basketball is in the advantageous position of having a reigning national player of the year return to the sport.
A year ago, Kentucky's Oscar Tshiebwe opted to come back after his dominant 2021-22 performance. For a long time, though, it wasn't like this. In 2008, North Carolina's Tyler Hansbrough swept the national player of the year awards as a junior and opted in for his final season of college basketball. The sport was better for it then, and will be better for it this season.
For a dozen years, a NPOY winner won and said goodbye to college hoops — normally because the NPOY tends to go to a senior whose eligibility is exhausted at the culmination of his college career. (In 2020, Iowa's Luka Garza came back, and while he did win Sporting News' NPOY award, Obi Toppin won all other major NPOY honors that season.)
After a historically dominant showing a season ago, Purdue's Zach Edey decided to return to school. In doing so, he became the immediate 2023-24 favorite to win national player of the year and firmed up his status as the most well-known player in college basketball. (We'll miss ya, Drew Timme.)
It's never an easy thing to predict in October who will be the sport's best player by the end of March. Edey seems different, though. It would be stunning if he regressed as a basketball player, and given his 7-4 frame, he will be a stats magnet on a Purdue team that is almost universally regarded as one of the three or four best teams heading into the season. 
As for the national freshman of the year, that conversation is different. You'll read about our preseason pick below, but here's something to consider: Due to college players being afforded a bonus year of eligibility because of COVID protocol, this sport has never been older. It's put less of a spotlight on top-10 freshmen. Based on the past two seasons, it's been a generation or two since five-star frosh were more likely to be role players than star features. 
Will it continue in 2023-24, or might we look up in March and see more than a couple of newbies emerge as the face of the sport? — Matt Norlander
Note: The CBS Sports Preseason Player of the Year and Freshman of the Year were voted on by college basketball writers at CBS Sports and 247Sports as well as broadcasters from CBS and CBS Sports Network.  
Check out the 2023-24 CBS Sports Preseason All-America Teams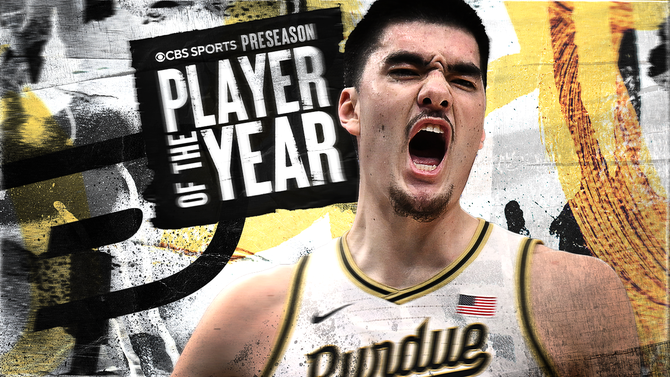 2023-24 CBS Sports Preseason Player of the Year

Zach Edey | Purdue | C | 7-4 | Sr.
Edey grabbed 17 rebounds in Purdue's first game last season, then scored 30 points in the second game. Very quickly, it became obvious that Purdue's 7-foot-4 center would be a statistical monster for one of the nation's best teams, which is exactly the type of thing that leads to somebody becoming a true National Player of the Year candidate.
Edey ultimately ran away from the pack.
The Canadian averaged 22.3 points, 12.9 rebounds and 2.1 blocks last season while leading Purdue to the Big Ten regular-season title, Big Ten Tournament title and a No. 1 seed in the 2023 NCAA Tournament. He won every major POY award comfortably. And when Edey announced in late May that he would return to college for at least one more season, it was assured that he would be the CBS Sports Preseason National Player of the Year.
Now here we are.
Edey is obviously the favorite to again win all major player of the year awards and become the first back-to-back Wooden Award winner since Virginia's Ralph Sampson in 1982 and 1983 — but doing so won't be easy. Remember, the 2022 Wooden Award winner, Tshiebwe, was in Edey's same position last October after securing the trophy six months earlier. But Tshiebwe simply wasn't as good last season as he was the previous season, and his Wildcats wildly underachieved relative to expectations. So Tshiebwe failed to repeat as POY or even as a consensus First Team All-American.
Can Purdue and Edey avoid a similar step backwards this season? Yes, I think so. My prediction is that the Boilermakers will again win the Big Ten, and that Edey will again be the most decorated player in the sport. I'm expecting big things from the big man and his teammates. But there are reasons nobody has repeated as a Wooden Award winner since Sampson did it four decades ago, and among the reasons is that it's just really hard to do even when you're supposed to do it.
Bottom line, meeting these expectations won't be an easy thing for Edey to accomplish because the bar is very, very high. But he has the talent and the supporting pieces to get it done, and our voters mostly believe that he will. — Gary Parrish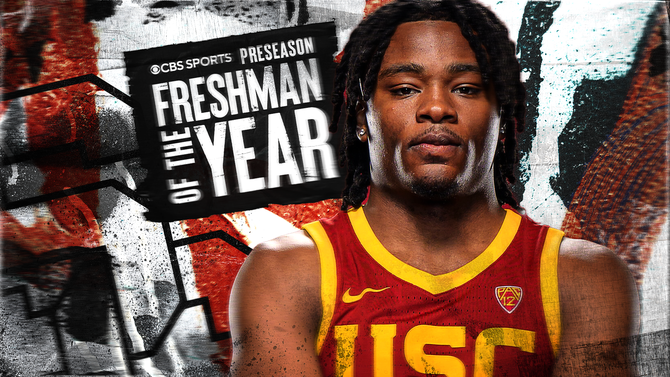 2023-24 CBS Sports Preseason Freshman of the Year
Isaiah Collier | USC | G | 6-5
Collier isn't even the most well-known freshman on his own team considering that Bronny James was also part of USC's third-ranked recruiting class. But he is the Trojans' highest-rated signee of the modern era and is one of the primary reasons why USC is expected to compete for the Pac-12 title. The Atlanta native finished the 2023 recruiting cycle ranked as the No. 1 overall player in the class by the 247Sports Composite and should pair nicely with veteran guard Boogie Ellis. Known as an elite passer and true point guard, Collier will take some of the ball-handling responsibilities from Ellis while scoring plenty himself.
"They compliment each other very well," USC coach Andy Enfield said at Pac-12 Media Day, adding that, "Isaiah Collier is very fast and athletic, and what a tremendous passer with tremendous court vision."
Ellis may still be USC's leading scorer, but don't be surprised if Collier challenges him for that title as he steps into a natural void left by the departures of No. 2 scorer Drew Peterson and No. 3 scorer Reese Dixon-Waters. The Trojans finished 22-11 (14-6 Pac-12) last season with a first-round exit from the NCAA Tournament, but with a potential top-10 draft pick on the roster in Collier, expectations are higher for the program this season. — David Cobb