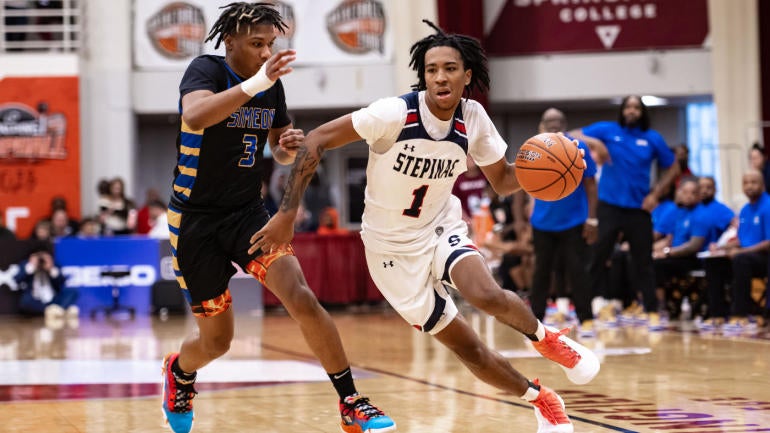 Getty Images
Kentucky secured a major win on the recruiting trail Friday when four-star combo guard Boogie Fland committed to the Wildcats. Fland is the second recruit to commit to Kentucky in the 2024 recruiting cycle and it jumps the Wildcats over 30 spots in the 2024 rankings to the No. 17 overall class.
"I chose Kentucky because I saw the success with the guys they've had in the past from Shai Gilgeous-Alexander, Devin Booker to all the other guys," Fland told 247Sports. "Coach Cal definitely cares for them and has been producing pros from my position. He's letting me earn everything when I get there. Nothing is promised. I'm ready to fight a battle with myself to do that."
Fland, a star at Archbishop Stepinac HS in White Plains, New York, ranks as the No. 33 overall prospect in his class by 247Sports and is the No. 3 CG in the recruiting cycle behind five-star Dylan Harper and four-star UConn commit Ahmad Lowell. Fland picked the Wildcats over Alabama, Indiana and Michigan. 
Here's what 247Sports Director of Scouting Adam Finkelstein wrote after evaluating Fland:
Fland is a skilled guard whose biggest asset is his ability to shoot the basketball. Like few other players in high school basketball, he has an ability to heat up and start making tough shots from long-range. However, his willingness to settle for those tough shots, can impact his efficiency. The 30% he shot from behind the 3-point line in EYBL came in direct correlation to his shot selection, since he's undoubtedly a better shooter than those numbers indicate.

While Fland is young for his grade, he remains undersized with a slighter natural build, but deceptively long arms. His lack of strength can sometimes limit his ability to play through contact in the lane, but he has good range on his floater and is adept at getting to the free-throw line.
The first commitment of coach John Calipari's 2024 recruiting class was 6-foot-10 center Somto Cyril. The No. 68 overall player in the 2024 rankings committed to Kentucky in June. Kentucky is in the hunt for five-star center Jayden Quaintance, five-star forward Karter Knox, four-star center Patrick Ngongba ll and four-star shooting guard Billy Richmond. All four of those players rank in the top-25 in their respective recruiting class. 
Kentucky finished with the No. 1 recruiting class in the 2023 cycle and headlining the group are Aaron Bradshaw, Justin Edwards, DJ Wagner and Robert Dillingham. All four players are expected to play big roles immediately as the Wildcats look to make it past the first weekend of the NCAA Tournament this season for the first time since 2019. Cyril had the option to reclassify and join the 2023 class, but it never materialized.