Bryan Abreu, Dusty Baker and Adolis García were ejected in the eighth inning of ALCS Game 5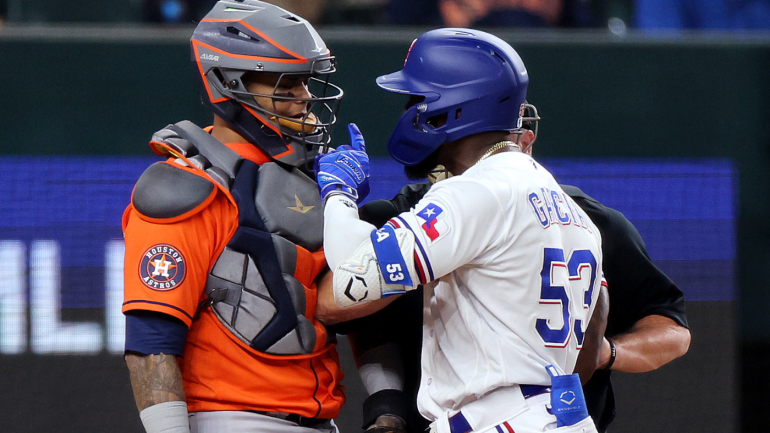 Getty Images
The Astros beat the Rangers, 5-4, in Game 5 of the ALCS Friday night in the best game of the postseason to date. Some fireworks happened late in the game, too, and we aren't talking about the game-changing homer in the ninth. Tempers flared, benches cleared and two key players were ejected during the bottom of the eighth inning. 
The Rangers entered the inning with a 4-2 lead over the Astros and the difference in the game to that point was a three-run blast from All-Star outfielder Adolis García. 
Here it is: 
Now, García came to the plate in the bottom of the eighth and was immediately hit by a 98.9 mph fastball from Astros reliever Bryan Abreu. This displeased García enough that he got in catcher Martín Maldonado's face about it, and the benches cleared from both teams. The incident eventually resulted in ejections for both García and Abreu. 
Astros manager Dusty Baker argued vehemently against the ejection of Abreu and was eventually ejected himself. 
Here's our best attempt to sort this out. 
There's background between García and the Astros having beef. It was July 26 in Houston when Yordan Alvarez was hit by a Rangers pitch in the first inning. Then Marcus Semien was hit by an Astros pitch in the third inning. In the fifth, García hit a grand slam to give the Rangers a 13-3 lead and there ended up being fireworks at home plate between several members of each team. Surely that factored into the reaction of García once he was hit by the pitch up high like that. Further, it's a natural reaction when seeing nearly 100 mph breezing near your head to get angry. "Who knows if it was intentional? It wasn't the first time it happened," Rangers manager Bruce Bochy told reporters.
According to the broadcast, the umpires determined that Abreu threw at García intentionally and that's why he was ejected. The reaction from García got him ejected and the level of emphatic in Baker's argument is generally going to get the manager tossed. 
Let us simply state that throwing at García intentionally makes absolutely no sense here. This is a series for the American League pennant and the winner of this game takes a 3-2 lead in a best-of-seven series. The Rangers' bullpen has been shaky and it's only a two-run lead. There was already a runner on base. Putting another runner on base to give the Rangers a better chance of increasing the lead and putting the game away is lunacy. Ironically, it stayed a two-run game after Abreu's ejection and then Jose Altuve hit a go-ahead homer in the top of the ninth. 
If the argument is the Astros should throw at García due to their hurt feelings over his home run trot earlier, sell crazy somewhere else. If the argument is that Abreu was doing so, you'd have a hard time convincing me that he either put himself above the team or a grizzled veteran manager like Dusty Baker ordered it. A team that is defending its title surely wouldn't get caught up in this kind of nonsense. They've seen players watch home runs plenty of times in the playoffs before and don't have a history of playoff retaliation. "I know he's not trying to hit anyone in a two-run game in the postseason," Alex Bregman said after the game. 
In terms of the umpires, it's a tough decision. That pitch certainly looked bad, but they do have the discretion to determine it wasn't intentional. From here, it's understandable that they tossed both Abreu and García, but an argument could've been made to just leave them both on the field once everyone cooled off. Of course, there's also an argument to be made that Abreu has far too much control for this one, specific pitch to have been the exact moment he lost said control. He only hit three batters in 72 innings all season. Was it really that much of a coincidence?
Pick sides in the Battle of Texas, if you haven't already. It's been an incredible fun series and there's at least one game to go, perhaps two. 
Our Latest MLB Stories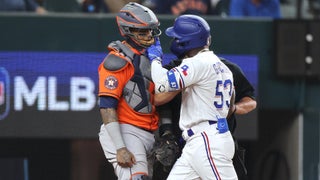 Watch Now: