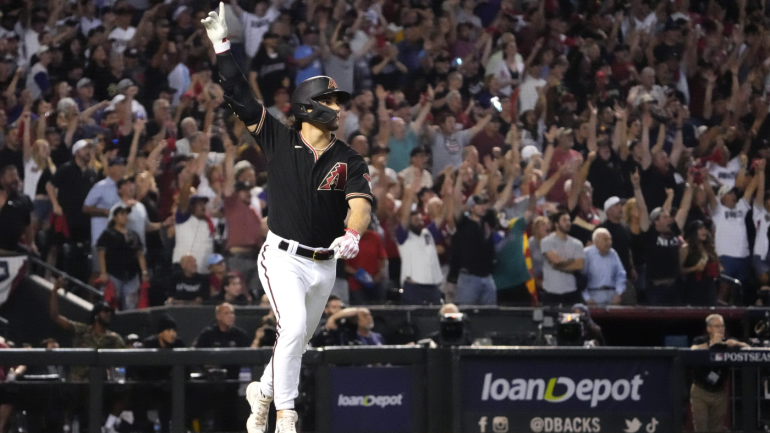 USATSI
Thanks to a thrilling late-inning comeback, the Arizona Diamondbacks defeated the Philadelphia Phillies in Game 4 of the National League Championship Series on Friday, evening the series at 2-2. The best-of-seven has been reduced to a best-of-three.
Because of that, the NLCS will end at Philadelphia's Citizens Bank Park in Game 6 or 7. It cannot end at Chase Field in Game 5, which means the Phillies will not be able to hold a post-clinch pool party. Backup catcher Garrett Stubbs said that was the plan — "If we take two here against Arizona, we'll be bee-lining it for the water," he said — but no dice. The Phillies lost Games 3 and 4.
The D-backs certainly weren't oblivious to Stubbs' comments and they took some pride in defending their home ballpark in Games 3 and 4. "I'm glad we could defend the pool. You don't love when teams can jump in your pool. That means they did something that we didn't get to do," D-backs ace Zac Gallen told the Philadelphia Inquirer.
"This team is extremely motivated," D-backs manager Torey Lovullo added after Game 4. "I know that guys are going to step on it, stand on it, find a way to get it done. I think they take things personal. They have a chip on their shoulder. I know their backup catcher made a statement about sprinting towards the pool or making a bee-line to the pool. So I think they're wearing that a little bit and they're motivated by that externally, and they're motivated to be as good as they possibly can internally."
Hey, whatever it takes, right? Athletes look for motivation wherever they can find it, and not wanting the other team to celebrate in your home ballpark's pool is pretty good motivation, I'd say. Unless players start going down Bernie Brewer's slide at American Family Field, no other ballpark has a celebration-ready feature like Chase Field's pool. It's unique and the D-backs want to protect it.
The Diamondbacks celebrated their Division Series win in the pool. If there is another pool party this postseason, it will be in Game 4 or 5 of the World Series. It cannot happen in the Championship Series and Arizona is assured of being the road team in the World Series regardless of whether they face the Houston Astros or Texas Rangers.