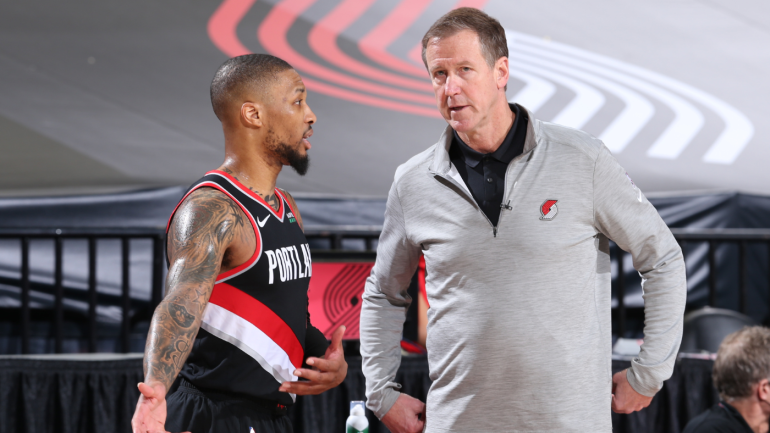 Getty Images
So much for the Damian Lillard-Terry Stotts reunion. Stotts, who was the head coach of the Portland Trail Blazers for the first nine years of Lillard's NBA career, has stepped down from his role as assistant coach of the Milwaukee Bucks, ESPN's Adrian Wojnarowski reported Thursday.
In July, shortly after joining new coach Adrian Griffin's staff, Stotts told the Milwaukee Journal Sentinel's John Leuzzi that he "couldn't have asked for a better situation to come back to," referencing his two previous stints with the organization: 1998-2002 as an assistant coach under George Karl, 2005-2007 as a head coach. Stotts described his opportunity with the Bucks as "pretty special not only professionally but personally."
Griffin, a first-time head coach, described Stotts as "a mastermind on the offensive end" in June, adding, "I don't just see him as an offensive coach. He's going to be someone that I lean on," via The Athletic's Eric Nehm. Griffin told reporters, "To get a guy like Terry is a home run."
It appeared that Stotts had found an ideal situation to return to the NBA after two years away: a lead assistant role on a championship contender, with an extremely familiar face joining the party just before training camp. It is unclear why he reportedly decided to leave.
Remaining on Griffin's staff: former Bucks interim coach Joe Prunty, former Raptors 905 coach Patrick Mutombo, Nate Mitchell, DJ Bakker, Josh Oppeinheimer, Sidney Dobner and Vin Baker.