This is an article version of the CBS Sports HQ AM Newsletter, the ultimate guide to every day in sports. You can sign up to get it in your inbox every weekday morning here.
Please check the opt-in box to acknowledge that you would like to subscribe.
Thanks for signing up!
Keep an eye on your inbox.
Sorry!
There was an error processing your subscription.
---
🏆 Good morning to everyone but especially …
THE LAS VEGAS ACES
Down a dozen points on the road, playing without one of their biggest stars, the Aces could have quit, packed it up and headed home for Game 5. But that's not what champions do. And that's why the Aces are on top of the WNBA for the second straight season.
Las Vegas won an absolute rollercoaster of a game, beating the Liberty 70-69 to become the first back-to-back WNBA champions since the Sparks in 2001-02.
A'ja Wilson dominated to the tune of 24 points and 16 rebounds en route to winning Finals MVP just weeks after Breanna Stewart won regular-season MVP over Wilson and Alyssa Thomas in a historically tight vote. Stewart, meanwhile, was abysmal with 10 points on 3 of 17 shooting. How's that for a last laugh?
Wilson became the first player in WNBA history with multiple 20-point, 15-rebound Finals games. She also had one in Game 2.
Chelsea Gray and Kiah Stokes were sidelined with foot injuries, so the Aces had to dig deeper into their depth. Cayla George (11 points) and Sydney Colson (team-best +17) stepped up.
Trailing 42-30 early in the third quarter, the Aces finished the quarter on a 23-9 run and never trailed thereafter. Courtney Vandersloot air-balled a jumper at the buzzer.
Jack Maloney has more on how this "special group" made history and how Wilson put together an all-time postseason run.
😃 Honorable mentions
😬 And not such a good morning for …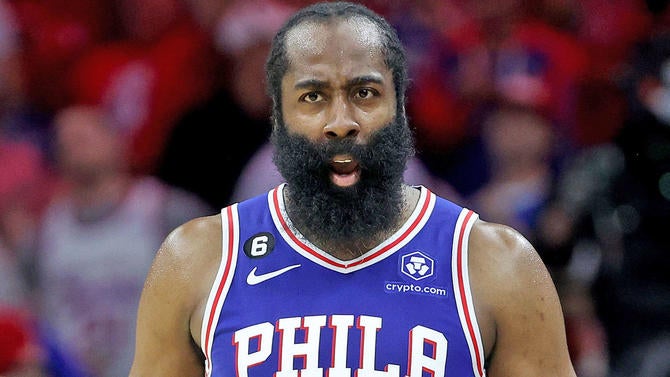 JAMES HARDEN AND THE PHILADELPHIA 76ERS
Play silly games, win silly prizes. James Harden and the 76ers have engaged in a foolish back-and-forth all offseason, and now, both parties are paying the price. Harden was absent from 76ers practice Wednesday — and reportedly has not been with the team since Sunday — instead remaining home in Houston. Yes, today marks one week until the 76ers open the season. Yes, we should have seen this coming.
Let's rewind.
In his latest "Reiter's Block," columnist Bill Reiter says there's no easy way out.
Reiter: "Joel Embiid is viewed as a potential problem-in-waiting — a star who, if things go sour, could be the next Sixer to want to play elsewhere. But Harden has been fickle with so many teams, and unreliable in so many postseasons, that finding a buyer at the price Morey needs is seen as a stretch, if not impossible. … Morey has neither leverage nor a good alternative."
😔 Not so honorable mentions
⚾ Astros beat Rangers, get to within 2-1 in ALCS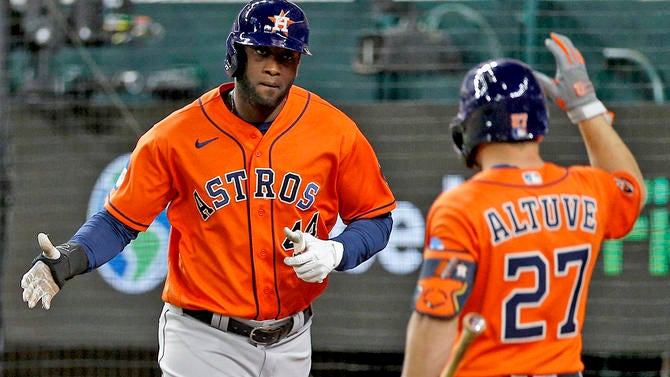 The Astros needed everyone — the stars, the support and the role players — to get back into the ALCS against the Rangers, and they got it. Christian Javier continued his postseason mastery, Jose Altuve broke out of his postseason slump, and the offense finally arrived in a 8-5 Game 3 win that draws Houston to within 2-1 in the series.
Altuve, who was 4 for 25 this postseason entering the game, had two hits, including a third-inning home run.
Javier didn't allow a hit through 4 2/3 innings before giving up a single to Nathaniel Lowe and then a home run to Josh Jung. Overall, Javier went 20 1/3 innings before allowing his first playoff run, the second-longest streak in MLB history behind Hall of Famer Christy Mathewson.
The Astros notched 12 hits with seven different players recording at least one. Mauricio Dubón entered the game with three career postseason hits and had three Wednesday alone.
For the Rangers, Max Scherzer got roughed up for five runs in four innings. It was his first start in more than a month following a shoulder injury.
The Astros went just 39-42 and averaged 4.5 runs per game at home this year compared to 51-30 and 5.7 runs per game on the road, so maybe we shouldn't be surprised. But they'll need to keep this up to avoid a 3-1 series hole tonight. Here's our Game 4 preview. 
🏈 Second-chance college football predictions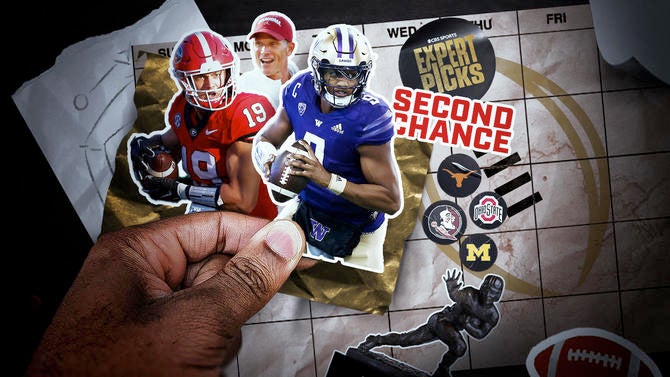 Everyone would love a do-over, right? A chance to change that one thing that's been nagging you, that you wish you could take back, that you wish you could improve. Here at CBS Sports, we like to grant wishes. With the regular season halfway though, our experts got a second chance at picking their College Football Playoff fields, national champions, Heisman Trophy winners and coaches of the year.
None of our seven experts have the same playoff field, and overall, there are eight different teams selected. As for the champion …
David Cobb: "Georgia — This team doesn't have the high-end defensive talent of its predecessors, but it has more than enough to be the last team standing yet again."
Chip Patterson: "Michigan — The fact that Michigan has improved over the last month speaks to the trajectory of a group that knows when it needs to be playing its best football."
Barrett Sallee: "Ohio State — Ohio State's ceiling is as high as any team in the country, and the Buckeyes may be getting hot at the perfect time."
As for the Heisman frontrunner, Michael Penix Jr. is a nearly unanimous choice. I say "nearly" because Tom Fornelli says …
Fornelli: "JJ McCarthy, QB, Michigan: There can be an advantage to not being in the Heisman race spotlight all season. … The three interceptions Caleb Williams threw against Notre Dame? Heisman campaign over! The three interceptions JJ McCarthy threw in a 31-6 win over Bowling Green? Nobody knows they happened and nobody will care if he plays well against Penn State and Ohio State before leading the Wolverines to another Big Ten title and College Football Playoff berth."
🏀 CBS Sports Preseason All-America team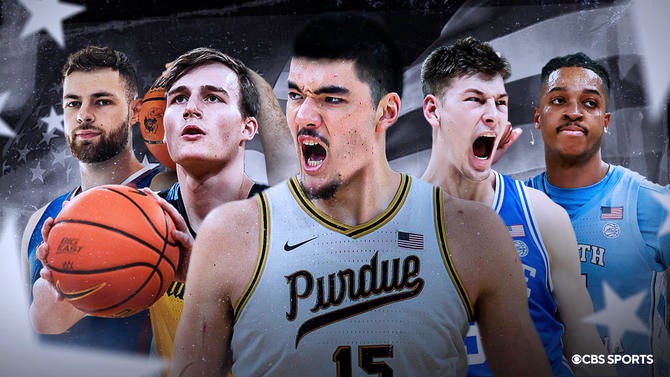 The NBA is constantly downsizing, but in college basketball, the big man still rules. Four of the five first-teamers on the CBS Sports Preseason All-America team stand 6-foot-11 or taller, led by 7-foot-4 reigning player of the year Zach Edey.
Purdue C Zach Edey
Marquette G Tyler Kolek
North Carolina F/C Armando Bacot
Kansas C Hunter Dickinson
Duke C Kyle Filipowski
I was one of the voters in our preseason selections, and this is my exact first team, so I have no complaints here. And while there are four bigs on the first team, one of my favorites made the second team, as Kyle Boone notes.
Boone: "Creighton C Ryan Kalkbrenner — No player in college basketball had a higher true shooting percentage last season than did Kalkbrenner, who blended an efficient scoring approach on offense with one of the most potent inside defensive presences in the sport. The two-time Big East Defensive Player of the Year is coming off a career season for Creighton after averaging 15.9 points per game and figures to be a focal point for a Bluejays team that just earned its highest-ever ranking in the preseason AP Top 25 poll at No. 8."
Long live the big man! Be sure to check out all three CBS Sports Preseason All-America teams.
📺 What we're watching Thursday
⚾ Phillies at Diamondbacks, 5:07 p.m. on TBS
🏈 James Madison at Marshall, 7 p.m. on ESPN
⚾ Astros at Rangers, 8:03 p.m. on FS1
🏈 Jaguars at Saints, 8:15 p.m. on Prime Video
🏒 Blackhawks at Avalanche, 10:30 p.m. on ESPN