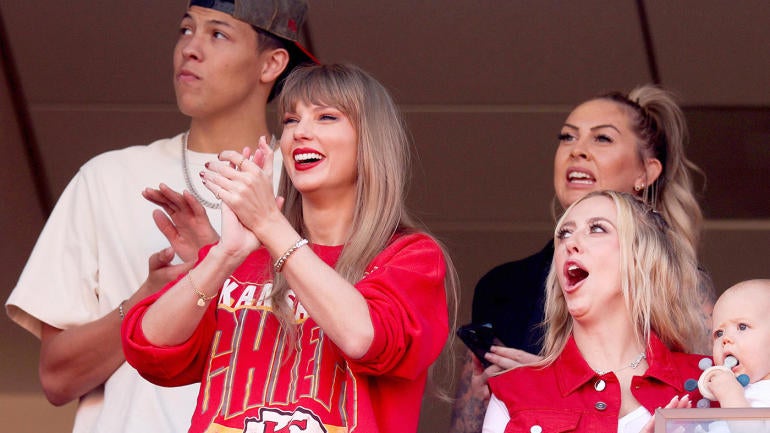 Getty Images
Once again, singer and 12-time Grammy winner Taylor Swift is in attendance for a Kansas City Chiefs game to watch boyfriend Travis Kelce. On National Tight Ends Day, Swift was seen in a Chiefs sweatshirt to support Kelce.
Before the game, Kelce said he expected Swift to be in attendance for the AFC West matchup against the Los Angeles Chargers and he was correct.
This week, she is seated next to Brittany Mahomes, quarterback Patrick Mahomes' wife. The two were dancing in the suite at Arrowhead Stadium.
Brittany and Taylor appear to have their own handshake and have a lot to celebrate so far, with Kelce already recording over 100 yards and Patrick with two touchdowns, and we are only halfway through the second quarter.
Swift was seen clapping and smiling when Kelce ran onto the field.
Here is a look at her arriving to the stadium, waving to fans as she gets into a golf cart.
This marks Swift's fifth Chiefs game of the season, hitting all five networks (CBS, NBC, Fox, ESPN and Amazon). All five games she has attended have ended in a K.C. victory. The two games she did not attend were Week 1, when the Chiefs lost 21-20 to the Detroit Lions and the Week 5 victory over the Vikings in Minnesota.
Heading into the showdown at Arrowhead Stadium, the Chiefs are 5-1 while the Chargers are 2-3. 
Kelce and Swift were spotted in New York and both made a surprise appearance on "Saturday Night Live." Their romance continues to gain national and international attention, with cameras following them every time they step out together.