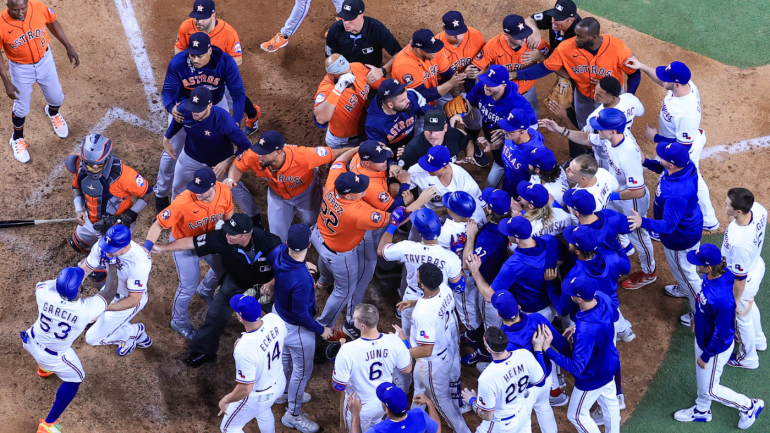 Getty Images
Members of the Houston Astros roster and organization are "seething" with how Major League Baseball has handled the situation involving reliever Bryan Abreu and Texas Rangers outfielder Adolis García, according to The Athletic's Ken Rosenthal. Some unnamed individuals have even expressed the belief to Rosenthal that MLB is "showing favoritism" to Rangers general manager Chris Young, who was previously employed by the league office.
For those out of the loop, Abreu plunked García during the late stages of Game 5 of the American League Championship Series on Friday night. García, believing that Abreu was retaliating after he had admired a home run earlier in the contest, took exception and confronted catcher Martín Maldonado. The benches and bullpens emptied, and both Abreu and García were ejected from the game.
Here's the scene:
MLB later suspended Abreu — and only Abreu — for two games. Abreu has since appealed that outcome. He was allowed to pitch in Game 6 as a result (and struck out García in his inning of work). His appeal will be heard on Monday, ahead of ALCS Game 7. Here's part of Rosenthal's piece, in which he reports that the Astros have objected to García receiving just a fine given that he instigated the fracas:
The ejection of Abreu from a postseason game and his subsequent suspension are not the only reasons the Astros are upset. Multiple players believe García also should have received a suspension for making contact with Astros catcher Martín Maldonado and for acting, in the words of crew chief James Hoye, as "the aggressor" in an incident that emptied both the benches and bullpens, but did not lead to an outright brawl.
The Astros have consistently objected to the idea that Abreu hit García on purpose, noting that it made no baseball sense to do so. It is true that the hit-by-pitch occurred at a time in a pivotal game when the Astros were trailing by two and had already placed one runner on to begin the inning. It is also true that things that don't make baseball sense happen all the time, especially when emotions or egos are running wild. Only Abreu knows for sure if he intended to hit García, but both the umpiring crew and the league office believe he did.
"I can understand how he'd take exception to that," Astros manager Dusty Baker said after Game 5. "Nobody likes to get hit. But you're not going to add runs on in the ninth inning in the playoffs when we're trying to win a game. I mean, this — I just — you know, how do you prove intent? That's what I don't — I don't understand."