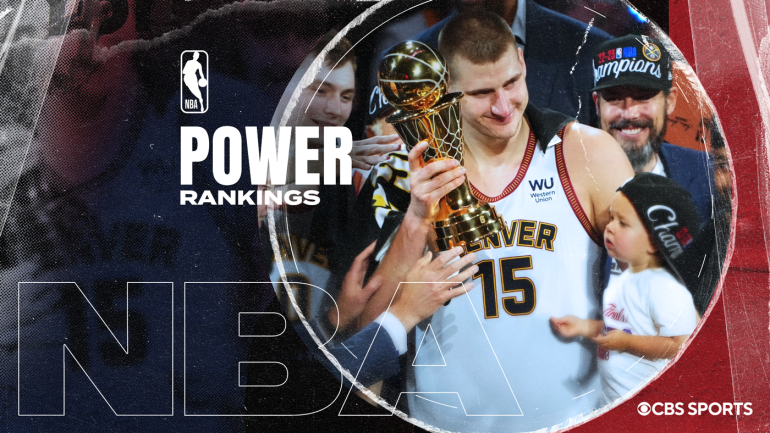 Kim O'Reilly, CBS Sports
Come with me. Let's use our imaginations, shall we? Pretend for a moment that you've just awoken from a Rip Van Winkle-esque slumber that lasted from the final buzzer of the 2023 NBA Finals until Monday, the eve of the 2023-24 season.
"OK, so the Celtics got Kristaps Porzingis and Jrue Holiday? Chris Paul is on the Warriors? Bradley Beal's on the Suns, and they still have Kevin Durant and Devin Booker? DAMIAN LILLARD AND GIANNIS ANTETOKOUNMPO ARE ON THE SAME TEAM?!?!"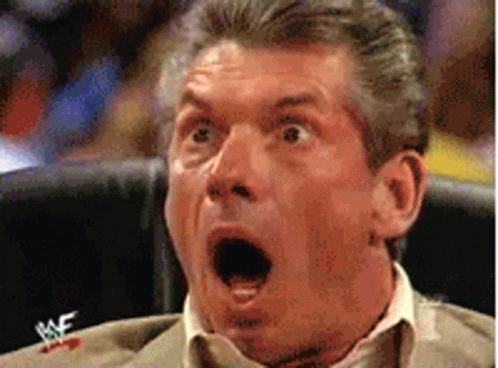 And, scene.
You get the point. A lot went down this offseason in the NBA, which makes it extremely difficult to predict how things will shake out. So, with this first edition of the Power Rankings, we're just trying to get a baseline of where every team stands. And there's one team that we know is going to be awesome: The defending champion Denver Nuggets.
While the rest of the league's powers loaded up, the Nuggets bring back essentially the same roster with a few tweaks around the edges. But, as long as Nikola Jokić and Jamal Murray are healthy, the Nuggets maintain their crown until someone takes it from them.
Next up is the jumble of the Celtics, Bucks, Suns and Lakers, whose order is really in the eye of the beholder until we see them play for a while. The fun part about this season is that a lot of the teams that were really bad last year (Rockets, Spurs, Hornets, Pistons), look like they're trying to win. So that means, at least for the start of the season, we should have entertaining, non-tank basketball every single night.
With that, here is the first edition of the 2023-24 NBA Power Rankings.
Biggest Movers
| Rk | Teams |   | Chg | Rcrd |
| --- | --- | --- | --- | --- |
| 1 | Nuggets | While the Eastern powers took big swings, the reigning champs opted for continuity. With Nikola Jokić coming off one of the best playoff runs of all time and Jamal Murray fully healthy to start the season, we can expect more of the same (aka, lots of winning) from Denver this year. Losing Bruce Brown hurts, but the hope is that offseason acquisition Justin Holiday and some of the young players — Christian Braun, Peyton Watson, Hunter Tyson and Julian Strawther — can help piece together that role. | 3 | 0-0 |
| 2 | Celtics | Boston answered Milwaukee's offseason haymaker with one of their own, adding former Buck Jrue Holiday to make up for everything they lost with Marcus Smart — maybe more. Health concerns are always present, but Kristaps Porzingis looked like a seamless fit with this roster during the preseason as a high-volume 3-point threat in the frontcourt who can also make up for *some* of the rim protection they lost with the departure of Rob Williams. If everyone stays relatively healthy and Jayson Tatum and Jaylen Brown continue to develop, the Celtics should be a lock to land in the top five in both offense and defense. | — | 0-0 |
| 3 | Bucks | Things looked a bit clunky between Damian Lillard and Giannis Antetokounmpo during the preseason, but we knew it was going to take time. The more concerning development was the lack of significant action for Khris Middleton, who only suited up for the final preseason game, logging 12 minutes. Milwaukee is an odd case: Their offense was middle-of-the-pack last season, and they added a tremendous offensive player. Their defense was top-five, but they lost a tremendous defensive player. We'll have to wait and see if the two just end up canceling each other out. | 2 | 0-0 |
| 4 | Suns | Even with Kevin Durant, Bradley Beal and Devin Booker, three prominent areas of concern remain heading into the season: Depth, defense and health. Phoenix did a good job with its minimum signings, but they're minimums for a reason, and they still lack a true point guard. Deandre Ayton and Chris Paul weren't the best defenders, but they probably downgraded on that end with Jusuf Nurkić and Beal taking their places. Meanwhile Durant, Beal and Nurkić have all missed significant time in recent years, so how will the Suns fill in the gaps if and when they're sidelined? Phoenix has one of the highest ceilings in the NBA, but its floor is lower than some might think. | 2 | 0-0 |
| 5 | Lakers | Rob Pelinka largely brought back the squad that went 18-8 after the trade deadline and made an impressive run to the Western Conference Finals. There's a confidence among the Lakers that certainly wasn't there to start last season, with Austin Reaves taking a noticeable leap during the playoffs and into Team USA over the summer that adds a significant third offensive threat to the combo of LeBron James and Anthony Davis. Health may be an issue, but the Lakers have the depth to sustain the bumps along the way. They're in position to contend for one of the top slots in the Western Conference. | 6 | 0-0 |
| 6 | Cavaliers | What was a phenomenal 2022-23 campaign was soured by a brutal playoff performance in a five-game, first-round loss to the Knicks. With Jarrett Allen out to start the season, Evan Mobley will have to take on more center minutes, which could have the added benefit of opening things up for him on the offensive end. Cleveland addressed its biggest offensive holes by adding wing shooting this offseason in the form of Max Strus and Georges Niang, so there should be much more space for Donovan Mitchell and Darius Garland to operate. Even if the top-ranked defense from last season takes a slight dip, the Cavs should still be right at the top of the East. | 1 | 0-0 |
| 7 | Kings | Despite taking the NBA by storm last season, some are expecting a bit of a decline for Sacramento due to a few factors: 1) The Kings were extremely healthy last season, which they may not be able to duplicate. 2) They were insanely good in the clutch, thanks largely to De'Aaron Fox. And 3) The rest of the West is much improved this season. Valid points, but the counter is that the roster is now well acclimated to Mike Brown's system that produced the best offense in NBA history last year, and a training camp emphasis on physicality can take them from 24th in defense to somewhere in the middle of the pack. With Fox, Domantas Sabonis, an emerging Keegan Murray and one of the best home courts in the league, Sacramento isn't likely to miss out on the postseason again for quite a while. | 1 | 0-0 |
| 8 | Warriors | Chris Paul looked solid and healthy in the preseason, but the real excitement surrounds Jonathan Kuminga, who appears ready to take the third-year leap after averaging 22 points in 27 minutes per game during the preseason on 55/46/76 shooting splits. We take for granted that Steph Curry continues to play at an MVP level well into his 30s, while Klay Thompson is focusing on hitting the boards and becoming more than just a shooter. With a potentially full season of Andrew Wiggins and Paul taking the place of Jordan Poole, it's reasonable to expect Golden State to improve on last season's 44 wins. Defense and depth are still question marks, however, especially with Draymond Green sidelined to start the season. | 2 | 0-0 |
| 9 | 76ers | Welp. Whatever glimmer of hope that James Harden created by showing up to camp was quickly extinguished when he began missing practice for "personal reasons." With no trade offers that Daryl Morey deems viable on the horizon, it appears Harden will begin the season away from the team, leaving the backcourt keys in the capable hands of Tyrese Maxey. Reigning MVP Joel Embiid has said that he wants to help make Maxey and All-Star and, for what it's worth, the Maxey-Embiid combo last season was actually more efficient than the Harden-Embiid pairing, albeit in significantly fewer minutes. | 6 | 0-0 |
| 10 | Knicks | The Knicks went 17-8 after the Josh Hart acquisition last season, and they added another hard-nosed, versatile Villanova alum in Donte DiVincenzo. New York seems to have a proven formula with Jalen Brunson and Julius Randle at the helm of the offense, but the swing factor — as usual — is the potential emergence of RJ Barrett. The fear is that the offense takes a dip from fourth last season, and that improving from 19th in defense just isn't possible with Brunson and Randle playing such heavy minutes. Case in point, they allowed 120 points per 100 possessions in the preseason, worse than every other NBA team … plus Real Madrid and Flamengo. Yeesh. | 1 | 0-0 |
| 11 | Clippers | Ask anyone to predict the Clippers' season and they throw their hands up to the sky, vigorously shaking their head. We can continue to point to the team's performance when Kawhi Leonard and Paul George play (24-14 last season and a plus-nine net rating with both on the floor), but they just aren't healthy at the same time often enough. Russell Westbrook's defensive activity in the playoffs should give the Clippers hope and Norm Powell is a potent weapon, but they're also relying on role players like Nic Batum, Marcus Morris and Robert Covington that have shown significant signs of decline. As it stands, however, Leonard and George are healthy, so they get a slight bump in the first edition of the Power Rankings. | 1 | 0-0 |
| 12 | Heat | Jimmy Butler went emo for a reason on media day, as the Heat missed out on Damian Lillard and thus seemingly fell a step behind other Eastern Conference headliners. But, we say that every year and they always end up in the conference finals. Losing NBA Finals starters Max Strus and Gabe Vincent means more minutes for Duncan Robinson (who fell out of the rotation for most of last season until the playoffs) and Kyle Lowry (who may not have much left in the tank). They're optimistic that Nikola Jović and rookie Jaime Jaquez Jr. can make an immediate impact, but that's a tall ask in Erik Spoelstra's demanding defense. That being said, a team with Butler, Bam Adebayo and Tyler Herro has a very high floor. | 1 | 0-0 |
| 13 | Pelicans | It's easy to forget after the way things unfolded, but the Pelicans started last season 18-8, looking the part of a legitimate title contender. There's a lot to sort out in terms of the bench rotation, but lineups with Zion Williamson, Brandon Ingram and CJ McCollum last season had an astounding net rating of plus-16.2. With all three healthy to begin the season, the Pelicans should be in position to get off to another hot start. | 1 | 0-0 |
| 14 | Timberwolves | Hopes for a fresh start this season were buoyed by a crisp 5-0 preseason for Minnesota. Anthony Edwards appears to have taken another leap (both figurative and literal) toward superstardom, while Karl-Anthony Towns, Rudy Gobert, Jaden McDaniels and Mike Conley round out one of the more impressive starting lineups in the league. The spotlight is on Towns, whose responsibility is two-fold: He needs to at least partly cede the offensive reins to Edwards, and he needs to learn to coexist with Gobert on both ends of the floor. No small task, but hopefully they get time to work things out after a Towns injury derailed the experiment last season. | 3 | 0-0 |
| 15 | Hawks | The Hawks are hoping for addition by subtraction after finally dealing John Collins, which opens up minutes for their cadre of young forwards. The Trae Young-Dejounte Murray pairing didn't work as well as Atlanta would have hoped last season, but that was partly due to Young's anomalously poor shooting. If youngsters like Jalen Johnson, Saddiq Bey and AJ Griffin can pop, the Hawks could be right back in the thick of the Eastern Conference playoff picture this season. | 3 | 0-0 |
| 16 | Mavericks | On paper, the Mavs added the right kind of pieces around Luka Dončić and Kyrie Irving. Size and defense came with the signing of Grant Williams and the drafting of Dereck Lively II and Olivier-Maxence Prosper. Shooting came with the acquisition of Seth Curry. But, there's no ignoring what we saw toward the end of last season, when Dallas went 5-11 with Doncic and Irving on the court together. Jason Kidd is hoping that a full training camp together can help work out the kinks and get the season off to a good start. | 6 | 0-0 |
| 17 | Grizzlies | Desmond Bane led the NBA in preseason scoring — just a small glimpse of what you're likely to see while Ja Morant serves his 25-game suspension. Jaren Jackson Jr. must also continue making offensive strides to go along with his DPOY activity on the other end, while Taylor Jenkins has his hands full in terms of sorting out his rotation. Marcus Smart should replace the defense lost with the departure of Dillon Brooks, but relying on Derrick Rose as a backup is a dangerous proposition given his age and health history. Losing Steven Adams for the year is a bigger blow than most fans will realize, and will force Jackson to hit the glass at a much higher rate than he has in his first five NBA seasons. | 10 | 0-0 |
| 18 | Thunder | Every hipster's favorite team, OKC appears to be on the cusp of contention, as Chet Holmgren fills a massive hole for a group that nearly made the playoffs last season. Shai Gilgeous-Alexander is officially that dude, and the complementary pieces seem to fit perfectly around him. The bench rotation needs some work, but this is a young, fun, talented team ready to take the next step. | 1 | 0-0 |
| 19 | Bulls | The Bulls know they need to shoot more 3s, but their third-to-last finish in 3-point attempts this preseason would indicate that's still a work in progress. The offensive talent is there with DeMar DeRozan, Zach LaVine and Nikola Vučević, but for whatever reason it simply didn't click last season, finishing 24th in efficiency. If that can get better and the fifth-ranked defense can hold, Chicago will be in business. There's just been no evidence that the offense is poised for an improvement of any kind. | 1 | 0-0 |
| 20 | Jazz | Utah surprised some folks early on last season before fading, but one thing is certain: Lauri Markkanen is a star. The team's performance this season depends largely on the direction of the organization. They can play younger guys more if they're looking to work toward the future and potentially keep their top-10 protected pick, or they can put their best lineups out there and let the chips fall where they may. With Walker Kessler, Ochai Agbaji and a couple of lottery picks in Taylor Hendricks and Keyonte George, the franchise is in good hands no matter which path they choose. | 1 | 0-0 |
| 21 | Pacers | Bruce Brown, Obi Toppin and rookie Jarace Walker have come in to make the already-exciting Pacers a leader in the League Pass rankings. They're going to play fast behind Tyrese Haliburton, one of the most dynamic point guards in the league coming off an excellent summer with Team USA, and center Myles Turner is fresh off the best season of his career. Defense is … going to be an issue. But the Pacers should be competitive on a nightly basis, and should easily improve on their 35 wins from last season. | 2 | 0-0 |
| 22 | Magic | Seemingly everyone is ready for the Magic to jump into contention, and if they do, it will be thanks to Paolo Banchero and Franz Wagner, one of the best young duos in the league. Shooting is still a giant question mark that could ultimately be their downfall, but they're going to throw out some gigantic, versatile lineups with Banchero, Wagner, Wendell Carter Jr., 6-foot-7 rookie guard Anthony Black and, potentially, a healthy Jonathan Isaac. They may still be a year or two away, but Orlando is certainly headed in the right direction. | 2 | 0-0 |
| 23 | Raptors | They may have lost Fred VanVleet, but the Raptors led the NBA with a plus-22 preseason net rating! Right? Right? Things didn't work for whatever reason last season, and the Raptors will lean toward a fresh voice with head coach Darko Rajaković, who took over for Nick Nurse. On paper, replacing VanVleet with Dennis Schröder seems like a downgrade, but it could allow more room to flourish for players like OG Anunoby, Scottie Barnes and Gary Trent Jr. You know what you're getting out of All-NBA forward Pascal Siakam, but how long will he be with the team if the record remains similar to last season? | 7 | 0-0 |
| 24 | Nets | Mikal Bridges looked great as a No. 1 option after being traded to Brooklyn last season (26 points per game on 48/38/89 shooting splits), but the big swing factor is Ben Simmons, who was healthy and active during the preseason, averaging 6.5 points, seven assists and five rebounds in 22 minutes per game. The Nets went 12-15 after the trade deadline last season, so we can expect a similar trajectory this time around barring an unexpected resurgence from Simmons. | 9 | 0-0 |
| 25 | Rockets | The Rockets got sick of losing, so they signed Fred VanVleet and Dillon Brooks while hiring former Celtics coach Ime Udoka to right the ship. They have a bevy of intriguing young talent with Jalen Green, Jabari Smith Jr., Alperen Sengun, Tari Eason and rookie Amen Thompson, so it will be fascinating to see how they meld with the veteran leaders both on and off the court. | 3 | 0-0 |
| 26 | Trail Blazers | Call me crazy, but Portland could actually be a sneaky playoff contender this year. If Scoot Henderson and Shaedon Sharpe arrive ahead of schedule, they'll join Anfernee Simons, Jerami Grant, Deandre Ayton, Malcolm Brogdon and Robert Williams to form a pretty decent two-way core. Of course, winning might not be in the interests of the Blazers front office, so we'll have to see how things go. | — | 0-0 |
| 27 | Hornets | Miles Bridges questions aside, the Hornets have a pretty decent starting unit and an exciting rookie in Brandon Miller. If LaMelo Ball can stay healthy, they have a bonafide All-Star to help improve on last year's dead-last offensive rating of 108 points per 100 possessions. That being said, the pieces don't necessarily fit together and the bench is a disaster. It could be another rough season for Hornets fans. | — | 0-0 |
| 28 | Spurs | I'd like to take this time to talk about the off-ball movement of Doug McDermott, who — just kidding. Victor! Victor! Victor! If preseason is any indication, we are in for a truly one-of-a-kind rookie season from the best prospect since LeBron James, and the Spurs' success will depend on how quickly his baffling skill set evolves. Devin Vassell got paid this offseason and looks like a perfect complement to Wembanyama, while Jeremy Sochan is moonlighting as a point guard. It's gonna be weird and awesome, and we're here for it. You could tell me San Antonio makes the second round of the playoffs or that they have the worst record in the league and both are equally conceivable. | 1 | 0-0 |
| 29 | Pistons | The Pistons have a lot of young talent. How that talent fits together, however, is extremely unclear, and is what new head coach Monty Williams must figure out. Contention this season will essentially depend on Cade Cunningham. If he reveals himself to be a stone-cold No. 1 option, Detroit could make some noise. Otherwise they're looking at another season full of Ls as they try to sort everything out. | 1 | 0-0 |
| 30 | Wizards | Pretty much the unanimous pick to be the worst team in the league, at least Wizards fans will have fun watching Jordan Poole and Kyle Kuzma chucking up shots to their heart's content. No beating around the bush here, Washington is going to be bad. But at least the front office has picked a direction, and now the focus turns to seeing which players are part of the future and developing them. Lottery pick Bilal Coulibaly will be the first test case. | 5 | 0-0 |
Our Latest NBA Stories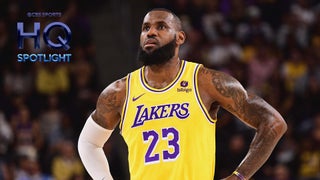 Watch Now: