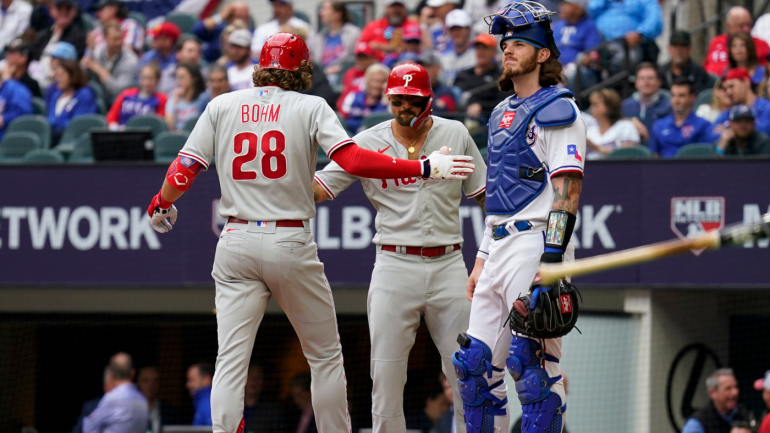 Getty Images
The Texas Rangers are back in the World Series for the first time in 12 years. They could face the Philadelphia Phillies if they can win NLCS Game 7 on Tuesday night at Citizens Bank Park. The Diamondbacks won NLCS Game 6 on Monday and have a shot at the pennant on Tuesday, but a Phillies-Rangers World Series — one that has never happened before — is a distinct possibility.
There's a funny twist on this, too. Remember, the Astros and Rangers tied for the AL West title at 90 wins in the regular season, but the Astros took the division title due to having the tiebreaker. That also explains why the Astros have home-field advantage in that series.
The Phillies also won exactly 90 games themselves in the regular season and grabbed home-field advantage in the NLCS. Again, the Rangers don't have it in the ALCS, so many fans might believe this means the Phillies would keep home-field advantage in a potential World Series matchup. That is not true. 
In fact, the Rangers would get home-field advantage in the World Series after having been the road team in the Wild Card Series, ALDS and ALCS. Why? 
Well, the first tiebreaker is head-to-head record. The Rangers won all three games in the season series with the Phillies. Those would be the first three games of the season. 
Yes, a series from March 30-April 2 could end up determining home-field advantage for a series that possibly lasts into November. 
The Phillies are a perfect 6-0 at home this postseason after Tuesday's night 10-0 beatdown of the Diamondbacks in NLCS Game 2. The Rangers, meanwhile, are a perfect 7-0 in the playoffs so far. But they have played just one game at home (Game 3 in the ALDS vs. the Orioles). Texas will return home to Globe Life Field for ALCS Games 3, 4 and 5 (if necessary) against the Astros starting on Wednesday.