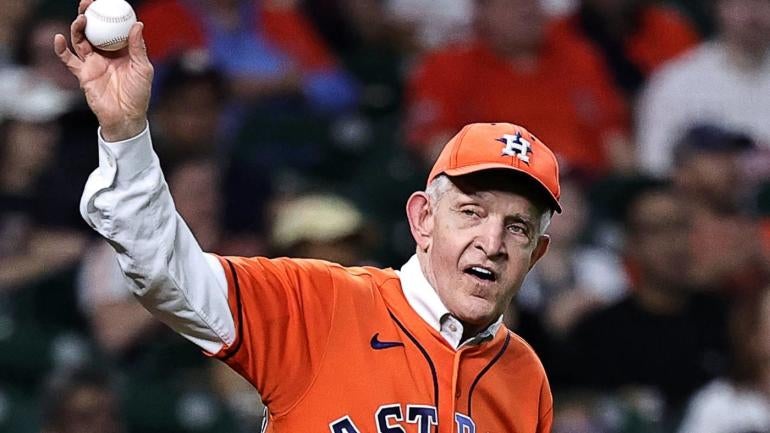 Getty Images
Jim "Mattress Mack" McIngvale has accumulated quite the track record in recent years when it comes to his massive bets. With the Houston Astros falling short of reaching the World Series, McIngvale will lose a considerable chunk of change.
The Houston-area furniture store owner lost at least $7.9 million on Astros bets, according to Vegas Insider reporter Patrick Everson. If the Astros would've ended up winning the World Series, McIngvale would"ve taken home $50.9 million in total winnings.
In late September, the Astros were in danger of not qualifying for the playoffs. At that time, McIngvale announced that he had placed a $1 million bet on the team to win the World Series at +1100 odds at Caesars Sportsbook. That marked the longest odds that the Astros had at any point during the 2023 season.
McIngvale placed the following bets on the Astros to win the World Series throughout the year:
Spring training: $1.9 million at +600 to win $11.4 million at Caesars Sportsbook
Sept. 15: $2 million at +600 to win $12 million at DraftKings
Sept. 27: $1 million at +1100 to win $11 million at Caesars Sportsbook
Pre-ALDS: $2 million at +450 to win $9 million
The Astros did finish the 2023 regular season by winning the American League West on the final day of the year. As a result of winning its division, Houston's odds drastically decreased and had the best odds of any team to win the World Series at most sportsbooks.
McIngvale won a record $75 million when the Astros won the World Series in 2022. If the Astros would've repeated as World Series champions, he would've won an estimated $118 million over the last two years.
McIngvale will have to watch this year's World Series from the sidelines, but it's likely that we'll see him placing big bets in due time with the Super Bowl and NCAA Tournament set to take place over the next six months.