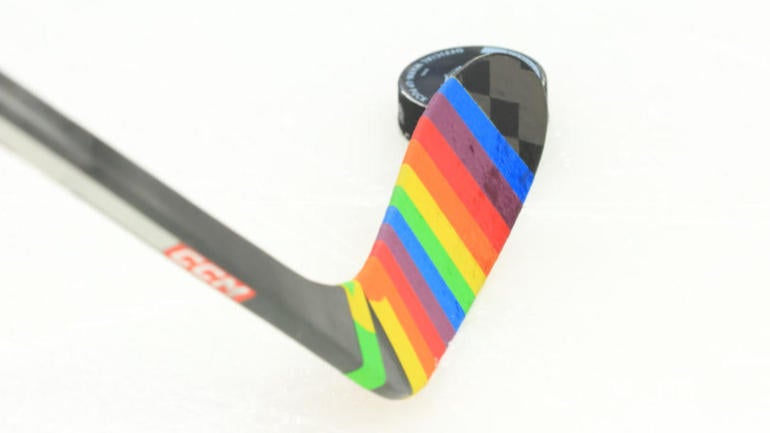 Getty Images
Arizona Coyotes defenseman Travis Dermott recently became the first player to challenge the NHL's ban of Pride Tape when he used it on his stick in a game against the Anaheim Ducks on Saturday. Following Dermott's decision, the NHL has rescinded its ban on players using Pride Tape, the league announced on Tuesday.
During the summer, the NHL sent out several memos to all 32 teams regarding how to hold specialty nights. One of the new policies was a ban on special warmup jerseys as well as using Pride Tape, which is rainbow-colored tape that shows support to the LGBTQ+ community.
"None of the players really saw me put it on my stick," Dermott said when telling The Athletic about his decision to put Pride Tape on his stick. "It was kind of just an, 'All right, I'm doing this, and we're going to deal with the consequences and move forward, and hopefully I'll have a positive impact on some people that needed that positive impact.'"
Dermott wasn't contacted by the NHL regarding any potential suspension or fine for his decision, and just a couple of days later, the league had reversed course on its Pride Tape ban. On Tuesday, the NHL announced that players would have the option to support social causes via stick tape.
"After consultation with the NHL Players Association and the NHL Player Inclusion Coalition, Players will now have the option to voluntarily represent social causes with their stick tape throughout the season," the NHL said in a statement.
Now that Pride Tape has been permitted for the 2023-24 season, it will be interesting to see how many other players follow Dermott's lead.