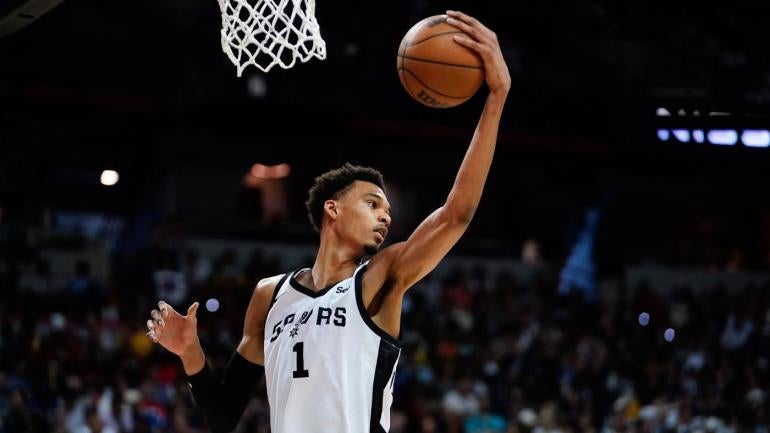 USATSI
San Antonio Spurs phenom Victor Wembanyama is the clear favorite to win Rookie of the Year, but that's not the only lofty goal he's chasing this season. Speaking to reporters on Tuesday ahead of his official NBA debut on Wednesday versus the Dallas Mavericks, Wembanyama says he wants to suit up 82 times this season.  
"Every game. If there's no excessive risk for my health — of course I can't predict the future — but I want to play every single game," Wembanyama said.
That is not going to happen. For one, just 10 players appeared in all 82 games last season, and Tari Eason was the only rookie among the bunch. Then there's the fact that he plays for the Spurs, who pioneered the load management movement. If any club is going to be extra cautious with a prized prospect, it's San Antonio. Finally, you have to consider Wembanyama's unique frame. Even if he doesn't get injured he's going to need nights off as he adjusts to the grind of an NBA season. 
On that note, Wembanyama is prepared for opponents' attempts to bully him.
"Everyone has their strength, and being physical [with me] is something I've seen my whole life, basically every time I stepped on a court for the last few years," Wembanyama said. "It's not something I'm afraid of.
"Quickness beats physicality when used correctly. It's really part of the game. I'm used to it."
All told, these quotes are an additional insight into the mindset that helps make Wembanyama perhaps the most exciting prospect to enter the league since LeBron James. His physical gifts and skills on the court are self-evident, and from all accounts, he has the mentality to match. 
He's not going to play every game this season, but when he is out there he'll be must-see TV.