The Texas Rangers punched their ticket to the 2023 World Series on Monday, ousting the defending champion Houston Astros in ALCS Game 7. A day later, the Arizona Diamondbacks secured their own berth by besting the Phillies.
The Diamondbacks won the World Series in 2001, the only time they made it to the Fall Classic. The Rangers, meanwhile, are still looking for their first trophy, despite making it in 2010 and 2011.
With the Astros' loss, all four of the top seeds in these playoffs have been eliminated. The 104-win Braves, 101-win Orioles and 100-win Dodgers were all sent home in the LDS round, combining to go 1-9 in the playoffs. The AL Central champion Twins were also ousted in the ALDS, and the Marlins, Brewers, Blue Jays and Rays were bounced in the Wild Card Series.
The World Series starts on Friday, Oct. 27 at Globe Life Field in Arlington, and a World Series Game 7 would take place on Saturday, Nov. 4. Here's the complete World Series schedule.
Friday's playoff schedule
World Series Game 1: Rangers vs. Diamondbacks, 8:03 p.m. ET (Fox)
2023 MLB playoff bracket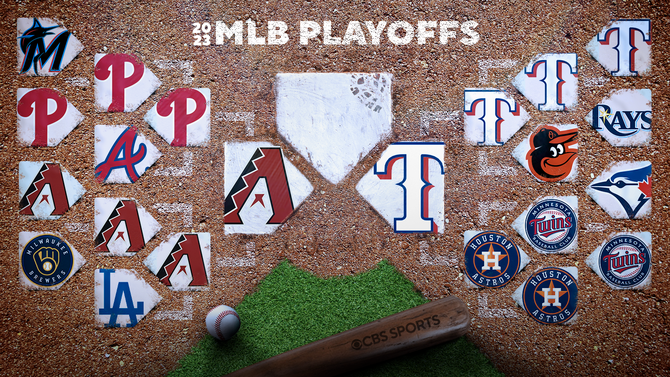 And now, let's look at the complete schedule. The World Series airs on Fox. 
All games on Fox and FS1 will be streaming on fubo (try for free).
(*-denotes if necessary)
World Series schedule

Friday, Oct. 27
World Series Game 1: Rangers vs. Diamondbacks, 8:03 p.m. ET (Fox)
Saturday, Oct. 28
World Series Game 2: Rangers vs. Diamondbacks, 8:03 p.m. ET (Fox)
Monday, Oct. 30
World Series Game 3: Diamondbacks vs. Rangers, 8:03 p.m. ET (Fox)
Tuesday, Oct. 31
World Series Game 4: Diamondbacks vs. Rangers, 8:03 p.m. ET (Fox)
Wednesday, Nov. 1
World Series Game 5*: Diamondbacks vs. Rangers, 8:03 p.m. ET (Fox)
Friday, Nov. 3
World Series Game 6*: Rangers vs. Diamondbacks, 8:03 p.m. ET (Fox)
Saturday, Nov. 4
World Series Game 7*: Rangers vs. Diamondbacks, 8:03 p.m. ET (Fox)
---
League Championship Series scores
Tuesday, Oct. 24
NLCS Game 7: Diamondbacks 4, Phillies 2
Monday, Oct. 23
NLCS Game 6: Diamondbacks 5, Phillies 1
ALCS Game 7: Rangers 11, Astros 4
Sunday, Oct. 22
ALCS Game 6: Rangers 9, Astros 2
Saturday, Oct. 21
NLCS Game 5: Phillies 6, Diamondbacks 1
Friday, Oct. 20
ALCS Game 5: Rangers 4, Astros 2
NLCS Game 4: Diamondbacks 6, Phillies 5
Thursday, Oct. 19
NLCS Game 3: Diamondbacks 2, Phillies 1
ALCS Game 4: Astros 10, Rangers 3 
Wednesday, Oct. 18
ALCS Game 3: Astros 8, Rangers 5
Tuesday, Oct. 17
NLCS Game 2: Phillies 10, Diamondbacks 0
Monday, Oct. 16
ALCS Game 2: Rangers 5, Astros 4
NLCS Game 1: Phillies 5, Diamondbacks 3 
Sunday, Oct. 15
ALCS Game 1: Rangers 2, Astros 0
Divisional round scores
Thursday, Oct. 19
NLCS Game 3: Diamondbacks 2, Phillies 1
ALCS Game 4: Astros 10, Rangers 3
Thursday, Oct. 12
NLDS Game 4: Phillies 3, Braves 1
Wednesday, Oct. 11
NLDS Game 3: Phillies 10, Braves 2
ALDS Game 4: Astros 3, Twins 2
NLDS Game 3: Diamondbacks 4, Dodgers 2
Tuesday, Oct. 10
ALDS Game 3: Astros 9, Twins 1 
ALDS Game 3: Rangers 7, Orioles 1
Monday, Oct. 9
NLDS Game 2: Braves 5, Phillies 4
NLDS Game 2: Diamondbacks 4, Dodgers 2
Sunday, Oct. 8
ALDS Game 2: Rangers 11, Orioles 5
ALDS Game 2: Twins 6, Astros 2
Saturday, Oct. 7
ALDS Game 1: Rangers 3, Orioles 2
ALDS Game 1: Astros 6, Twins 4 
NLDS Game 1: Phillies 3, Braves 0
NLDS Game 1: Diamondbacks 11, Dodgers 2
Wild Card Series scores
Wednesday, Oct. 4
Game 2: Rangers 7, Rays 1
Game 2: Twins 2, Blue Jays 0
Game 2: Diamondbacks 5, Brewers 2
Game 2: Phillies 7, Marlins 1
Tuesday, Oct. 3
Game 1: Rangers 4, Rays 0
Game 1: Twins 3, Blue Jays 1
Game 1: Diamondbacks 6, Brewers 3
Game 1: Phillies 4, Marlins 1