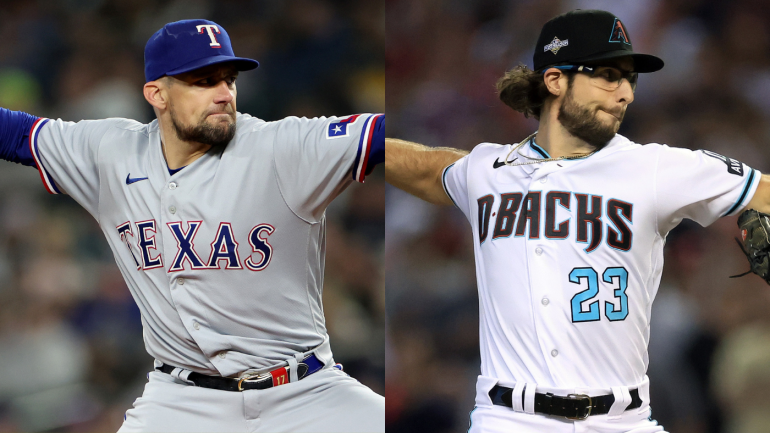 Getty Images
The Arizona Diamondbacks announced on Wednesday that right-hander Zac Gallen will start Game 1 of the World Series against the Texas Rangers on Friday night. Hours later, the Rangers announced that right-hander Nathan Eovaldi will be their starter for the opener of the 2023 Fall Classic. The Diamondbacks won the National League pennant on Tuesday, defeating the Philadelphia Phillies in Game 7 of the NLCS. The day prior, the Rangers secured their spot in the World Series by downing the Houston Astros in ALCS Game 7. 
Gallen, 28, will join a select class of Diamondbacks pitchers to start a World Series game. Arizona has reached just one other Fall Classic, with that coming back in 2001. (They, of course, defeated the New York Yankees in that series.) Curt Schilling started three times, Randy Johnson twice, and both Brian Anderson and Miguel Batista received one start apiece.
Gallen started 34 times during the regular season, amassing a 3.47 ERA (125 ERA+) and a 4.68 strikeout-to-walk ratio. He made his first career All-Star Game, a lagging honor given that he's twice before received Cy Young Award consideration: first in 2020 (there was no All-Star Game played that year on account of the COVID-19 pandemic) and then in 2022. Based on the schedule, Gallen would also be in play for a Game 5 start, should the series necessitate it. Of course, the Diamondbacks could also bring him back for Game 4 on short rest if the circumstances demand it. That said, it's too early to worry about such worse-case scenarios on either end.
Gallen led the Diamondbacks staff in innings (210). He finished second to Merrill Kelly among starters in ERA+. Kelly figures to start Game 2, with rookie Brandon Pfaadt receiving the honors in Game 3. Those assignments have not officially been announced. The Diamondbacks used a bullpen game in lieu of designating a fourth starter during the NLCS. It's to be seen if they approach the World Series the same way.
On the Rangers' side of the ledger, the 33-year-old Eovaldi looked like a Cy Young contender for much of the season until a forearm strain landed him on the injured list for more than a month. He struggled upon his return and wound up registering a 3.63 ERA for the season across 25 starts. In the playoffs, Eovaldi promptly snapped out of his stretch-drive funk and found his familiar level as one of the best postseason pitchers of recent years. The call in Game 1 puts Eovaldi in line to make multiple starts against Arizona should the series last that long.