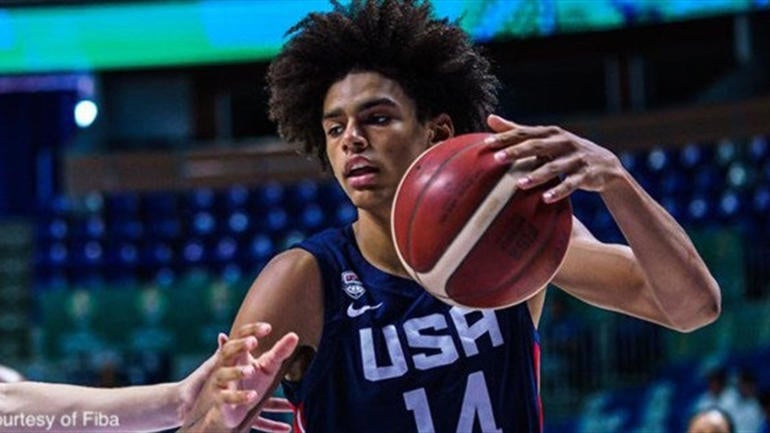 247Sports
Georgia secured one of the biggest recruiting wins in program history with five-star power forward Asa Newell. The blue-chip prospect picked the Bulldogs over finalists Alabama, Gonzaga and Texas. The first member of the Bulldogs' 2024 class ranks as the No. 13 overall prospect in the 247Sports rankings and is Georgia's third highest-ranked commitment in the 247Sports era — behind former five-star prospects Anthony Edwards and Kentavious Caldwell-Pope.
"They really are my day ones for real," Newell told 247Sports. "Coach Erik Pastrana, I felt like I have a connection with him ever since he was at Oklahoma State. Being my first offer and building a relationship with him. Then, he got to Florida and I liked the coaching staff that Florida and them had, and then when they got the job at Georgia I was really thrilled when I got the offer."
Newell is teammates at Montverde Academy (FL) with the No. 1 overall recruit in the 2024 class, Cooper Flagg, who is expected to make his decision soon after taking an official visit to Duke last weekend. He is deciding between the Blue Devils and the reigning national champion, UConn.
The commitment from Newell bumps Georgia up to the No. 48 overall recruiting class in the 247Sports rankings. The Bulldogs are in contention to land four-star forward Khani Rooths and three-star guard Casmir Chavis, which would bolster their class even more. 
"They do a lot of things great and I feel like I can play for a coach like Mike White," Newell said. "He's such a positive guy, he's a great person, a great human being on and off the court so there is a lot of positive with Georgia. Georgia is hungry for a basketball team. I am coming to bring Georgia basketball back."
Georgia finished the 2023 recruiting cycle with the No. 21 class, and the commitment of Newell signals the program is in contention to repeat the same success on the recruiting trail with the early signing period starting on Nov. 8.