Vegas leads a trio of unbeaten teams in the NHL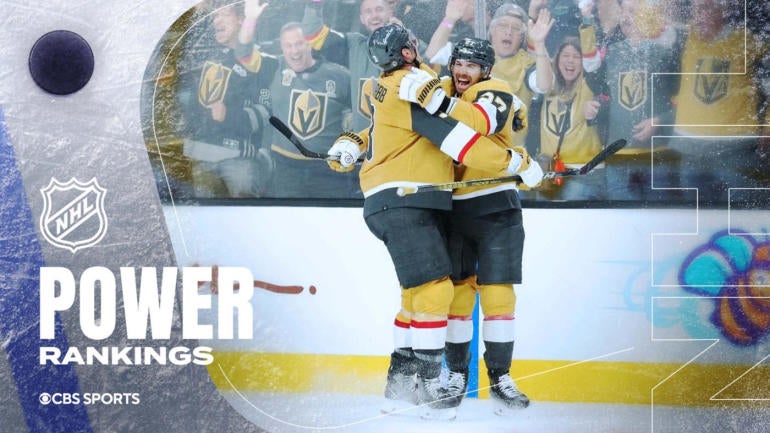 Getty Images
Slowly but surely, we are learning more and more about each NHL team. Through two weeks, a few teams have asserted themselves right out of the gate, but the rest of the league is a little bit murkier.
Three teams remain unbeaten, including the reigning Stanley Cup champions. The Vegas Golden Knights have already set an NHL record with their hot start, and they do not look satisfied with just one championship. They want to make it two titles in seven years of existence.
The Colorado Avalanche and Boston Bruins are in the zero losses club too, and they have played as well as their records would indicate. The Bruins have been particularly impressive given their offseason turnover.
Beyond those three — and above the San Jose Sharks at the bottom — there is still a lot of shuffling. That has led to some notable changes in the updated version of the NHL Power Rankings.
All expected goals and goals saved above average stats courtesy of Natural Stat Trick.
Biggest Movers
| Rk | Teams |   | Chg | Rcrd |
| --- | --- | --- | --- | --- |
| 1 | Golden Knights | The Avalanche didn't really do anything to lose the top spot, but when you make NHL history for all the right reasons, you get the crown. That's what the Golden Knights have done by winning seven straight to start the season, a record for reigning Stanley Cup champions. It helps that goaltenders Adin Hill and Logan Thompson are on a mission to prove the playoffs were not a fluke. | 1 | 7-0-0 |
| 2 | Avalanche | Perhaps somewhat unfairly, the Avalanche got bumped from No. 1, but I think they'll be just fine. In fact, Mikko Rantanen is a little better than just fine. He already has 12 points in six games, and he seems poised to challenge the career-high numbers he posted in 2022-23. Just 93 more points to go. | 1 | 6-0-0 |
| 3 | Bruins | Matt Poitras scored his first two NHL goals in the Bruins' win over the Ducks on Sunday, and he added another against the Blackhawks on Tuesday. He got all kinds of buzz throughout training camp, and he has delivered in the early going. A former second-round draft pick, Poitras is just 19 years old, and Boston is relying on him to be a big part of the future. For now, he just needs to be a nice contributor on a team that looks like a contender again. | 1 | 6-0-0 |
| 4 | Stars | Jason Robertson finally notched his first goal of the season on Tuesday night, and if you told me it would take that long, I would have assumed the Stars were near the bottom of the Central Division standings. Instead, Dallas is near the top of the league, and that is a major testament to their defensive prowess and goaltending. If the scoring picks up, the Stars will be a steamroller. | 1 | 4-0-1 |
| 5 | Maple Leafs | I don't know what it would feel like to know you're going to win the lottery, but William Nylander probably does. He is in the final year of his contract with the Maple Leafs, and he is about to make an obscene amount of money in the offseason, whether it's in Toronto or elsewhere. Nylander is tied for the team lead in points with 10, and he has been electric on the offensive end. Teams have already started loading up the brinks truck. | 2 | 4-2-0 |
| 6 | Devils | If you were wondering whether Jack Hughes could top himself after tallying 99 points in 78 games last season, he is on pace to top that by roughly 130 points. Hughes has 14 points in five games after a four-assist night against the Canadiens on Tuesday. It'll be tough to keep tallying 2.8 points per game, but Hughes does look ready to cruise past the 100-point mark in 2023-24. | 2 | 3-1-1 |
| 7 | Rangers | Adam Fox has already started his Norris Trophy campaign. He has six points in six games, and the Rangers are crushing teams when he is on the ice at five-on-five. In fact, New York has allowed just one goal in those situations. Fox had a strong case for the award last season, and he will be right in the mix this year too. | 2 | 4-2-0 |
| 8 | Red Wings | Alex DeBrincat has taken quite nicely to the winged wheel, and the Red Wings are off to a fast start. They absolutely deserve to be in the top 10 with where they are in their early results, but I'm a little skeptical about whether they can keep it up. DeBrincat is shooting 39.1%, which is just a tick higher than his career average of 14.8%. On top of that, Detroit is third in five-on-five shooting percentage (13.07%) and 25th in expected goals share (47.12%). | 4 | 5-1-1 |
| 9 | Hurricanes | Carolina has prided itself on being one of the best defensive teams in the NHL for some time now, but it has struggled at that end of the ice so far. Despite having one of the deepest blue lines in the NHL, the Hurricanes rank 20th in expected goals against and last in actual goals against. I doubt that sits well with coach Rod Brind'Amour, so I would bet those numbers improve in short order. | 6 | 3-4-0 |
| 10 | Kings | Pierre-Luc Dubois made his return to Winnipeg last week, and the reception was as cold as you would expect. He didn't seem to mind, though. Dubois netted his first goal of the season in a 5-1 win for Los Angeles. Dubois waiting until then to light the lamp in a Kings uniform is an incredibly high level of petty. | 6 | 3-2-1 |
| 11 | Wild | Some red flags have emerged in Minnesota to this point. First and foremost, the team's strength was supposed to be its defense, but the blueline hasn't really been able to tread water. Brock Faber, Jake Middleton and Jon Merrill have all been bad at five-on-five. Obviously, Jared Spurgeon's absence plays a role in these issues, but these are still concerning trends. | 2 | 3-2-1 |
| 12 | Lightning | It hasn't been a perfect start to the season for the Bolts, but the usual suspects have kept the team alive through five-on-five issues and a serious lack of Andrei Vasilevskiy. Nikita Kucherov is off to a scorching start with 10 points in seven games, and Brayden Point already has eight assists. That's exactly what Tampa needs to stay afloat over the next couple months. | 8 | 3-2-2 |
| 13 | Senators | I'm already worried Joonas Korpisalo will spoil my prediction of the Senators as this season's breakout team. Through three starts, Korpisalo has a .865 save percentage and has allowed 3.59 goals above average. Ottawa will struggle to reach its potential if Korpisalo disappoints in goal, and the team just invested $20 million in him this past offseason. | 2 | 3-3-0 |
| 14 | Penguins | Are the Penguins deep enough to be a real Cup threat? That's my biggest question for this team a couple weeks into the new season. Five of the top six forwards have all but two of Pittsburgh's goals, and Erik Karlsson has one of the others. The Penguins have plenty of skilled veterans, but the rest of the lineup will eventually have to find a way to contribute on offense. | 4 | 2-4-0 |
| 15 | Coyotes | Logan Cooley is dishing the biscuit as well as anyone in the league right now. While Cooley is still looking for his first goal, he already has five assists in six games. Connor Bedard is the heavy Calder Trophy favorite, and he absolutely should be, but don't ignore Cooley. He is piling up points and will only improve throughout the season. | 6 | 3-3-0 |
| 16 | Islanders | Stop me if you've heard this one before: The Islanders cannot generate a lick of offense. Through four games, the Isles have generated a whopping 13.21 expected goals. That is ahead of only the St. Louis Blues. That's not great company to keep. Ilya Sorokin will have to put this team on his back again if the Islanders are going to make the playoffs. | 2 | 2-2-1 |
| 17 | Oilers | With the way the Oilers performed with Mattia Ekholm in the lineup this season, I assumed they solved their defensive issues. You know what they say about assuming. Edmonton is now 1-4-1, and the team is surrendering quality chance after quality chance. It doesn't help that the Oilers also boast one of the league's absolute worst goaltending tandems thus far. The temperature is rising quickly in Edmonton. | 11 | 1-4-1 |
| 18 | Canucks | That 8-1 thumping of the Oilers on opening night earned the Canucks some good will, but that is quickly disappearing. Vancouver is 3-2-0 since then, but the five-on-five numbers are rather ugly. The Canucks own just 41.82% of the expected goals in those situations, which would rank last if the Sharks weren't an AHL team masquerading as an NHL team. I'm not sure how sustainable this start is for Vancouver. | 3 | 4-2-0 |
| 19 | Panthers | After hitting the 40-goal mark in each of the last two seasons, Matthew Tkachuk is on pace for a grand total of zero goals in 2023-24. He is without a tally through six games, but he has shot the puck 28 times. Tkachuk will eventually break through, and the Panthers will be better for it. In the meantime, Sam Reinhart just needs to keep scoring at a 95-goal pace. | 2 | 3-3-0 |
| 20 | Flyers | I'm not quite ready to buy this hot start for the Flyers just yet, but there is definitely a lot to like. Travis Konecny is putting the puck in the net. Sean Couturier looks like he's back to his old self. Young players like Owen Tippett, Bobby Brink and Cam York have looked good. Carter Hart has been very impressive in net. If this keeps up, the Flyers will soar up the rankings. | 7 | 3-2-1 |
| 21 | Jets | Nikolaj Ehlers is still waiting for his first goal of the season, and the Jets need him to pull the trigger more often. Ehlers has just 10 shots on goal through six games, and that isn't going to cut it. Ehlers is one of the most skilled offensive players on this roster, and he needs to be much more involved in the offensive zone. | 2 | 3-3-0 |
| 22 | Predators | Roman Josi hasn't exactly come out firing on all cylinders this season. Josi has yet to score his first goal, and he has just three assists in seven games. Beyond that, his five-on-five impacts have been pedestrian. If Nashville is going to be in the battle for a Western Conference wild-card spot, the team needs a little bit more production from its captain. | 2 | 3-4-0 |
| 23 | Blues | The Blues' acquisition of Kevin Hayes isn't looking great in the early going. Hayes has one point through five games, and St. Louis has performed poorly with him on the ice at five-on-five. There was hope that a little more talent around Hayes would revitalize his game, but that has not been the case to this point. | 1 | 2-2-1 |
| 24 | Sabres | The Sabres have to hope that Tuesday night's win over the Senators was something of a breakout for them. Alex Tuch got his first goal of the season, Tage Thompson scored his second, and an ailing power play got on the board. Goaltending remains a big question mark, but Buffalo will give itself a chance at a playoff spot if the offense can finally start cooking. | 1 | 3-4-0 |
| 25 | Flames | Nazem Kadri leads the Flames in shots on goal with 22, but he is tied for the fewest goals in the NHL with zero. Kadri has generated 3.23 expected goals in all situations, another number that leads all Calgary skaters, but he has been snake-bitten so far. Kadri is due, and when the goals eventually do start coming, maybe the wins will come for Calgary too. | 7 | 2-4-1 |
| 26 | Kraken | Seattle has been a little leaky to begin the 2023-24 season. They have allowed 14.18 expected goals at five-on-five, which ranks 25th. The Kraken ranked fifth in that same category last season. Seattle isn't exactly loaded with elite offensive talent, so it needs to be much stingier on defense to reach the playoffs again. | 1 | 2-4-1 |
| 27 | Canadiens | The No. 1 overall pick in the 2022 NHL Draft, Juraj Slafkovsky, tallied an assist in the season-opener against the Maple Leafs but has not gotten on the scoresheet since then. After a somewhat underwhelming rookie season, Slafkovsky is off to another slow start. Slafkovsky is still just 19 years old, but the early returns have left something to be desired. | 3 | 3-2-1 |
| 28 | Ducks | The youth movement has begun in Anaheim. Leo Carlsson, the No. 2 overall pick this year, recorded his first NHL goal last week. That was exciting, but Carlsson is not alone. Mason McTavish, 20, looks improved after an inconsistent rookie season. Pavel Mintyukov, 19, has already flashed the potential of a franchise defenseman. These are exciting times for the Ducks. | — | 2-4-0 |
| 29 | Blue Jackets | I'm starting to think the kid who went No. 3 overall in the NHL Draft might be pretty good at hockey. Adam Fantilli has goals in back-to-back games now, and he put up two points against the Ducks, the team that passed on him at No. 2 overall last summer. It's pretty clear Columbus has a bona fide franchise player on its hands for a long time to come. | 2 | 3-2-1 |
| 30 | Blackhawks | Chicago is slipping back into draft lottery contender status, but that is not terribly significant. What is significant is the NHL took away a sweet goal and celebration from Connor Bedard due to a ticky-tack offside ruling — and on Frozen Frenzy night no less! | 4 | 2-5-0 |
| 31 | Capitals | It only took Alex Ovechkin five games and 22 shots to score his first goal of the season. Ovi is on the board, and the chase for Gretzky's all-time record is back on, but the Capitals still have major problems. Washington is still struggling to generate offense at five-on-five, and Darcy Kuemper is off to a rough start in goal. | 2 | 1-3-1 |
| 32 | Sharks | When will the San Jose Sharks get their first win? Their next two games are back-to-back matchups against the Lightning and Hurricanes, so I'm not confident it's coming there. The Sharks do have a game against the Capitals on Sunday. Any self-respecting hockey fan will avert their eyes for that one, but I will be tuning in for a so-bad-it's-good clash between the bottom two teams in the power rankings. | — | 0-5-1 |
Our Latest NHL Stories