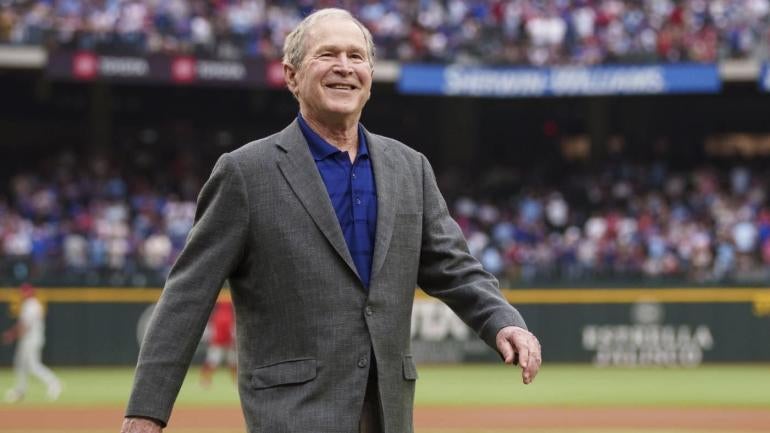 Getty Images
Former president George W. Bush will throw the first pitch before Game 1 of the World Series between the Arizona Diamondbacks and the Texas Rangers. If history repeats itself, this could be a good omen for the Diamondbacks. 
Bush threw the first pitch of Game 3 of the 2001 World Series, the year the Diamondbacks won their first and only title so far by defeating the New York Yankees. This will be the former commander in chief's fourth time throwing a World Series first pitch, as he also did it in the 2010 and 2017 series.
While his first time brought good luck to Arizona in 2001, Bush is more closely tied with Texas. He lives in Dallas, and before becoming the governor of Texas in 1994 Bush was a minority owner and served as general partner of the Texas Rangers from 1989 to 1994. He maintained a minority stake until 1998.
Bush will throw the pitch to Hall of Fame catcher Pudge Rodríguez, who is now retired but used to play for the Rangers from 1991 to 2002 and again in 2009. Rodriguez's No. 7 jersey was retired by the team and he has stayed close to the organization as a special assistant.
Game 1 is set for Friday at 8 p.m. ET at Globe Life Field. For Game 2, the first pitch honor will be going to Rangers legend Adrián Beltré, who will deliver the ball to Baseball Hall of Famer Fergie Jenkins.